For a liter of gasoline 1.755 euros, for a liter of diesel 1.848, and on highways another 10-20 cents more
As of today, € 1,755 per liter of 95-octane petrol and € 1,848 per liter of diesel have to be deducted. This price applies to service stations outside motorways, on motorways prices are even higher, by about 10 oz. 20 cents. The new prices will be valid until July 4.
Petrol at service stations off the highways is 19.5 cents more expensive or 12.5 percent, and diesel by 18 cents or. 10.8 percent. Elsewhere, prices are set by retailers themselves, making them even higher. For a liter of 95-octane petrol, it is at Petrol's service stations on highways and expressways should be compensated 1,851 eurosat OMV Slovenia services 1,944 euros. For a liter diesel a little over two euros must be deducted from both providers (per Petrol 2,002 euros, and OMV € 2,046).
Last week, the government adopted a decree on the pricing of certain petroleum products, which will reintroduce the pricing of 95-octane petrol and diesel for one year on Tuesday at petrol stations outside motorways, based on a methodology based on world oil prices and movement of the dollar – euro exchange rate. Model prices will be calculated on the basis of 14-day averages of mineral petroleum product prices.
The regulation also sets a maximum margin. Until 16 August inclusive, it will amount to EUR 0.0591 for diesel fuel and EUR 0.0607 per liter for 95-octane petrol, followed by EUR 0.0983 for diesel fuel and EUR 0.0994 EUR per liter for 95-octane petrol.
Due to high demand ran out of fuel
Due to the expected increase in prices, many consumers have gone to gas stations in recent days, but some places have run out of individual fuels. Traders ensured that stocks were sufficient and that there were short-term outages related to supply and logistics problems.
"I think it's a scandal in every way," the Prime Minister commented on fuel problems Robert Golob, who believes that traders should anticipate and better prepare for the situation.
"On the one hand, I understand that the pressure on people was a bit higher due to the announced increase, but on the other hand, the obligation of traders is very clear – they should make sure that fuel does not run out, but runs out all over the country. I didn't think that something like this would happen, not because of the people, but because someone was not better prepared for such situations due to pure speculation for a few euros,said Golob.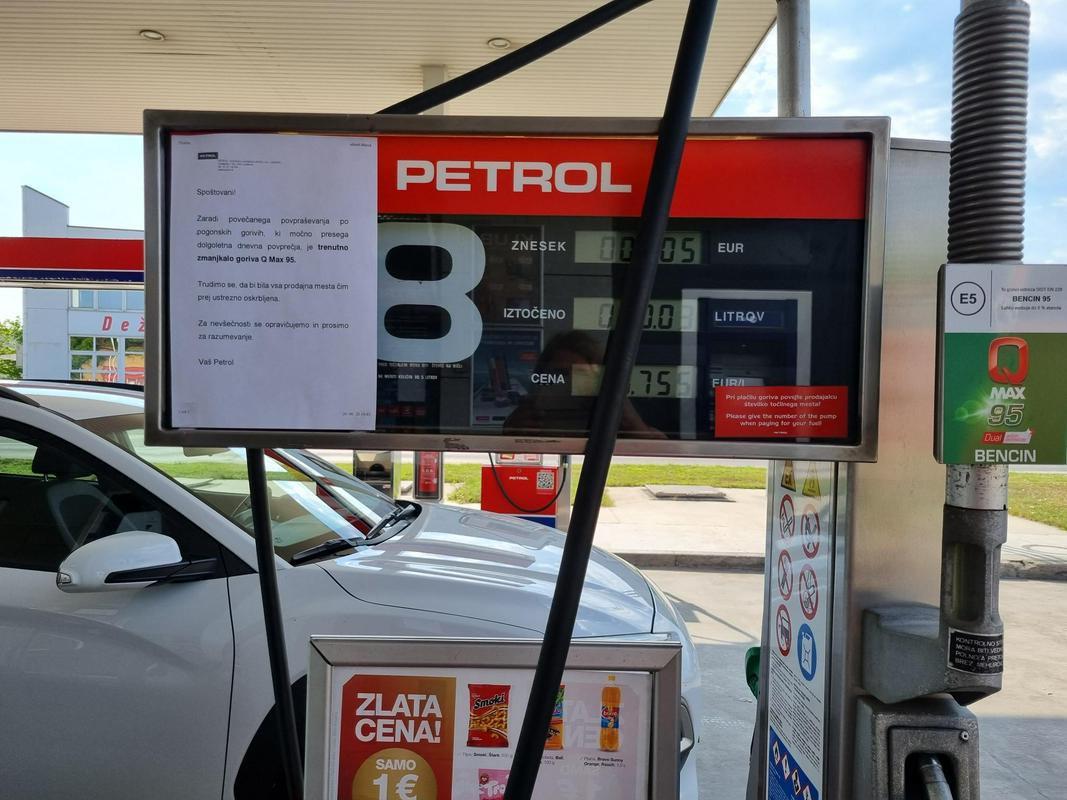 The Prime Minister is also expecting a report from market inspectors, who are checking compliance with the rules on prices, stocks and possible misleading consumers. According to the Minister of Economy Matjaža Hana the situation on the ground is being checked by about 30 market inspectors, who carried out 120 inspections on Monday at petrol stations inside and outside the motorway and expressway network, and are continuing today. When they have the findings "in black and white", they will share them with the public, he announced.
President of the Management Board of Petrol Nada Drobne Popovic she meanwhile said they were not cheating the system and not blocking fuel due to Tuesday's price hikes. However, she warned that they could not guarantee that the fuel problems would be resolved immediately today. However, she announced that the entire sales network would be back to normal by Friday. Han assured that there are enough stocks of motor fuels in Slovenia.
Despite higher prices, prices in Slovenia are lower than in Austria, Italy and for foreigners also in Hungary, where you have to pay more than two euros per liter of fuel. In Croatia the prices are similar to ours.
Source: Rtvslo