1.755 euros per liter of petrol, 1.848 euros per liter of diesel, and 10-20 cents more on motorways
As of today, € 1,755 per liter of 95-octane petrol and € 1,848 per liter of diesel have to be deducted. This price applies to service stations outside motorways, on motorways prices are even higher, by about 10 oz. 20 cents. The new prices will be valid until July 4.
Petrol at service stations off the highways is 19.5 cents more expensive or 12.5 percent, and diesel by 18 cents or. 10.8 percent. Elsewhere, prices are set by retailers themselves, making them even higher. For a liter of 95-octane petrol, it is at Petrol's service stations on highways and expressways should be compensated 1,851 eurosat OMV Slovenia services 1,944 euros. For a liter diesel a little over two euros must be deducted from both providers (per Petrol 2,002 euros, and OMV € 2,046).
Last week, the government adopted a decree on the pricing of certain petroleum products, which will reintroduce 95-octane petrol and diesel pricing for one year on Tuesday at off-highway service stations based on a methodology based on global oil prices and movement of the dollar – euro exchange rate. Model prices will be calculated on the basis of 14-day averages of prices of mineral petroleum products.
The regulation also sets a maximum margin. Until 16 August inclusive, it will amount to EUR 0.0591 for diesel fuel and EUR 0.0607 per liter for 95-octane petrol, followed by EUR 0.0983 for diesel fuel and EUR 0.0994 EUR per liter for 95-octane petrol.
Petrol: Weekly pricing more appropriate
Given the still volatile situation in the supply markets, Petrol estimates that it would be more appropriate to set prices on a weekly basis, as this would enable a faster response of retail prices to changes in purchase prices.
"In the case of 14-day pricing, the pressure to change prices will be greater than in the case of weekly pricing, as we record smaller differences in purchase prices on a weekly basis than in two weeks," they stated.
Due to high demand ran out of fuel
Due to the expected increase in prices, many consumers have gone to gas stations in recent days, but some places have run out of individual fuels. In recent days, demand has more than doubled. Traders ensured that stocks were sufficient and that there were short-term outages related to supply and logistics problems.
"I think it's a scandal in every way," the Prime Minister commented on fuel problems Robert Golob, who believes that traders should anticipate and better prepare for the situation.
"On the one hand, I understand that the pressure on people was a bit higher due to the announced increase, but on the other hand, the obligation of traders is very clear – they should make sure that fuel does not run out, but runs out all over the country. I didn't think that something like this would happen, not because of the people, but because someone was not better prepared for such situations due to pure speculation for a few euros,said Golob.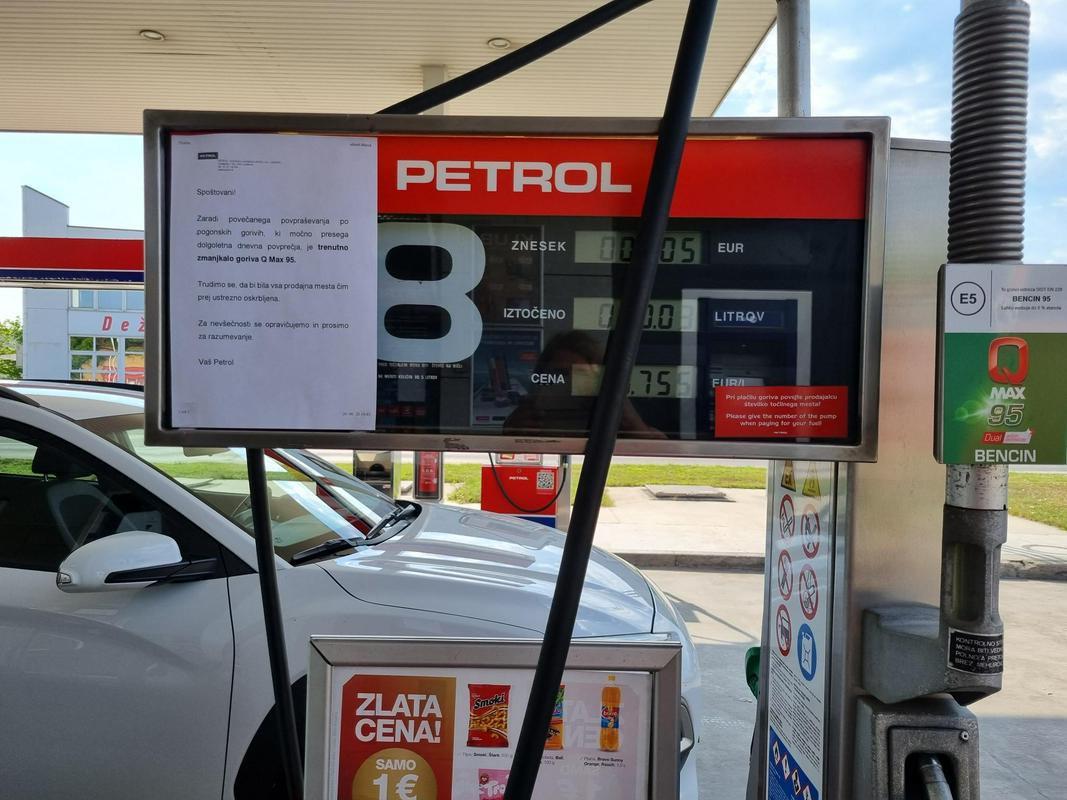 The Prime Minister is also expecting a report from market inspectors, who are checking compliance with the rules on prices, stocks and possible misleading consumers. According to the Minister of Economy Matjaža Hana the situation on the ground is being checked by about 30 market inspectors, who carried out 120 inspections on Monday at petrol stations inside and outside the motorway and expressway network, and are continuing today. When they have the findings "in black and white", they will share them with the public, he announced.
As they explained in Petrol, 71 inspections have been carried out at their points of sale to date. "To date, we do not have the data to identify irregularities during inspections," they added.
The inspection procedure was also launched at the AVK
Due to the situation at petrol stations in recent days, the Competition Protection Agency (AVK), according to the Uncensored portal, today launched an official procedure to check whether the largest oil traders in the country, Petrol and OMV Slovenia, have abused their market dominance. Among other things, by filling the tanks too slowly under their gas stations or. deliberately emptied them.
AVK pointed out that they have been actively monitoring the situation on the motor fuels market for a long time, and that they could not comment in detail on possible proceedings before the agency regarding current developments in the relevant market.
Petrol does not have official information about the alleged proceedings by the AVK, they only found out about it in the media. "Petrol strongly denies rumors that the amount of fuel was manipulated and that the fuel was deliberately withheld so that it could be sold at a higher price. Given this, we have no problem initiating such a procedure with a view to supplying customers with fuel as soon as possible, " they stated.
"With regard to AVK procedures, these are official processes that we respect and understand, as their task is to ensure the proper functioning of business entities," however, they said in OMV Slovenia and added that they are always committed to strict compliance with applicable rules and laws.
Fuel demand is slowing, normal in a few days
According to the largest oil traders in the country, Petrol and OMV Slovenia, the demand for fuel at petrol stations is slowing down compared to previous days. The dealers predict that the situation at petrol stations, many of which have run out of certain fuels, should return to normal in a few days.
As explained in Petrol, some outlets are still without fuel, despite the fact that all logistics facilities are still focused on supplying outlets. They are expected to be fully cared for by Friday.
OMV Slovenia, meanwhile, explained that it will take a few more days to return to normal, and that deviations from the usual fuel supply may occur by the end of the week. There are enough fuel stocks in the warehouses, but the bigger problem is the supply of fuels to petrol stations, as there is not enough logistics capacity for such a marked increase in demand in recent days. "The available number of tanker drivers properly trained to transport hazardous substances is limited and their effective driving hours are prescribed by law," they added.
Due to the situation, a meeting of distributors with representatives of the Ministry of Economy and Infrastructure was held on Monday. As explained in Petrol, they talked about the biocomponents they add to fossil fuels.
"We have agreed that the cost of biocomponents for fuel sold off the motorways at the new price set at the highest margin will be reimbursed to Petrol. This is important because we cannot cover this cost with the current margin and otherwise in this case, it would mean for us to sell fuel at a loss, " they explained.
Equal prices for motorists on and off motorways
According to Prime Minister Golob, the government will equalize diesel prices for motorists on motorways with those outside motorways. "We will find a way for carriers to fill their tanks without being materially damaged," provided by Golob today. This measure will be approved by the government on Thursday, among other already announced mitigation measures.
As Golob said in a press statement after a meeting of the parliamentary foreign policy committee, the government does not want truckers to start looking for petrol stations outside the motorway network due to higher diesel prices and cause additional congestion and logistical problems. Therefore, their status will be equalized, he announced, but did not explain the measure in detail.
Complications with the lack of fuel at the pumps should be resolved immediately, Prime Minister Golob pointed out. "I don't have the slightest ear for any excuse that fuel problems are still going on today," he said. he added.
Drobne Popovič: We are not playing the system
President of the Management Board of Petrol Nada Drobne Popovic she, meanwhile, claimed they had not cheated the system and did not block fuel due to Tuesday's price hikes. However, she warned that they could not guarantee that the fuel problems would be resolved immediately today. However, she announced that the entire sales network would be back to normal by Friday. Han assured that there are enough stocks of motor fuels in Slovenia.
Despite higher prices, prices in Slovenia are lower than in Austria, Italy and for foreigners also in Hungary, where you have to pay more than two euros per liter of fuel. In Croatia the prices are similar to ours.
Due to price regulation, Petrol's profit will be lower, a claim has already been submitted to the government for compensation of 51 million in damages
Meanwhile, the Petrol Management Board estimates that the Group's profit will be lower due to the establishment of price regulation in Slovenia and Croatia. Compared to the plans, the Group's gross profit will be lower by EUR 53 million, EBITDA by EUR 79 million and net profit by EUR 54 million, Petrol announced on the Ljubljana Stock Exchange website. For the whole of 2022, Petrol expected a gross profit of EUR 643.9 million, EBITDA is expected to reach EUR 297.8 million and net profit EUR 158.3 million.
The government rejects Petrol's claim
In a statement to the media after today's meeting of the parliamentary committee on foreign policy, Prime Minister Golob said that the government had rejected the traders' claims as unfounded. But Petrol insists on the request. "The rejection of the request for Petrol is not acceptable, we will decide on further steps in this regard when we get acquainted with the arguments of the rejection, which is expected in the coming days," they stressed.
Comparable economic damage and loss of profit also occur in the period from 11 May onwards, when the maximum allowable prices were set again. For this period, Petrol will address a claim to the government as soon as the damage is calculated.
Petrol Supervisory Board
At an extraordinary meeting on Monday, the Supervisory Board of Petrol was informed of the Management Board's report on the impact of the current regulation of motor fuel prices on the Group's operations. The supervisors instructed the management to carry out all necessary activities as soon as possible to compensate for the damage caused as a result of the disproportionate measure of regulating the retail prices of petroleum products.
Petrol points out that in the first half of the year Slovenia's sales of motor fuels were in a situation where volume sales exceeded planned sales due to significantly lower prices than in neighboring countries, and the company was forced to sell fuel at cost and with generated a loss for every liter sold. More than 90 percent of the time of the maximum allowed prices, Petrol sold fuel below the purchase price.
As a result, the group will not be able to achieve the business results envisaged in the plan for 2022, Petrol points out. Due to "significantly changed external influences on operations", the Management Board will also prepare a supplementary plan for 2022 and inform the public when the calculations will be prepared, presumably when the semi-annual results are published.
Source: Rtvslo