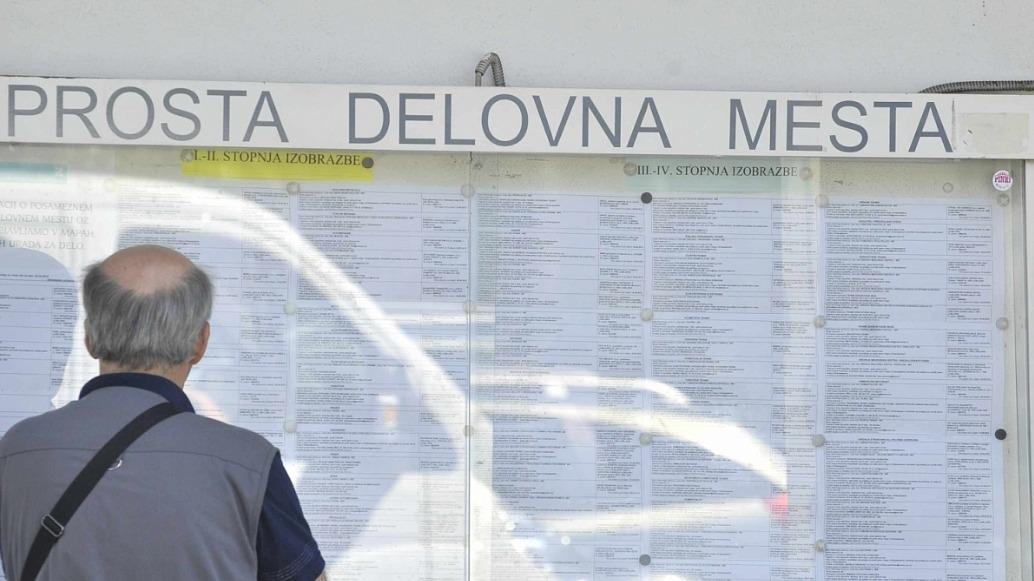 Report of the Employment Service
Mitja Bobnar explained at a press conference in Ljubljana that the number of registered unemployed in September was the lowest in independent Slovenia. It was even lower in October 1990, namely 51,969.
Due to favorable trends in the labor market, Slovenia can boast of one of the lowest levels of survey unemployment. In August, it was 4.1 percent in our country, the average in the EU is six percent, he pointed out according to data from the European statistical office Eurostat.
Bobnar is pleased that unemployment is decreasing in all important segments that are monitored. In the age structure, this year unemployment shrank the most in the group from 30 to 39 years old, in the educational structure the category of unemployed with vocational education, and according to the reasons for application, the category of redundant workers or bankrupts.
At the end of September, 50.9 percent of the unemployed in Slovenia were women, 17.8 percent were young people between the ages of 15 and 29, 39.9 percent were aged 50 and over, 14.4 percent were seeking their first job, 17 percent were redundant workers and bankrupts and 52.1 percent of long-term unemployed.
17 percent of the unemployed are directly employable
According to Bobnar, there are currently around 9,000 directly employable persons in the register of the institution who are of suitable age, have appropriate education, competences, knowledge and are without any medical restrictions, which represents 17 percent of all unemployed people.
The rest are vulnerable groups, 40 percent of the unemployed are over 50 years old, a third of them have primary school education or less, and 17 percent are disabled. "All these are persons who need some additional treatment, additional help, additional activities of the institution," said the general manager.
The significant decrease in the number of unemployed increases the gap between the supply of suitable personnel and the demand. This year, the great demand from employers continues, in the first nine months of the year they reported 15.5 percent more jobs year-on-year.
Bobnar said that in the last period they carried out 60 percent more activities, but they did not manage to address all the needs of employers. This is precisely why labor is being imported. "Thus, this year we will most likely import or extend the work permit of 63,000 workers from abroad, which is an enormous number," he stated, adding that they are trying to get these workers to their employers as quickly as possible.
The high cost of energy may affect a larger number of unemployed
"But the future will not be so brighthe warned. Unemployment will increase slightly in the last months of this year. A seasonal influx of young people who have completed their education, as well as workers from construction and similar industries, who are not so active until spring, to the labor market is expected, he explained.
At the end of the year, according to him, there will be just over 60,000 registered unemployed in the country. "We will try to keep this number as low as possible," he pledged.
According to Bobnar, it is too early to assess what the additional price increase of energy products and other necessities and a possible lack of materials would mean for the unemployment record. The industries that could be most at risk are those whose costs are very dependent on energy products, and those that may have price increases at other levels.
If the situation were to worsen, unemployment could rise sharply, warns Bobnar. The experience of the covid-19 epidemic has shown that an avalanche of unemployment can pour out of industries that are forced to close their doors, "here we can talk about thousands, sometimes even tens of thousands of people".," he warned.
According to him, the institute's experience shows that measures such as subsidizing waiting for work and reduced working hours help a lot to maintain activity. This is also why certain employers did not close companies or lay off workers en masse during the epidemic. In the past, around 250,000 jobs were allegedly protected in this way. "Cost cutting often starts with the workers," Bobnar concluded.
Just over 52,000 unemployed
At the end of September, 52,043 unemployed people were registered with the Employment Agency of the Republic of Slovenia, which is 3.5 percent less than in August and 21.3 percent less than September last year, and at the same time the lowest number in the entire history of independent Slovenia.
In the first nine months, an average of around 57,900 unemployed or a quarter less than in the same period last year.
In September, 4,962 new people registered, 25.6 percent more than in August and 7.5 percent more than last September.
Among the newly registered, the largest number were unemployed due to the expiry of their fixed-term employment, 2326 or 21.2 percent more than in August and 0.8 percent less than last September. This was followed by first-time job seekers (786 or 131.9 percent more than in August and 20.6 percent more than in September last year) and redundant workers and bankrupts (597 or 5.2 percent less than in August and 9.3 percent more than in September). last year).
The institute deregistered 6,854 people, of whom they were employed or 4,567 self-employed, which is 98.4 percent more than in August and 20 percent less than in September last year.
Among those who got employed, the most were secretaries, salespeople, workers for simple jobs in manufacturing activities, teachers and assistant teachers of pre-school children, subject teachers in primary schools, classroom teachers, cleaners, servers and housekeepers in offices, hotels and other institutions, commercial sales representatives, instructional support workers, and storekeepers and purchasing and sales officers.
Unemployment fell everywhere
In September, unemployment decreased on a monthly basis in all regional offices of the Institute, most notably in Trbovlje (-5.6 percent), Nova Gorica (-5.3 percent), Maribor (-5.0 percent) and Ptuj (-4. 4 percent). On an annual level, unemployment fell the most in the Ptuj (-28.5 percent) and Kranj (-25.5 percent) offices, and the least in the Novo mesto (-10.4 percent) and Velenje (-13.3 percent) offices.
Employers, most of them from manufacturing, construction, health and social care and education, reported 15,122 vacancies to the institute in September, 14.1 percent less than in August and 2.5 percent less than September last year. The most vacancies were for workers in simple jobs in manufacturing and high-rise construction, for cleaners, servers and domestic helpers, and for salespeople.
In the first nine months, an average of 57,918 unemployed or 24.9 percent less than in the same period last year.
During this time, 42,826 new unemployed registered, 4.5 percent less than in the first nine months of last year. Most of them applied because their employment for a certain period ended (22,309 or 8.7 percent less). This was followed by redundant workers and bankrupts (6,855 or 20.3 percent less) and first-time job seekers (3,662 or 4.7 percent more).
A total of 56,752 people deregistered, of which 36,698 were due to employment, which is 25.9 percent less than in the first nine months of 2021.
From the beginning of January to the end of September, employers notified the institute of 134,708 vacancies or 15.5 percent more than in the same period last year.
The rate of registered unemployment calculated by the institute was 5.6 percent in July, which is 0.1 percentage points more than in June and 1.7 percentage points less than in July last year. The registered unemployment rate for men was five percent and for women 6.3 percent. The Murska Sobota regional service had the highest rate (7.2 percent), and the Kranj regional service had the lowest (3.4 percent).
Source: Rtvslo