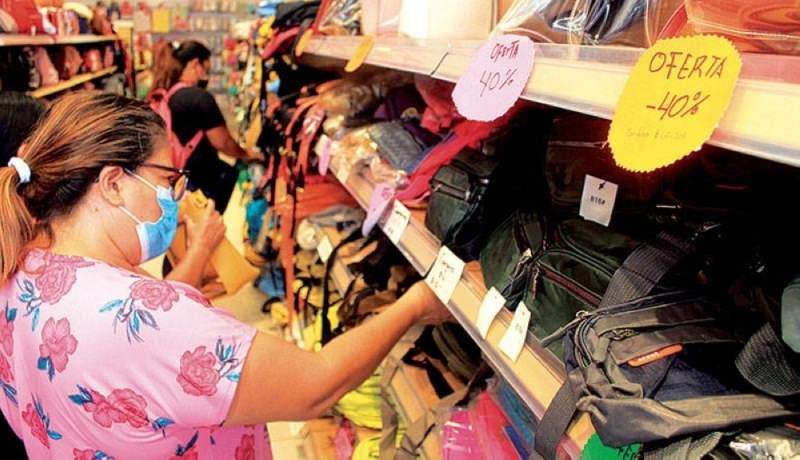 From flowers to backpacks, you can get discounts at Armacén La Fortuna on Calle Rubén Dario. /ga
From household items, backpacks, new and second-hand clothing, promotions in the historic center of the Salvadoran capital are ready for Salvadorans planning to shop this Black Friday.
Most of the stores and stores running the campaign have extended the sales period, with some stores cutting prices from the beginning of the week and others extending this Friday through Sunday.
On the list is Armacén La Fortuna, which has established discounts ranging from 25% to 50%, starting November 21st and running through the end of this week.
La Fortuna collaborator Karla Montoya said this season's best-selling products correspond to backpacks, followed by waist pouches, pet beds, jewelry boxes, food bowls and artificial flowers.
"The truth is that our expectations are high. There's a massive influx of people coming in to buy right now.
For household goods, Yuko El Salvador has a promotion from November 10th to December 15th. The company promises to offer a free table to consumers who spend $40 or more.
Diego Linares, who works at Yuko, explained that there will be a 40% discount on all items. became.
The Crystal Boutique promotion applies to its branches in the historic center, Piazza Mundo and Piazza Merriott. /ga
clothes and shoes.
This season's clothing is also on sale, with Cristal Boutique offering a 10% discount on a wedding dress and a 20% discount on the second from yesterday. Shirts start at $5.
"Dresses are $25 and up. For Panama and US dresses, there are higher prices in the US.
Second-hand clothing store La Cachada, on the other hand, is offering a 40% discount starting this Friday, and 70% discounts at some point on all items such as shoes, home goods, and dresses.
La Kachada employee Katherin Hernández indicated that the discounts apply to the $1, $3, $5 and premium sectors.
However, other merchants in the historic center asserted that the economic situation prevented them from conducting promotions this year.
Kachada offers discounts all weekend long. /ga
Source: Diario.Elmundo