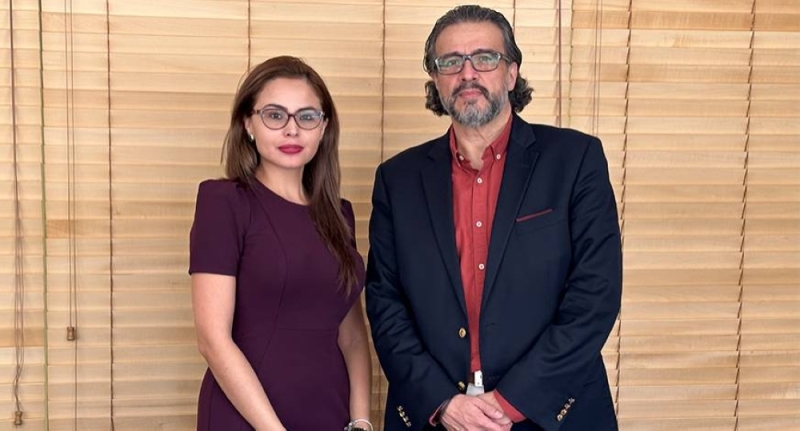 Maria Auxiliadora Rivas, head of the study, and Eduardo Nuñez, director of the NDI. DEMs
The National Democracy Institute (NDI) has worked to advance democracy and gender equality. In El Salvador, the NDI has conducted research into the forms of violence women face: violence against women in politics.
According to the Special Comprehensive Act for Violence-Free Lives for Women (LEIV), this aspect of violence is defined as acts or omissions that are directly or indirectly attributed to gender and cause harm to an individual or group. is defined as To impair or invalidate their recognition, enjoyment or exercise of their political and civil rights in any sphere of political life.
big challenge.
In this sense, to support and strengthen the work of state institutions and political parties, the NDI presents the study "Violence against Women in Politics: A Study in El Salvador's Political Parties".
This study has drawn due attention to the measures taken by the various state institutions concerned, political parties and society at large to respect, protect and guarantee the right to live free from violence and discrimination in the political arena. It is a reference tool for adoption. to contribute to the realization of equal democracy;
NDI interviewed 20 key leaders (14 women and 6 men) from five political parties and conducted national focus groups with 66 female leaders from four political parties. The survey also included 66 political party members, 36 women and 30 men.
In general, this research reflects that female politicians are compromised because of their gender, appearance, age, experience, or status. They are seen as sexual objects or as threats from men. An important aspect is that this violence not only threatens the individual rights of women, but also has the effect of discouraging women from participating in political life. This dynamic creates a vicious circle, with certain actions against women acting as multipliers and instructive messages for the rest of the women, with many turning away from politics to save their lives and the lives of their families.
This is a challenge for institutions such as the Supreme Electoral Court, the Institute for the Development of Women in El Salvador (ISDEMU), and actions that the political parties themselves have taken.
Many factors combine to prevent more women from participating in politics. Economic, institutional and sociocultural barriers transmitted across generations perpetuate and deepen the gap under constant silence and inaction.
This report visualizes the different areas where gender-based violence against women occurs, whether by act or omission, and the interrelationships between its different types and all of them that affect all their life projects. intended to be a tool. Not only do we face it, but we also affect democracy, as electoral and political processes are hindered and undermine the credibility and legitimacy of institutions to the extent that women choose not to participate.
A majority of women confirmed the presence of violence within the party. But at the same time, many behaviors are naturalized or considered "normal" in political life. If not, and if condemned, it usually stays at the level of crime or violation of discipline.
For more information on NDI, please visit: https://ndicentroamerica.org/el-salvador/ Also https://www.facebook.com/NDIelsalvador/
Some conclusions:
Very few women hold leadership positions in politics.

There is a gender division of labor. Women are mainly responsible for logistics and administrative aspects. Additionally, there is the perception that they are placed solely to comply with gender assignments.

Their jobs have tripled and they continue to tend to do the most unpaid jobs (home).

A comprehensive approach to violence against women within political parties still has limitations.
Recommendations for political parties:
Promote female leadership with a gender-focused vision.

Implement measures to reconcile family and political life.

Among other things, carry out prevention and training plans.

Internal mechanisms for dealing with incidents related to political violence against women, as part of a disciplinary system and as a rule of conduct between parties.
Source: Diario.Elmundo