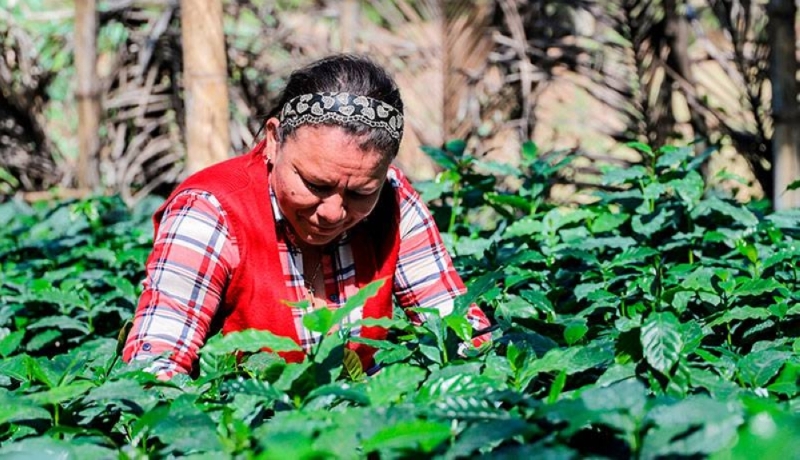 Producers receive agricultural materials and coffee trees from MAG. /DEM
The Ministry of Agriculture and Livestock (MAG) expects 6,800 growers to benefit from the delivery of coffee trees during 2023.
"Previously, we were looking at supporting up to 2,600 coffee growers with plant deliveries, but today this has changed and there are over 6,800," MAG Deputy Minister Oscar Dominguez said on social networks. pointed out.
Last week, MAG enabled the registration of a preliminary registry to select beneficiaries for the increasing value addition and evaluation of coffee (Vivicafé) project. This initiative is supported by the National Joint Business Association CLUSA International (NCBA CLUSA), the Corp Business School, and the United States Agency for International Development (USAID).
The platform is available on the 'sicafs.mag.gob.sv/sicafs' website. This requires the player's card number and issue date provided by the Coffee Council of El Salvador (CSC). Producers must register by January 31st of the next year.
In this regard, the Deputy Minister explained that producers will detail the number and types of coffee trees they need through a digital platform.
Coffee cultivation was the most important economic activity in El Salvador's economy for almost 200 years, but since the 2000s it has begun to lose importance due to the deterioration of coffee plantations. After being an export star, it is now his second crop in the agricultural sector after sugar.
Investments allocated to various projects in the coffee sector will be about $14.3 million in 2023, according to MAG, and it is estimated that about 5,400 manzanas in the coffee forest will be renewed by the end of this year.
The government of El Salvador has promised to deliver 12.5 million coffee trees in 2022.
Requirements for accessing the program.
The government has established that interested coffee growers must have a valid grower card, have 0.5 to 5 manzanas, and grow crops in the Alotepec Metapan or Kakauatic regions.
Additionally, they must be part of an organization or cooperative.
Dominguez assured that the coffee supplies would be delivered on May 1st and the coffee trees on June 1st.
"We started with a pilot project for organic fertilizers. We have a very large marketing strategy planned that the Salvadorans will be proud of," Dominguez said.
Similarly, the Ministry of Agriculture reported that it has begun verification of coffee plant production in 255 nurseries certified by the Directorate General of Plant Health.
data
MAG reports that those interested can register for updates on the coffee park through the platform sicafs.mag.gob.sv/sicafs/ until January 31st.

Source: Diario.Elmundo