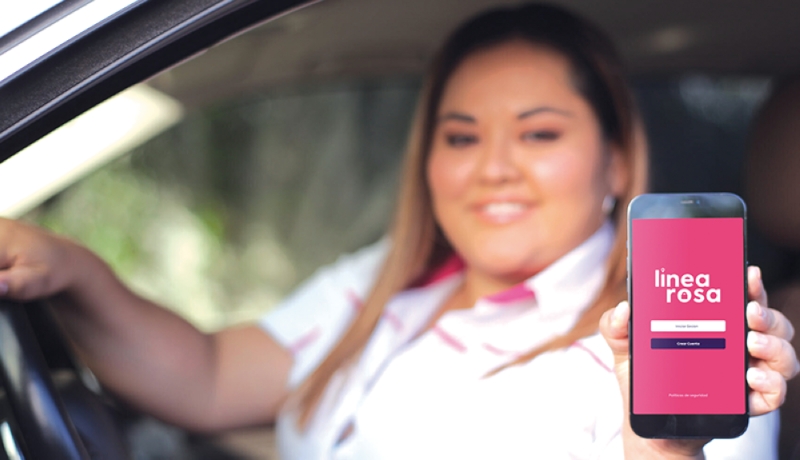 Línea Rosa will release a new application next March.courtesy
Línea Rosa, a women-led transport platform, has recorded a 20% increase in demand for its services in 2022. This venture was he one of the winners of the first technical challenge initiated by IDB LAB and Casatic. The critically acclaimed segment of "Startup".
The company debuted in 2014 in the El Salvador market as an alternative to mobility services with female drivers. Its founder, Lorena Gonzalez, has assured it is the first transport of its kind in all of Central America.
"There weren't many women driving or providing the kind of service that Línea Rosa was providing as a learning curve for women to incorporate into this new role," she stressed.
In its eight years of operation, the company has more than 50,000 customers in its database, covering the municipalities of San Salvador, Santa Tecla, Nuevo Cuscatlan and Antiguo Cuscatlan.
The company provides employment for 50 Salvadorans and is open 24 hours a day. Minimum charge is about $5.
A tribute to technology
Like other industries, the covid-19 pandemic has forced companies in El Salvador to transform. First, they changed the job market and started a delivery line (home delivery of products) from transporting people.
2021 means that delivery services for businesses have started to return to normal, and Línea Rosa hopes to transform with the launch of a mobile application, which will be activated next March.
This application will make it easier for more women to apply for jobs as drivers. The company hopes to recruit an additional 50 collaborators in the first month of extended operation.
Travel reservations and payments can be made through the app, so you can expect to reduce the waiting time for travel.
Stakeholders must be at least 21 years of age to become a driver of Línea Rosa. You must also comply with legal issues such as your driver's license, your own car, and family members.
González emphasized that selected drivers receive training in various areas such as customer service, nomenclature, mechanics and preventative maintenance.
Línea Rosa plans to expand its coverage area and reach the entire metropolitan area by the end of 2023. Furthermore, we hope that the application will be launched at the Central American level in the future.
Operations are already back to normal in 2022 and demand is growing by 20% each year. "

Pink Line founder Lorena Gonzalez
Diversified market
The transport market has evolved in recent years, adding to the popular taxi and public transport systems a form of personalized mobilization with personal transport that can be requested via a mobile phone application or telephone hotline.
Street harassment, low fares, congestion and insecurity have given companies like Línea Rosa, InDrive and Uber a boost in El Salvador. Private She is a world leader in establishing transport networks, the latter has a "She" option within its main Her application that allows drivers to select trips requested by female users.
3 facts you should know

Application launch:

The "Pink Line" app will be available from next March. Gonzalez said the bet was to become a technology company.

Expanding location:

With this application, the company hopes to double the number of collaborators and give them 100 jobs.

Travel fee:

The app is expected to reduce waiting times and facilitate payments and travel bookings.
Source: Diario.Elmundo