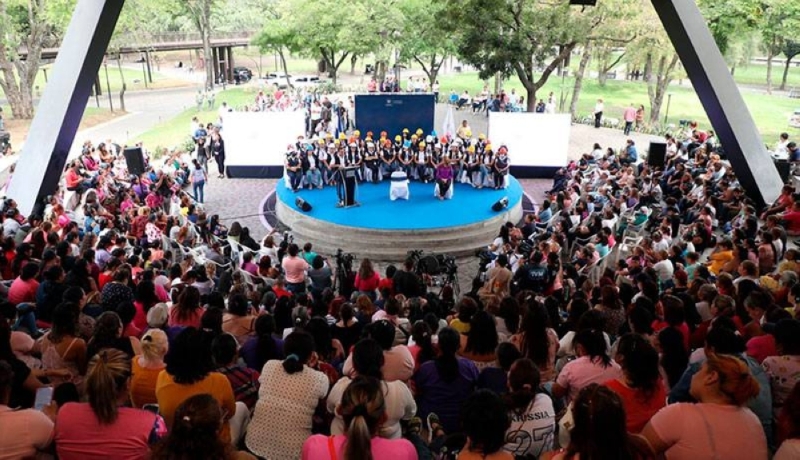 The announcement was made in honor of Women's Day. / courtesy
The Ministry of Labor and Social Welfare (MTPS) yesterday launched a digital platform for reporting violence and workplace harassment, accessible to both men and women.
"The Department of Labor will form a special unit dedicated to entering complaints on the platform. All these women[inspectors]are going to bring justification to this country. , please turn your attention immediately to carry out a direct review, "assured branch head Rolando Castro.
The tool, called "SOS Trabajadoras," is part of compliance with International Labor Organization (ILO) Convention 190, ratified in El Salvador last year, and focuses on eliminating violence and harassment in the workplace.
The ILO establishes in this agreement that governments that ratify it must implement both legal and political measures to prevent and address this problem. Article 9 of the document adopts legislation requiring that all employers take "appropriate measures to prevent violence and measures commensurate with the extent of its control" in the world of work. indicates that you must
Castro recalled that the agreement had not been approved by previous governments.
They will inspect the complaint.
With the launch of the platform, MTPS has assigned 60 inspectors to verify complaints made through the platform.
The Labor Minister has ensured that complaints from the public and private sectors will be dealt with. He said details on the number of women victims of workplace violence and harassment will be provided in the coming days.
"Now our team will start working on these specific actions tomorrow to implement what we announced in creating the new unit," he said.
Complaint attention.
The minister also ensured that the platform would be active 24 hours a day, maintaining a permanent exchange with those who needed it.
Anyone who needs to file a complaint may do so through the website denuncias.mtps.gob.sv/denuncias/.
Within the platform, you must indicate the types of situations you are exposed to, such as discrimination against pregnant women, relocation of pregnant women, maternity benefits, etc.
Both men and women can point out whether the complaint is about workplace or sexual harassment.
By choosing Complaint, you can enter your personal data and confirm the sending of the document. Castro said the procedure can also be performed anonymously.

Source: Diario.Elmundo