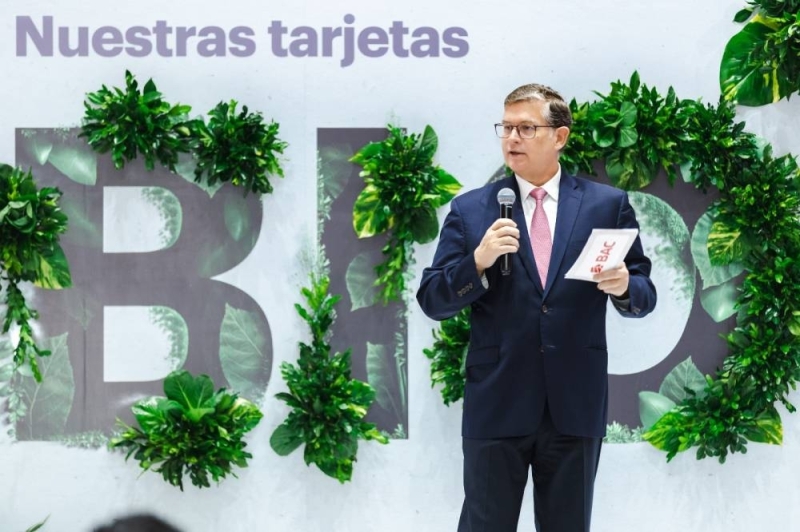 Fernando González, President of BAC Credomatic El Salvador, said:courtesy
To become the first net positive bank and bank with a purpose, BAC is reimagining the card by changing the current material (PVC plastic) to an eco-friendly material. The aim is to reduce the use of plastics and turn them into naturally-sourced materials that can be composted to create positive value for the environment.
The new card is made of 82% non-edible corn-derived material (PLA: polylactic acid), requires 26% less energy to produce and emits 66% less greenhouse gases than plastic.
What's more, the material can be ground and composted, so it returns to nature in a matter of months, rather than hundreds of years as is the case with plastic. The remaining 18% of the card corresponds to the chip, band, antenna and design, the latter of which uses water-based inks rather than solvent-based and thus does not emit toxic fumes.
"Within BAC, we aim to be the first net positive bank in the region in less than a year, and today we are taking concrete actions that bring us closer than ever to achieving this vision. As a company, we have a very clear North and a commitment and motivation to continue to "reimagine banking to bring prosperity to the communities we serve."
Gisela Sánchez, BAC's Regional Director of Strategy and Corporate Relations, said:
environmental value.
The entity has a strong strategy for designing triple-value financial solutions and this project is a strong step in that direction, using non-petroleum-derived raw materials and natural-based , a positive environmental value is created. However, cards are compostable and envelopes and other electronic components are recyclable. In addition, we are creating social value by reducing the amount of paper used through digitization and developing a new business in the community that composts cards that have passed their useful life. In other words, BAC will partner with small and medium-sized companies in Central America to compost.
Meanwhile, businesses will have programs in place to allow customers to securely hand over end-of-life cards across regions as a way to close this circular economy cycle.
It is important to note that the initial BIO card will be offered under the Puntos program for classic, gold and platinum credit card versions of Martercard. There will be no additional cost and we will maintain the same benefits for customers who can claim the card through all channels (applies to new, lost, renewed, added and second existing accounts) from March 2023.
Additionally, BAC became the first financial group in the region to adhere to the United Nations Principles for Responsible Banking. In addition, BAC is a signatory to major initiatives that promote the alignment of financial institutions' business strategies with United Nations compliance. Promotes the Sustainable Development Goals, the Paris Agreement, and the goals of being socially and environmentally positive.
Source: Diario.Elmundo