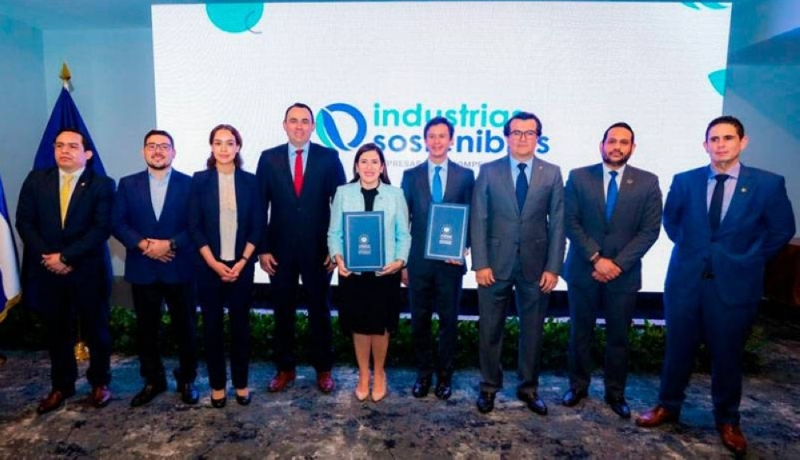 The agreement was signed within the framework of IFC's Sustainable Industry Project. / courtesy
Six state agencies and the corporate sector signed the Clean Production Agreement (APL) this Wednesday, which is expected to promote sustainability at the national level.
Economy Minister Maria Luis Hayem explained that the agreement is part of the Sustainable Industry Programme, which is being implemented in collaboration with the World Bank's (WB) International Finance Corporation (IFC).
The agreement was signed by the Ministry of Environment and Natural Resources, the Ministry of Health, Labor and Welfare, the El Salvador Water Authority (ASA), the Directorate General of Customs, the Directorate General of Energy, Hydrocarbons and Mines (DGEHM) and companies. sector.
"The agreement includes a series of actions that companies interested in participating in the project will voluntarily comply with," the official said.
The project will last 15 months and its aim is to reach the goals of productivity and sustainable competitiveness.
incentive.
Minec has pledged to provide non-redeemable co-pays to companies that are eligible and meet a set of requirements (not indicated at the time) to take advantage of this incentive.
Hayem also noted that financial instruments will become available that adapt to the needs of this sector in a sustainable way.
"Companies will realize savings through efficient use of raw materials, water and energy, and safety conditions will improve," he said.
Adopting sustainable strategies that also pursue occupational health could create higher standards for companies to access international trade, Hayem said.
Edwin Escobar, executive director of Aristos Immobilia, explained that the outcome of the agreement is part of more than 10 months of work between the country and the corporate sector.
"We will start building sustainability into each fiber and production process of the companies represented here at American Industrial Park," Escobar said.
The businessman explained that five industrial parks run by Aristos Immobiliaria create jobs for more than 14,000 Salvadorans and address water management, energy efficiency, recycling and waste management.

Source: Diario.Elmundo