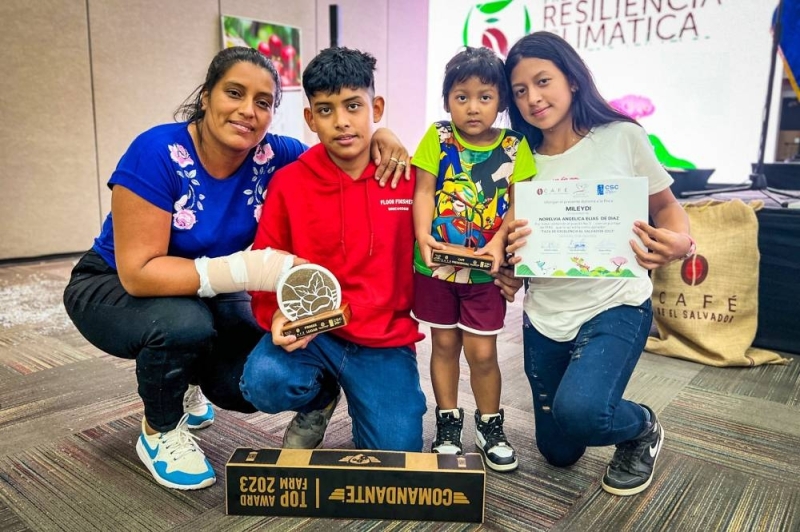 Norelbia Elias de Diaz and her three stators won first prize in the Cup of Excellence competition. /CSC
Finca Milaidi, in the mountains of La Palma, Chaltenango, has again won the Cup of Excellence Contest. Now under the direction of Norelbia Elias de Diaz, the award commemorates grower Ever Diaz, who began growing coffee as a teenager.
Last night Milady won the coffee industry's most prestigious contest held in El Salvador through the El Salvador Coffee Council (CSC).
After several years of participation, the farm's coffee took first place in 2021 and was auctioned off at $70 a pound that year.
The farm's first coffee trees were planted over 20 years ago when Diaz was still a teenager.and Interview with El MundoIn 2021, the grower said he quit school when he was in seventh grade and started his own coffee nursery using seeds he stole from neighboring coffee growers.
Diaz was proud of his farm, which was once a cattle ranch. "My father used to say to me, 'Why are you going to plant that? Even the coffee wasn't heated here and it barely came out at first,' he said at the time.
Diaz passed away in 2022, but his wife carried on his legacy in coffee farming. The coffee sample he participated in this year, of the semi-washed Pacamara variety, received a score of 91.82.
This sample competed with 103 samples from different farms.Of these, 45% of the participating varieties correspond to Pacamara, 17% to Geisha (considered the champagne of coffee), 10% to Bourbon, 7% to Kenya, 9% to blends and 12% to other varieties. Equivalent to
The Diaz family is currently in charge of only Norelbia Elias de Diaz. /DEM
"Thank God my husband sent me this gift. It was a promise to me that one day our farm would be number one again, and that day has come," said Norelbia Elias. De Diaz said.
In 2021, producers said they were moving cut coffee bags at the Milady farm to an uphill beast until 2020. "Sometimes they cut 100 arrobas here and 100 arrobas at my father's and we had only two beasts so we had to make a maximum of 10 trips. No. The horses couldn't hold up and had to be pushed.There were times when we had lamps on at nine o'clock at night," he said at the time.
rest of the winners.
Among the winners was Los Morales 1 Farm, run by Henri Morales in Chalatenango, in the Alotepec Metapan region, which came second with a score of 91.23 for Geisha Coffee.
In third place is the San Luis de los Recuerdos farm, owned by Roberto Samuel Ulloa Rusconi, located at an altitude of 1,825 meters in the Apaneca-Ilamatepec region, with 90.5 points.
The Ministry of Agriculture and Livestock (MAG) reported that the jury consisted of experts from Brazil, China, Japan, South Korea, Thailand, Germany, Australia and the United States.

Source: Diario.Elmundo