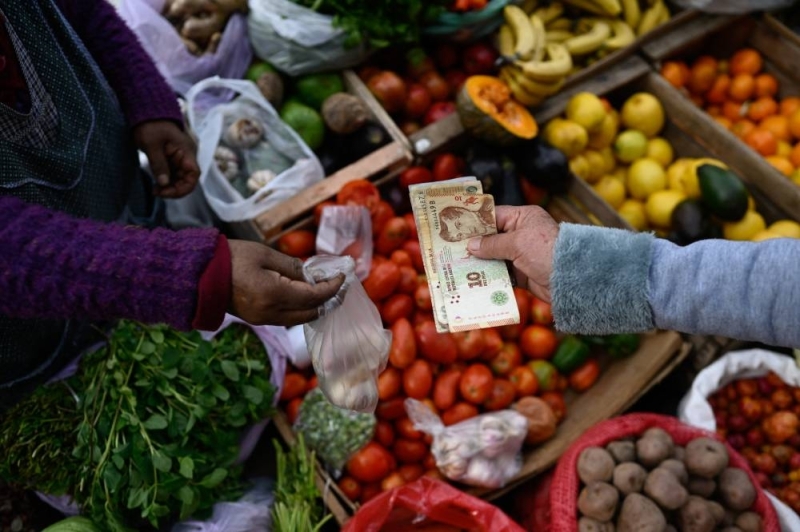 The last time monthly CPI reached double digits was in April 2002 (10.4%), shortly after the country abandoned the 1:1 fixed parity model./AFP
Argentina's inflation rate ended August at 12.4%, the highest since 1991 as people struggled to make ends meet.
Consumer Price Index (CPI) data released by the national statistical agency Indoc this Wednesday showed an increase of 124.4% in 12 months and 80.2% so far this year. It is one of the tallest in the world.
The last time the monthly inflation rate was this high was in February 1991 (27%), when the country adopted a fixed peso-dollar exchange process. The last time monthly CPI reached his double digits was in April 2002 (10.4%), shortly after the country abandoned his 1:1 fixed parity model.
The items with the largest increase were food and non-alcoholic beverages by 15.6%, and "products of an increase in meat and its processed products, vegetables, tubers and legumes".
"there is nothing".
Meat, an essential part of Argentina's diet, has increased by more than 30%. For example, the most popular regular ground meat rose 39.4% in August, according to the report. The same goes for other small cuts.
"We have nothing and we have no money to save," school teacher Karina Sablić told AFP as she shopped at an open-air market in Buenos Aires. She said, "We live hand to mouth. We work all day long because her one position is not enough."
Economy Minister Sergio Massa, who is seeking to take power as the ruling party's presidential candidate, said just before the index was released that "August was one of the worst months in the economic process of the past 30 years, and we are on the brink of recession." It is a product." Imposition of the International Monetary Fund."
This refers to the 21% currency devaluation on August 14th, precisely in agreement with the IMF to unblock the execution of a $44 billion credit program with the IMF.
Then, a few weeks before the presidential election (October 22), opposition candidates promised strong fiscal adjustments to stabilize the economy, and prices continued to rise.
The market was expecting double-digit inflation. The stock market closed positive (2.84%).
"a shame".
The health sector reported a 15.3% increase. housing equipment and maintenance, 14.1%; The transportation industry is 10.5%.
"Disappointing," conservative candidate Patricia Bullrich wrote. "This is not just inflation, it's a number that sums up the tragedy that Massa and Kirchnerism left us with."
"We need an anti-inflation plan," said economist Victor Baker, director of the Center for New Economic Research at the University of Belgrano.
"But obviously it won't exist until December 10," he explained to AFP. On that day, a new government will be established.
Argentina has already experienced hyperinflation twice, with annual rates of 3,079% in 1989 and 2,314% in 1990.
The country then adopted a "convertibility" model supported by privatization, deregulation, and full economic opening.
Annual inflation fell to single digits, but increased imports increased foreign currency debt, bankrupted industry, and triggered a deep recession, leading to the political crisis of 2001 and the devaluation of the peso in 2002.
Stretch your money.
Massa is expected to announce new measures recently announced to increase the minimum income amount for income tax payments, which he said will improve Argentines' pocket money by up to 21 percent.
Suspicious people stretch their money as far as they can.
"We continue despite everything because we are in complete disbelief and we know that the situation will not change for now," Sablić said. "That's the saddest thing about being in this country right now: the fear of not knowing how we're going to get out or who's going to get us out."
The September Focus Economics report, which brought together more than 40 analysts from banks and consulting firms, forecasts that inflation will end in 2023 at a higher level than a year ago. "Deficit finances are driven by the collapse of the peso amid financial and fiscal conditions (due to currency emissions)."
"The weaker-than-expected peso and fiscal expansion ahead of October elections pose important upside risks."

Source: Diario.Elmundo