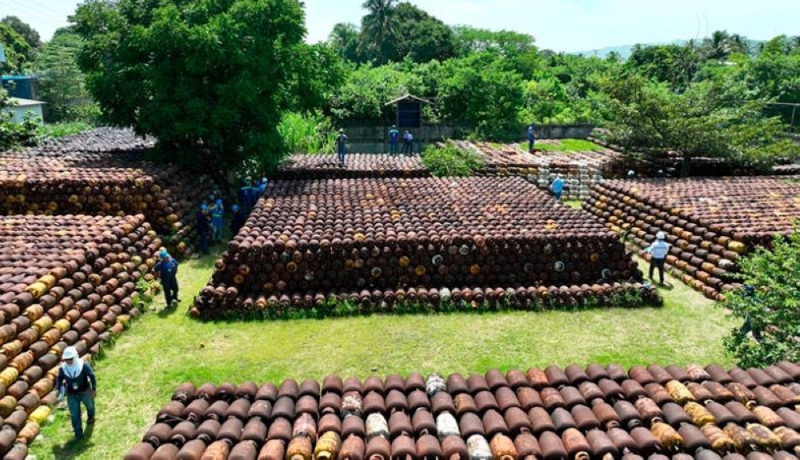 Gas drums were phased out in San Juan Opico last July. / Courtesy
At least 119,660 liquefied petroleum gas (LPG) cylinders were put on the market between January and July 2023 due to non-compliance with safety conditions for users and the general public, according to data from the Directorate General of Energy, Hydrocarbons and Mines (DGEHM). was recovered from. ).
Statistics obtained through a freedom of information request show that cylinders suitable for destruction were recorded in January, May, June and July last year. However, in the last month alone, 119,648 cases were detected in this situation.
Among the global data, more than 119,000 containers were detected in the city of San Juan Opico, La Libertad in July alone. At the time, the agency said on social networks that the cylinders had corrosion, worn seats, unevenness, and some had no manufacturing records.
On a general level, management explains that all cylinders were found as scrap metal.
Additionally, it is now compatible with 25-pound drums, which are the most sold in the El Salvadoran market.
Despite the detection, DGEHM suggested that the packaging company should be responsible for the disposal.
DEM
inspection.
From January to July 2023, inspectors conducted 61 verifications across the country. However, discrepancies were found in 11 cases (18% of cases).
For example, three inspections conducted in January in the cities of San Salvador and Zacatecolca found 35-pound cylinders with inaccurate weights.
The number of cylinders in which discrepancies were detected was not determined, but inaccurate weights accounted for remaining irregularities in 25- to 35-pound drums recorded in February, May, June, and July. It became. These cases correspond to the municipalities of San Salvador, Ahuachapan, Chinameca, Santa Ana, Quesartepeque, Usultan, and Chalchuapa.
Weight non-adherence is mostly detected by facilities and reported through social networks. Last July, DGEHM announced that the batch of 700 gas cylinders did not meet the required weight in Quezartepeque, so the sale of that batch had been stopped.
Delivery of the exact weight of each drum is legally guaranteed by the laws regulating the bailment, transportation and distribution of petroleum products. Article 9 of the External Regulation states that all packaging companies are obliged to deliver the agreed gas content in each portable container.
"Thus, when carrying out inspections at wholesalers or points of sale, the responsibility for weight non-compliance lies with the packaging plant, unless the inviolable seal is damaged," the law states.
Dairy farm details
DGEHM can be contacted at 2590-5555 or 6969-8088 for complaints and inquiries regarding LPG services. This should provide information to perform validation.
1.- This month
In September, the Directorate General reported that changes in LPG container fees were detected in the city of Estan Elan, Usultan Region.
2.- Weight
All of the drums removed were 25 pounds because they were in poor condition and were considered scrap, according to the DGEHM report.
3.- Price
Gasoline prices rose $0.11 to $0.44 in September. Dairy farm prices published by the agency range from $4.61 to $15.50.
4.- Consumption
LPG consumption in El Salvador reached 85.6 million gallons as of June last year. The best selling one is the 25 lb one, then the 35 lb one.

Source: Diario.Elmundo