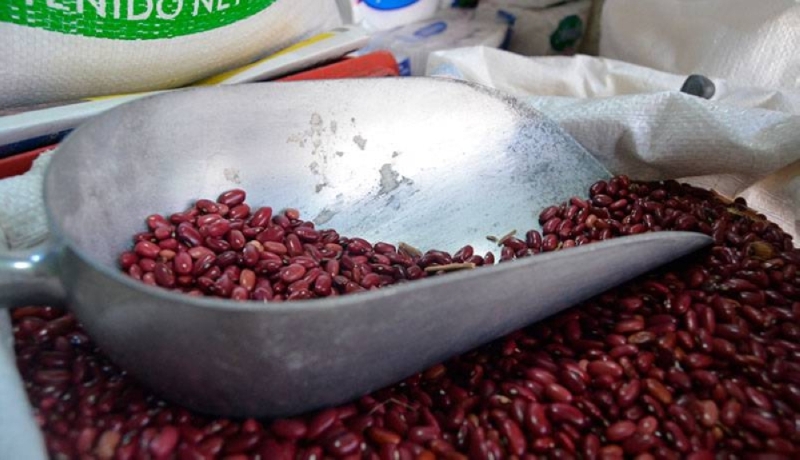 The cost per pound of beans varies. In some respects they report a decrease compared to a year ago, while others swear they see an increase. / Lisbeth Ayala
According to data from the Central Reserve Bank (BCR), the price per kilogram of corn and beans imported by El Salvador has increased by 6.7% and 7.7%, respectively, so far in 2023.
According to statistics, between January and July 2023, 445 million kilograms of corn worth $164.6 million was imported. This means that $0.37 per kilogram was paid. This represents an average increase of 2 cents compared to his $0.35 for the same period in 2022.
More than 1.5 million kilograms (valued at $640,643) of pulses, including beans and pulses, have been purchased so far this year. This means $0.41 was paid per kilogram, $0.03 more than last year.
What influenced it?
Luis Torreminio, president of El Salvador's Chamber of Small and Medium-sized Agricultural Producers (Campo), said the rise in import costs was influenced by the El Niño phenomenon, which was accompanied by a drought followed by heavy rains.
Treminio points out that rising production costs due to more expensive agricultural products are also having a negative impact on the price of finished products.
According to BCR data, the majority of beans imported in 2023 will come from Guatemala, the United States, and Honduras.
In the case of corn, imports were high from the United States, Brazil, Argentina and Nicaragua, with the latter reporting a 79.4% decrease in the number of kilograms sent to El Salvador.
"It is true that in 2024 the market will be able to be supplied with imported goods, but prices will not come down, but rather will remain high," Treminio said.
Campo estimates that 25 million quintals of basic grains are needed to meet national consumption. However, the production deficit for the 2023-2024 season will be 6.4 million quintals, and imports will have to be substituted.
Local production was also affected by reduced rainfall and high temperatures due to El Niño, resulting in a loss of 1.2 million quintals of maize and beans (valued at $46.6 million).
In addition, there are reports that 100 blocks of corn have been lost due to flooding in the city of El Paiznal, San Salvador. He also affected more than 300 blocks in the southern district of Ahuachapan province. Campo estimated that 250 producers and about 5,000 quintals of maize and beans were affected.
Uncertainty.
The increase in the prices of basic grains is not only reflected in the statistics, but also recognized in the markets of the capital of El Salvador.
Sonia Miranda, a trader at the central market, points out that a pound of silk beans sells for $1.15, but last month the grain cost $1.35.
Three sellers consulted by Diario El Mundo agreed that the market price for a pound of corn so far this year has increased between $0.10 and $0.15, and between $0.35 and $0.40 depending on where it is sold. .
In the case of rice, central market seller Walter Garcia pointed out that it has been stable at $0.50 since 2022.
The seller assured that the increase in the variety of products in the basic basket means that the amount of products purchased by the customer will decrease. "We haven't lost any customers, but we've also brought down fewer items," said Daniel Ramos, a merchant.
data
Sellers report that the quintals they sell are not whole, and also claim that some traders are hoarding the product to keep it expensive.
Increase in basic grain prices
1.- Climate change
This region may be affected by climate change, as it produces some of the vegetables, dairy products, and grains consumed by Salvadorans.
2.- Purchase
El Salvador imported 1.5 million kilograms of beans, valued at $640,643. Meanwhile, $164.6 million worth of corn was purchased.
3.- Origin
Imported corn comes from regional countries such as the United States, Brazil, Argentina, Canada, Nicaragua, Guatemala, and Honduras.

Source: Diario.Elmundo