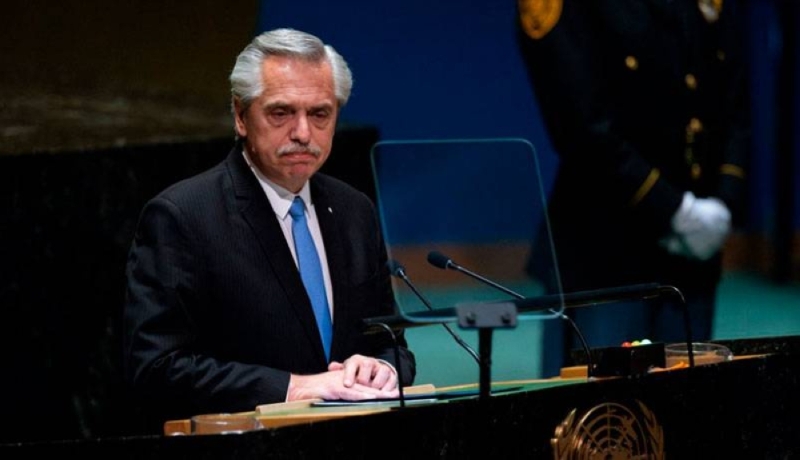 Argentine President Alberto Fernández at the United Nations General Assembly. /AFP
Argentina's President Alberto Fernández on Tuesday, ahead of the United Nations General Assembly, called on the International Monetary Fund (IMF) to stop applying interest premiums to debtor countries.
Fernández, a progressive Peronist whose term ends on December 10, said: "The IMF is imposing interest rates on many countries that are unable to bear the burden of external debt. It's shameful."
Argentina received a $57 billion loan from the IMF in 2018 during the liberal Mauricio Macri government (2015-2019), but when President Fernández took office, the pending spending was waived and the amount received in 2021 was $440. renegotiated for $1 billion.
According to Buenos Aires' calculations, the base interest rate applied by the IMF of 4.033% will rise to 8.033% in the case of Argentina due to various fines and surcharges.
Meanwhile, Fernández renewed his call for Iran to "cooperate in advancing the investigation" into the 1994 terrorist attack on the AMIA Jewish Argentine Center that killed 85 people and injured 300.
Argentina's judicial system continues to press charges against Iranian rulers, but has not yet been able to interrogate them.
Mr. Fernández also called on the United States to end the "unacceptable" economic blockade against Cuba and the "sanctions" applied to Venezuela.
As the Peronist government does every year, the Malvinas Islands are "part of Argentine territory" but "illegally occupied by the United Kingdom, which refuses to abide by the 1965 United Nations resolution and recognizes its sovereignty." ' he criticized again. negotiation".

Source: Diario.Elmundo