Tree free concert at Congress Square
The 34th International Festival Imago Sloveniae and Summer in Old Ljubljana begins, bringing concerts of classical, jazz and ethno music to the center of the capital.
The festival opens with a tree concert on Kongresni trg, where the RTV Slovenia Symphony Orchestra will perform with young musicians. The honorary speaker of the opening ceremony will be the Minister of Foreign Affairs Tanja Fajon. Concert with the beginning at 9 p.m. will take place as part of the 14th June Festival in Ljubljana.
Radio Symphony Orchestra will be with young conductors Yes Erčulj in Davorin Mori performed a program from instrumental music to operetta and opera. The soloists will also be young musicians, some of whom are also working abroad: soprano Nika Goričmezzo-soprano Sara Briški Cirman – Raivenclarinetist Andraž Golobviolinist Maja Horvat in pianist Urban Stanič.
In homage to three composersThis year's program commemorates the 330th anniversary of his birth Giuseppe Tartini and the 100th anniversary of the births of composers Uroš Krek ter Vladimir Lovac. With a slightly modified program, the concert will also sound in September in Koper.
The festival is prepared by the Foundation Imago Sloveniae, which this time was successful in the four-year program tender of the Ministry of Culture, and they were also successful in the tender of the Ernst von Siemens Foundation for new productions. This will be the case at this year's festival, according to the director Janos Kern a number of new works can be heard, and guest appearances by Slovenian musicians have been extended to Germany, Austria, Spain and Italy.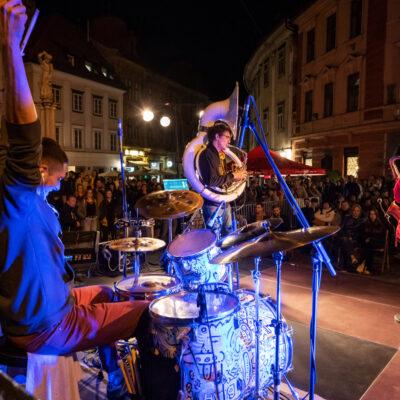 Among other things, the ensemble will perform at the festival Camerata Academica from the Ljubljana Academy of Music, guitarist Clara Tomljanovic with novelties by four composers and Mak Grgic with Bach's music, ensemble Ensemble.si with internationally successful Slovenian musicians and an ensemble for contemporary music MD7which will mark its 20th anniversary with a performance.
From abroad they are coming at the quartet festival Berlin-Tokyoan Austrian project The land of sighstrio Pena-Pasch-Posada with choice zarzuelAustrian pianist Paul Gulda and an Italian piano duet Marc Sollini in Salvatoreja Barbatana. A Brazilian drum quartet will also perform in the jazz part Igor Wiillcoxa. The festival will be complemented by a cycle of young talents.
For the end of the summer, Nights in Old LjubljanaThe Nights in Old Ljubljana will traditionally conclude at the end of August, when an international musicological symposium dedicated to the topic will be on the agenda. Youth music.
Source: Rtvslo