Egypt still hides tombs that have managed to protect their treasures from robbers to this day: under the sands near Cairo, archaeologists recently discovered another such pristine sarcophagus, which they describe as a "dream find".
The giant stone sarcophagus is inscribed with hieroglyphs mentioning Ptahemwia, who managed the treasury of Pharaoh Ramses II, the most influential Egyptian pharaoh of all time.
Ola El Aguiza, a professor of archeology at Cairo University, discovered the tomb in Saqqara, an ancient necropolis about thirty kilometers south of Cairo. Already last year, her team encountered the above-ground part of Ptahemwi's tomb, and now the underground burial chamber with the sarcophagus. Archaeologists hope to learn more about Egyptian rulers in the post-Tutankhamun era.
In a bucket after the funeral shaftIn the center of the above-ground tomb, the team noticed an opening that turned out to be a shaft, letting them know that there was a passageway to the sarcophagus chamber. But the shaft was so deep – eight meters – that it took them a whole week just to remove all the sand around it with a bucket and pulley. Ola El Aguizy then crammed herself into this beaver and let herself go down the shaft. A sarcophagus awaited her at the bottom.
The entire feat was filmed by the cameras of Nation Geographic, which documented the excavations for a series The Lost Treasures of Egyptwhich will begin airing in October.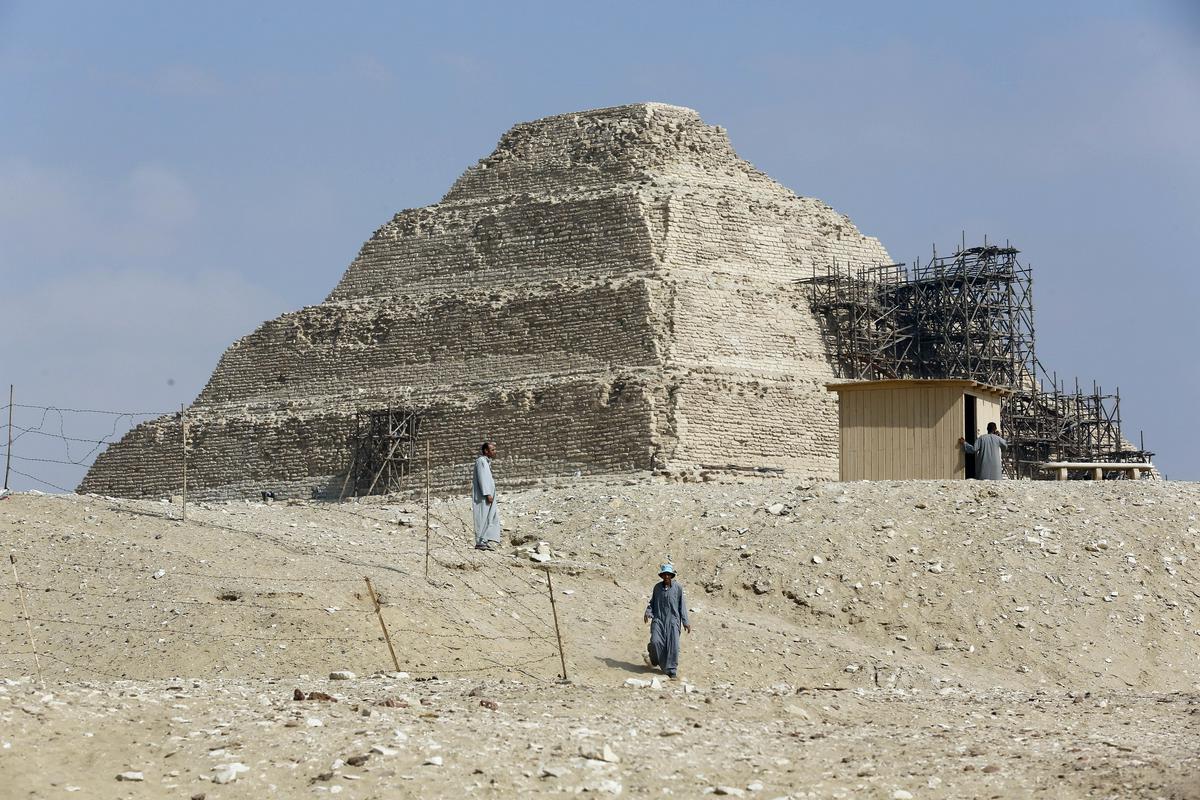 Finding an intact sarcophagus in his original tomb is incredibly rare. "The find was so fascinating because it is the sarcophagus of the actual owner of this tomb, which is not always the case. Sometimes the sarcophagus is the remains of some other individual from a later period when the tomb was used again. But this time it is not that," the archaeologist explained to the British Observer.
The hieroglyphs explicitly emphasize how close Ptahemwia was to the pharaoh, which is said to mean that "he held a key position in the administration of the time". The sarcophagus is also decorated with emblems of various deities, such as the sky goddess Nut on the lid: her spread wings symbolize the protection of the deceased.
"Saqqara is one of the most important burial sites in the entire multi-thousand-year history of Ancient Egypt, both for pharaohs and for ordinary mortals," he summed up for the Guardian Peter Der Manuelianprofessor of Egyptology at Harvard. "This team of researchers has added another important chapter to the history of this space. I am always happy when Egyptian teams make such great discoveries."
Source: Rtvslo