Actress and activist known for speaking on behalf of Marlon Brando at the Academy Awards
Actress and activist Sacheen Littlefeather has said goodbye. On behalf of Marlon Brando, she refused a statuette at the Oscars, which he received for his role in The Godfather. She died less than two months after the academy apologized for its handling of the 1973 event.
Marlon Brando he did not attend the awarding ceremony, as he was protesting in support of the rights of Native Americans. 26 years old at the time Sacheen Littlefeather she came to the event on his behalf, and then, when the recipient of the Academy Award for Best Actor was announced, she refused the award.
John Wayne and six security guardsIn a short speech, she explained that the actor's refusal was partly the result of American policies towards Native Americans and their portrayal in American films. "It is with great regret that Brando cannot accept this very generous award, the reason being the treatment of Native Americans in the film industry. I hope that I did not spoil the evening and that in the future we can meet with love and generosity in our hearts and minds,she said at the award ceremony. She came on stage in traditional dress and introduced herself as an Apache woman and president of the National Native American Positive Image Committee, to which she was booed.
According to her, this event particularly upset the western star John Wayne, who has portrayed a cowboy fighting Native American characters in many films. "During my speech, he walked towards me to forcefully carry me off the stage, with six security guards having to hold him back," she said last year for The Guardian.
A young actress on the blacklist of the film industryAfter the award, Sacheen Littlefeather was blacklisted from the film industry as part of efforts to suppress indigenous activism by the US government at the time, the actress revealed in the documentary Reel Injun: On the Trail of the Hollywood Indian from 2009. And indeed, after the event at the Oscars, she could only be seen on the big screen a few more times, with the exception of some minor roles, the last time in 1975 in the film Winterhawk. In 2018, she told her story in a short documentary Sacheen: Breaking the Silenceit says The Hollywood Reporter.
Half a century of waiting for an apologyThe American Academy of Motion Picture Arts and Sciences, which awards the Oscars, officially apologized to the former actress and activist only in August of this year for its attitude towards her. The apology was published by the former president of the academy David Rubin. "The abuse you suffered for your statement was undeserved and unfounded. The emotional burden you have endured and the damage your career in our industry has suffered is irreparable. For too long, no one recognized the courage you showed. We offer you our deepest apologies and sincere admiration,Rubin wrote, among other things.
The 75-year-old then accepted that official apology in September at an event called An Evening with Sacheen Littlefeather at the Los Angeles Film Academy Museum. "I'm here to accept that apology. Not just for myself, but as a recognition, because I know it's not just for me, but for all our nations, who also need to hear and deserve this apology. I want all Indians in this audience to stand up. Look at our people, look at each other and be proud that we all survived. Please, when I am gone, remember that whenever you stand up for your truth, you are also preserving my voice and the voices of our nations and people. I remain Sacheen Littlefeather. Thank you," were her words.
"I think that's when I really became an activist"Sacheen Littlefeather was born in 1946 in Salinas, California to a Native American father and a light-skinned mother. In the mentioned interview with The Guardian, she talked about her difficult childhood, both parents were mentally ill and could not raise her. At the age of three, she was taken away and raised by her maternal grandparents. In the interview, she also told how, as a little girl, she hit her father with a broom to stop him from beating her mother. "I think that's when I really became an activist," she added. When she was 17, her father died, and that's when she started visiting reservations in Arizona."I really had a breakthrough with other urban Indians when I returned to our tradition, our heritage. Old men who came from different reservations taught us young people how to be Indians again. It was wonderful" she said.
By her early 20s, she worked at a San Francisco radio station, chaired a local Native American affirmative action committee, and studied representation on screen and in sports. When she heard Marlon Brando speak about Native American rights, she wrote him a letter – the actor called her a few months later and they became good friends. In her older years, Littlefeather also taught cultural knowledge to younger Indians.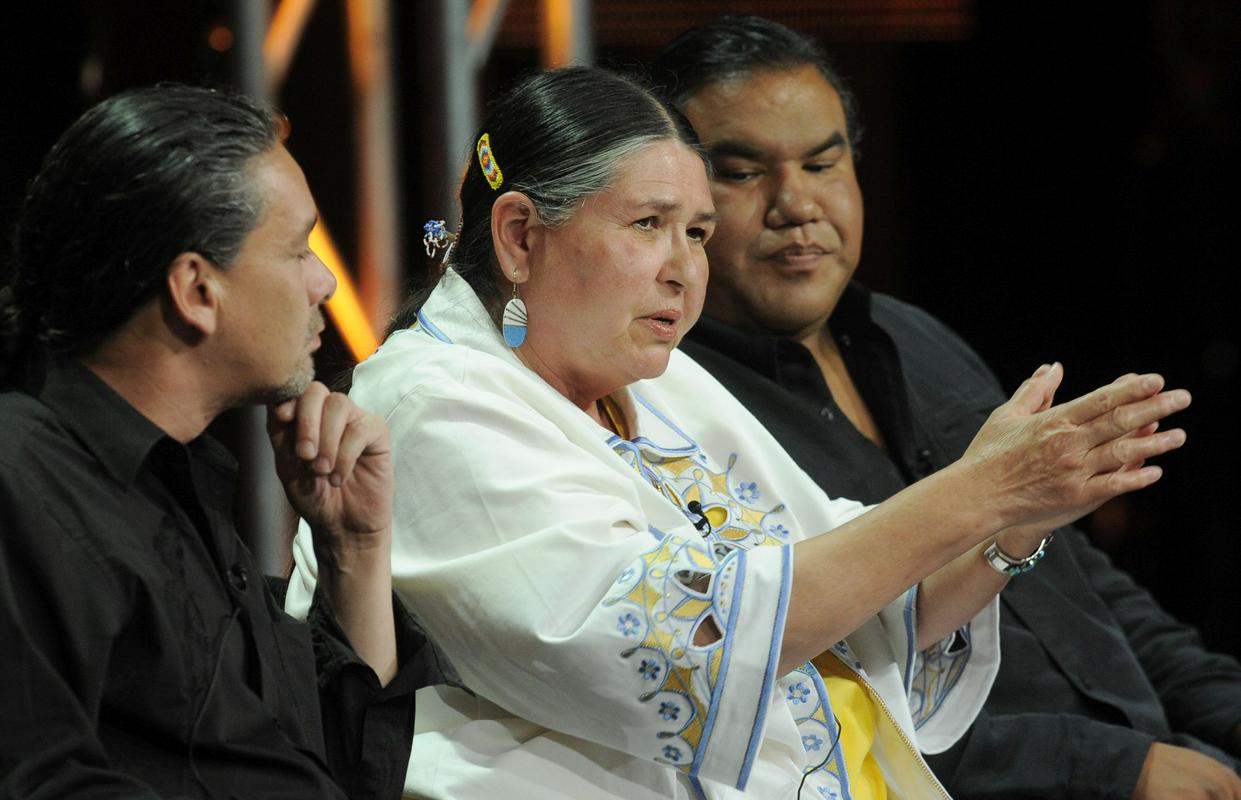 "I have earned the right to be the real me"In the aforementioned interview last year, she revealed that "very, very sick"with breast cancer."I have been on chemotherapy and daily antibiotics for quite some time. So my memory is not as good as it used to be. I am very tired all the time because cancer is a full-time job: CT scans, MRIs, lab blood tests, doctor visits, chemotherapy, infectious disease control doctor visits, etc. If you're lazy, don't file for cancer," she said, adding that she was going somewhere else."I am going to the world of my ancestors. I'm saying goodbye to you… I've earned the right to be the real me," she concluded.
The Academy announced the news of Sacheen Littlefeather's death in a tweet Sunday night. The Hollywood Reporter cited a statement from her guardian, who said she died at noon Sunday at her home in Novato, Northern California, surrounded by her loved ones.
Source: Rtvslo