One of the most recognized and publicly recognized names in Slovenian design
The internationally renowned Slovenian designer, academician and artist Oskar Kogoj is celebrating his eightieth birthday, who "ennobles objects intended mainly for everyday use and provokes wonder by making artefacts that, as unique items, have museum value".
This is how they wrote in 2010 at the exhibition Kogo and the Croatian architect Nenad Fabijanić in the National Gallery. His artefacts, they continued, are iconically offered to everyday use to give living space a higher level and deeper meaning through beauty. With yours "natural design" Kogoj indicates the surprising similarity of natural and human creation, or, to put it another way, the fatal connection between man and nature, they added.
Sam says about his work that he never starts a project as a spiritual novice. "There is always a long mental work for each task. Even after several months or even years, spiritual research and negotiations take place, which are preparatory to taking on the task. Only then do the elements for the construction begin to be collected. The design is the last, like clothing on the body. "
Oskar Kogoj was born in 1942 in Mirno. He first attended the School of Design, majoring in industrial design, in Ljubljana, then he studied at the University of Industrial Design in Venice and, after graduating in 1966, continued working there as an assistant.
Between 1968 and 1970, he worked in the research and design department of the furniture company Meblo from Nova Gorica. He has been a freelance artist since 1971. That year, he also received an award from the Prešeren Fund for the Gondola family of plastic recliners, which he designed for Mebla.
Later he also lectured in Florence, and since 2005 at the University of Novi Gori. He is a member of several international associations for design and art.
In 2020, the Association of Designers of Slovenia awarded him a lifetime achievement award. As stated in the justification of the award, Kogoj is undoubtedly one of the most recognized and publicly recognized names in Slovenian design. In the justification, his work in the furniture company Meblo and his recliners with which "in our space, he proved himself as a bold member of the global design avant-garde". Decades later, however "he finds himself in harmony with nature again, design suddenly represents a deeper human, even mystical thought"it also said.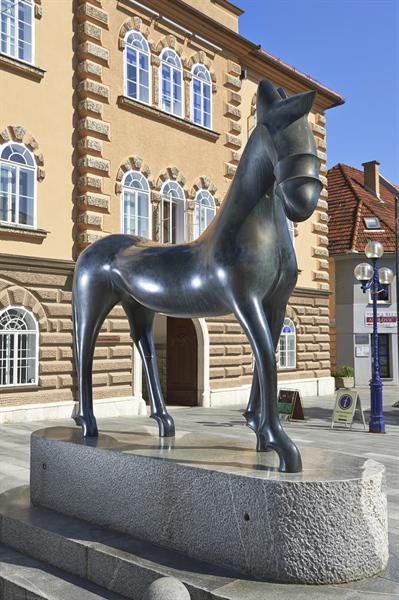 He has been participating in group exhibitions since 1959, and since 1970 he has also exhibited independently. He participated in more than 400 group and solo exhibitions, both in Slovenia and abroad. He has received more than 70 international awards and recognitions for his work. His works of art are kept in more than a hundred museums and permanent collections around the world and at home.
In 1998, the sales and exhibition Gallery Oskar Kogoj Nature Design opened its doors in the renovated house of his mother in Mirno near Nova Gorica. On this year's anniversary, he symbolically presented eight "leadership sticks" to the municipality of Miren – Kostanjevica, of which he is an honorary citizen. They were created according to Kogo's classic concept of creation in cooperation with nature. "The latter offered a basic element, an exceptional sculpture that addressed the master with a form in which he recognized the message and upgraded it into a product with a special vibration," announced from Tourism Miren – Kostanjevica.
The donation of leadership sticks took place at the Peace Monument in Cerje. Kogo's great wish is that in the future the sticks will be passed on as recognitions to deserving people for special achievements related to the municipality or the monument on Cerje.
As he said, Kogoj decided to donate sticks because "the stick accompanies humanity in all civilizations". He added that he likes to walk in wild nature, by the sea, in the Karst and at the same time find phenomenal forms of nature, thus a large collection of interesting sticks was created, which originates from Vipava, Soča and Nadiža, the Mediterranean, Karst, as well as other parts of the world .
On the occasion of Kogo's 80th birthday, an educational documentary film was also created Oskar Kogoj, from idea to product. A virtual presentation of the artist's thinking is part of the project Oskar Kogoj – life and work, which includes the establishment of a digital database of products and designer testimonials. The film is produced in four versions: Slovenian, English and a sensorially adapted version for the deaf and hard of hearing, as well as the blind and partially sighted.
Source: Rtvslo