Saša Šketa's Here's Your Lunch in second place, and Miha Mazzini's Personal in third place
The grand prize of the Slovenian Book Fair for the book of the year was awarded to David Zupančič for the book Življenje v siva coni (Young people's book). The winning book was chosen by the visitors of the fair's website by voting from ten nominees.
David Zupančič after presenting the award regarding the book's success, he said that it was something right "one dare not hope". He thought he had a book predispositions, so that it could be read, even in light of what it describes, but he did not expect such a response in any way. In his words, even the award and the nomination itself are something, right "you really really want something, but when you want something enough, you don't even dare to admit that you want it, because that way you set yourself up for disappointment".
"In this way, you somehow artificially smell yourself in the sense, 'because even if a hundred people read this, it will be fine, because even the nomination itself is in ok'", he said. As he also says, in relation to the book, every day brings a new surprise for him as well.
The author has already written a few pages of the sequel. Otherwise, it hasn't yet completely satisfied and intends to take his time, but he is very motivated. He also took the time for Life in the Gray Zone, about which he says that "he feels that it would not be as good as it is if he had not taken the time for it". Alenke Kepic Mohar a surprise for them too. Life in the Gray Zone is the fastest selling book since 2014, "right it means that when it came out, it practically went out in ten days". She believed that the universal message of the author is that it is important to do work with the heart, and the persuasiveness that stems from the book is something, right convinces every reader.
As the director of the Chamber of Book Publishers and Booksellers, Vladimir Kukavica, said before the award winner was announced, voting took place on the fair's website more than 4,000 visitors, with the winning book receiving more than 40 percent of the votes. Doctor David Zupančič combined his thoughts from the period of the epidemic in the book Life in the Gray Zone covid-19, as he experienced it as a specialist in infectology in the emergency clinic of the Clinic for Infectious Diseases and Febrile Conditions in Ljubljana.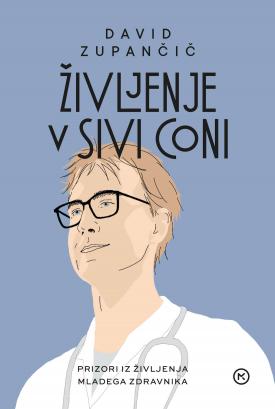 He dealt a lot with stress and anxiety, researched how to rest, disconnect and not burn out, but also wondered how to stay motivated during a period that was filled with a lot of work on the one hand and on the other pages with various records that appeared on social networks about doctors, healthcare and the profession.
A great deal of empathy and, above all, self-criticism is requiredHe approached writing in a humorous way, even otherwise, humor is an important part of his life. "There are a lot of comedians in medicine and healthcare situations, but writing this requires a great deal of empathy and, above all, self-criticism. Whatever is written wittily about health care, care must be taken to be respectful of both those involved and the profession. I am very careful not to I am trivializing," he says.
He took second place according to words Miha Kovačahead of the expert committee that selected the nominated books, ranked the book Here's your lunch Saša Šketa (Celjska Mohorjeva družba), and a book on the third Personally Mihe Mazzini (Goga publishing house).
Source: Rtvslo