A self-portrait by the painter Max Beckmann, created when the artist fled Nazi Germany, has changed hands for more than €20 million, breaking the record for the most expensive artwork ever sold at auction in Germany.
Yellow-pink self-portrait (Selbstbildnis gelb-rosa), which has been privately owned since its creation in 1943, depicts the artist during Dutch exile from Nazi Germany. The identity of the new owner is not publicly known, but he will have to pay 23.2 million euros for the work of art, including all fees.
An auction like no other in GermanyBeckmann was in his fifties at the time of the painting, which means that he portrayed himself as younger than he was. He first gave it to his wife Mathilde, known as Quappi, who owned it until her death in 1986. The painting was then part of a private Swiss collection for decades. It has not been on public view since the mid-nineties of the last century. "There has been no comparable work of art on the German auction market since 1945," Micaela Kapitzky, director and partner of the Berlin auction house Grisebach, emphasized before the sale.
Beckmann's creative period in the Netherlands is marked by two things: relief at having escaped Nazi Germany and also frustration at having to leave his homeland, and this ambivalence is also surprisingly reflected in A yellow-pink self-portrait.
Preventive protection against tomato soup and paintThe painting was given a public preview at the "Villa Griesbach" in Berlin a week before the sale. For this purpose, it was protected with glass in order to protect it from possible vandalism by climate activists, who in recent months have planned actions in which various works of art are in the foreground.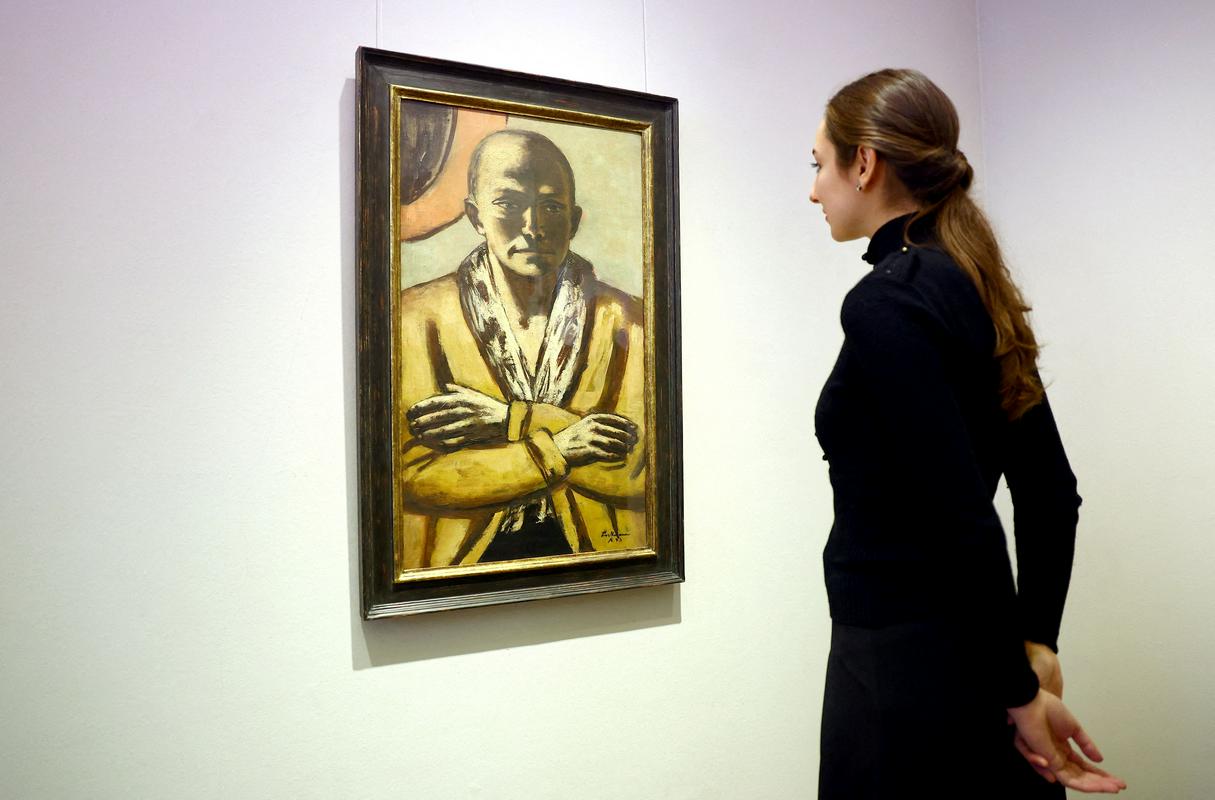 A homeland to which he never returnedBeckmann created several self-portraits during his career, which are in high demand among collectors, although they rarely appear at auction. The work that is the talk of the town today is unusual because of its unconventional choice of vivid colors. The yellow robe with a fur collar is a reference to what Beckmann called the figure of the "artist king", expressing his artistic sovereignty at a time when he was often unable to influence his circumstances.
Beckmann moved to Amsterdam in 1937 after hearing Hitler's condemnation of "degenerate" artists. Authorities later seized more than 500 of his works from various museums. He and Mathilde never returned to Germany: they moved to the United States, where the artist died in 1950. The decade during the war, which he spent in his Amsterdam studio, was the most fruitful of his career.
The auction broke the previous German record by more than 10 million euros: the highest proceeds in Germany so far was 9.5 million euros. Last year, an auction house in Stuttgart sold a bronze statuette given by the Chinese emperor to his concubine in 1473 for such a sum.
Source: Rtvslo