Against the gentrification of the capital
"This city is actually becoming a city for the elite, for people with money," said one of the participants in the protest dedicated to the second anniversary of the eviction of the Rog autonomous zone from the former bicycle factory.
Before opening a new one Center The horn, which is planned for this year, a couple of hundred protesters expressed their disagreement with the pushing out of apartment tenants from urban areas for the needs of tourism.Introduction the aforementioned participant supported the protest as someone who has lived and worked in Ljubljana for 40 years. "Otherwise, I don't live in the city center, I live and work here, and after so many years, I'm just about to retire, you live on your salary. And I work in education. And let that who comments, like wants to," she added.
"The protest was organized on the second anniversary of the violence evictions of the Rog autonomous factory, which existed for almost 16 years and took its place in society, which the Valina company's security guards and the police did under the pretext that no one was in the Rog facilities." said one participant, adding: "There is also a protest against the general high cost of living in Ljubljana and the subjugation of the city to the interests of tourists and capital."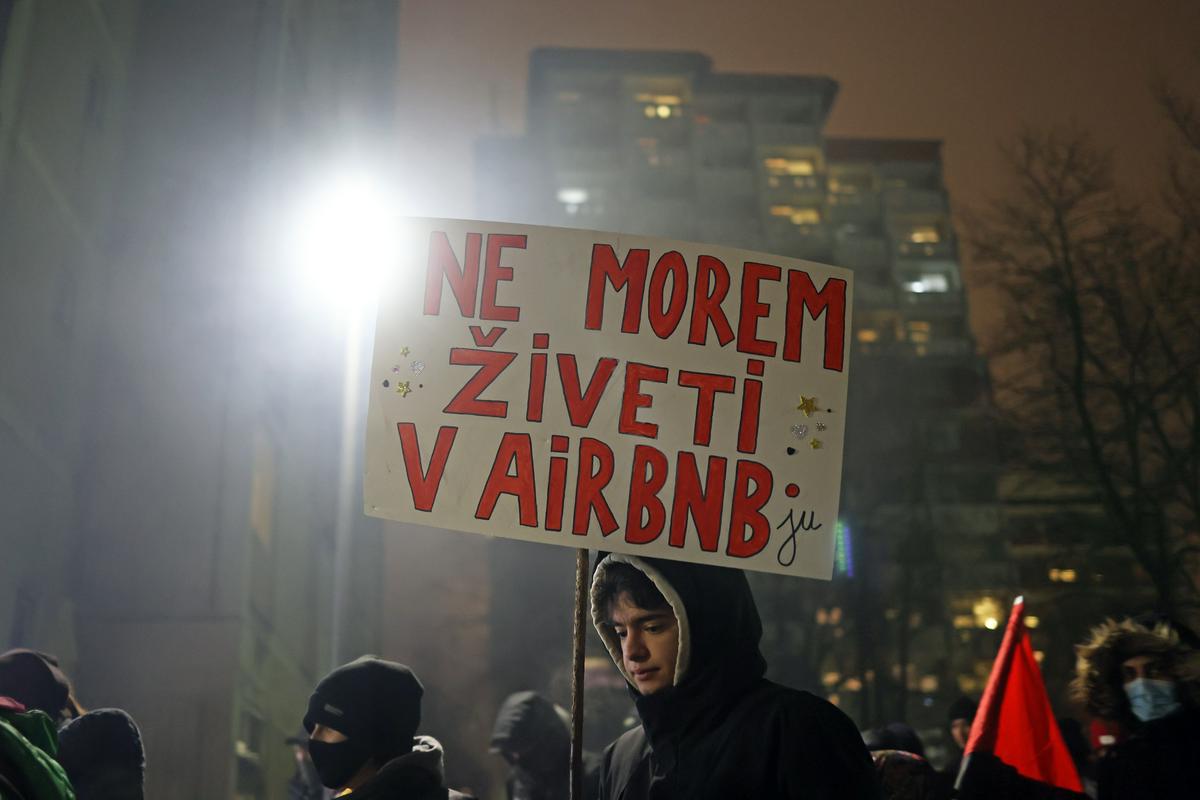 The protesters walked from Tabor Park past the RTV Slovenija building Slovenian street and Tromostovje to the Town Hall and in front of the former Rog factory, where they tried to open the door to the yard emerging creative and cultural centerwhich was prevented by the police.
Simultaneously with the protest against gentrification of the city, directed against Ljubljana's mayor Zoran Janković, stood up for the preservation of the alternative scene in Ljubljana and for the protection of autonomous spaces, such as the recently created Participative Ljubljana Autonomous zone (Place). They also advocated public health care for all residents.
The municipality of Ljubljana took possession of the former Rog factory, where members of the autonomous community lived and worked for many years, exactly two years ago and began its demolition. At that time, many protesters gathered in front of Rog, and the police also intervened.
Users of Rog claimed that they were evicted without a legal basis, and even then warned of the shrinking of public space for residents. With cross-claims, the case also ended up in court.
A public institute was then established in April 2020 Center Rog, which will manage a new cultural and creative center with modern production facilities. The renovation started last January, its value was estimated at around 20 million euros.
Source: Rtvslo