A series of concerts will also be broadcast on more than ten local television stations
Today's concert by Robert Petan begins a series of five virtual Godibodi TV concerts created by Janez Dovč and Goran Krmac. According to Dovč, they kept the online format because they want to explore what can be done in this format.
Of course, the intention is also to invite listeners to live concerts.
Janez Dovč is a well-known name on the Slovenian music scene, for almost 20 years he has been expanding the field of Slovenian musical creativity with his harmonica and tireless creativity. The GodibodiTV concert cycle is a continuation of the Dovč & Krmac concert cycle with [email protected], which they started with a simple idea: to use modern media for the presentation and promotion of Slovenian musical creativity. Tinkara Kovač, Sabina Cvilak, Tomaž Hostnik, Metod Banko and Gregor Volk took part in the previous concerts, and in the new cycle, in addition to Petan, Brina Vogelnik, Rudi Bučar, Urša Mihevc and Eva Hren will join them in the studio today. Petan is a younger generation musician from Breže, who released the album 'Ni za konje dirka, ni za srečne raj' on the Celinka label.
More in the conversation with Janez Dovč below.
Why did you decide to keep the online series of concerts, even if there are no longer any restrictions, as they were in place during the epidemic?Live music is of course the most powerful experience. The suspense of a live concert is what draws listeners to a concert, because experiencing a live concert is of course a different experience than listening online.
During the epidemic, Goran Krmec and I tested the format of live broadcasting on the Internet and via TV broadcasts. At that time, it was because we were creating and playing in the first place. In any case, the TV show is an interesting, different format that is interesting to explore, if we also take into account the current poor support of national television diverse musical genres, the decision to continue the project was quite logical.
The purpose of these concerts is, of course, to invite you to concerts and live performances. At the same time, we are also testing what can be done in this more intimate format. We record at my home, where I feel good and do my best to be a good host, the team is very self-sufficient, there is of course my musical sidekick Goran Krmac, I myself, in addition to acting, design the sound, and my partner Ana records the video and edits it live .
You headlined a series of concerts with Godibodi TV. The first association with this name is the festival of the same name, which you have been creating for more than 15 years.Finally, we added TV, which is a logical extension of the Godibodi festival (laughter), which we founded 15 years ago, and all the time opens a space for creating, performing and listening to music, in close connection with the Celinka.si label, which also has been operating for over 15 years. During this time, we released more than 160 albums by various Slovenian artists. The individual building blocks are connected within the creative field. Slovenia is a specific place, with its advantages and disadvantages, a small market means less money, but at the same time also more intimacy, the musicians know each other quite a bit, also the audience it is similar to jazzfestivalson the Second Band, Godibodi, Sozvočjie sveta in Hostel Celica, etc. This audience is not that numerous. The goal of everything is therefore to persuade a wider circle of people to listen to our music.
Many people are unable to follow the scene in depth and are only familiar with the content provided by the public media, where too often there is poor support for various genres and music. National radio is better than national television, but television still has a lot of power. I would never underestimate a listener. Several times I have heard an editor say that some music is too demanding for their listeners. I don't agree with that. It is necessary to give listeners the opportunity to choose, to expand horizons. Listeners feel when something is sincere and sparkling, not only in music, but in art in general.
However, with the development of technology, the possibility and accessibility of online creation has actually greatly increased. Tools for creating music and manipulating sound have advanced tremendously in recent decades. Today, in your home studio, you can achieve image and sound quality that was only available in large production environments 20 years ago. Even in the field of creating music for feature films, great progress can be seen in technology, the possibilities of using the most modern tools. So the possibilities for creating music are really many, but the question is still what is the inspiration for it. I myself look for music where there is sincerity, spark, quality.
The guests we have chosen for this year are all excellent authors, not just singers. Today we start with an interesting author who "flashes" in his brain. I heard Robert Petan for the first time two years ago, I immediately invited him to participate, we released his record at Celinka, he also performed at Godibodi. I think this is important: that the space reacts quickly when fresh wind appears, don't turn on it, sail with it. Broadcasts, media that react quickly to new names, recognize quality and have an ear for good music, play an important role.
Petan may be unknown to the general public, but some other names such as Brina Vogelnik, Eva Hren or Rudi Bučar are well-established names. How did you go about inviting guests?As I said before, the principle from past shows continues: honesty in creation and the author's component. But there are still many candidates for future shows (laughs). We don't go according to order or priorities, Goran and I often choose guests from creative circles, some of whom I have already performed with. It was also interesting in the previous series, among the guests was Tomaž Hostnik, who was also a new name. A really great, now established creator. This year's cycle of concerts was also supported by the Ministry of Culture through a tender, so we have some basic funds for travel expenses (laughs).
How did you prepare the program for each concert? Who chose the songs, how about the rehearsals?Robi is from Brežice and, taking into account the weather conditions of the last few days, the preparations were quite a feat, we had one rehearsal, before that we exchanged emails about what we would play. I usually ask the guest to suggest a repertoire with an emphasis on original compositions, including some unreleased ones. Goran and I enjoy playing interesting songs, re-learning many of them, preparing arrangements. Goran plays the tuba, electronic percussion, I myself play the harmonica connected to electronics. Since we are quite experienced and seasoned in many genres and bands, we find ourselves even with less practice. Improvisation is part of the process when what you hear inspires you further.
What is your assessment of the state of the Slovenian music scene?As has been said several times, in my opinion there are an unusually large number of high-quality creators in Slovenia. However, due to the small market, it is difficult to get to the point where you deal with music professionally, so that the products get quality sound and video image. A lot depends on TV and radio editors to monitor the scene and support diverse and quality creativity.
For the upcoming cycle, you have also agreed with some local television stations to broadcast the concerts. Was it a challenging undertaking, or did you find a common language quickly?It's an experiment, I like to create chords, connect, probably also because I come from a big family, there were five of us and I was the oldest, so I always took the initiative. In short, we have agreed with a little more than 10 local television stations, but we remain open to the possibility of any more joining. The agreement is that in one year they can spin shows like the ones we will premiere on YouTube, with no limit on the number of shows.
You play the accordion, you mentioned earlier that last year you devoted a lot of energy to writing film music, organizing such concerts requires other skills, in short, your work is very diverse. Is it precisely this interweaving that improves you the most, or is there one of the fields of creation that you prefer the most?I like to play, to play, to improvise, either in the field of original music or folk bands. I like creating for film and theater, looking for silence from which music can then be born. I am often amazed at how new areas are being explored again and again. My professional path really started with the band Terrafolk, although before that I was already very serious about creating with the band Jararaja. Terrafolk was at the peak of international fame at that time, there were many tours, it's really crazy what experiences I gained at that time. Then concerts, various collaborations, with musicians, painters and other creative people, in Slovenia and around the world. As a physicist, I am also very interested in connecting science and art. I would also like to mention the music-theater show Tesla, with which I have already had more than 140 repetitions. In it, through the life and work of Nikola Tesla, I touch science, art, humanism, childlike wonder.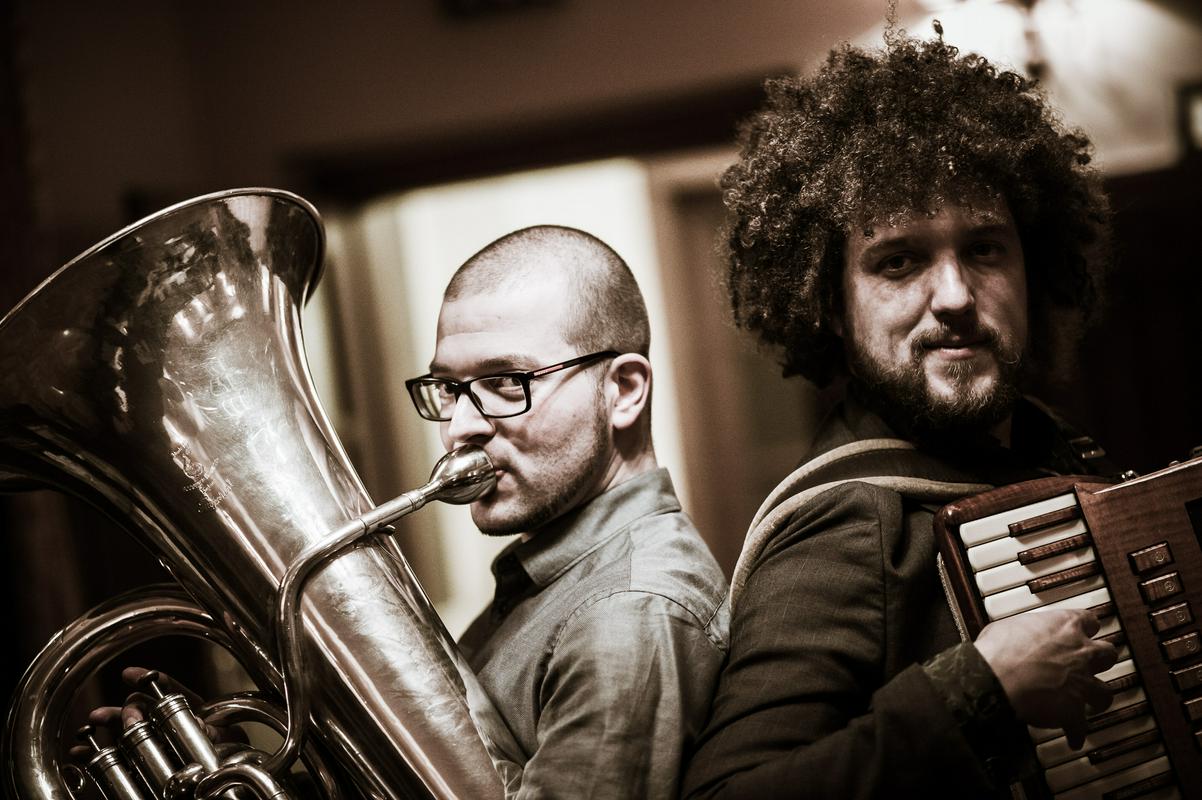 As the father of three young children, I am also interested in the field of education, cultural education, music schools. Especially in these times of an abnormal flood of information, it is crucial that the child gets a good foundation, in the family, as well as contact with music in childhood is very useful in my opinion, it helps to develop listening, concentration, working in a group, improvisation… I am also interested in environmental topics, energy. Last year, as a music composer, I participated in the documentary film The Story of the Sava, in the film Dark Shroud of the World, where Matevž Lenarčič and his colleagues measured black carbon pollution, and we are also collaborating more and more with the interesting director and photographer Cirilo Jazbec. As written in the accompanying words to the video for the song Šentjanževo performed by Sounds of Slovenia, we are in a time when it is crucial to reconnect not only the new with the old, but also civilization with nature. This can only be done through the various experiences of diverse cultures, which mean cultivating centuries-old contact with nature in real space. Music can play a key role in this resonance.
Source: Rtvslo