Presentation of the musical work of the Fusion Reactor project
Dancer, choreographer and singer Žiga Kranjčan thought about his vision of a holistic work of art and the Fusion Reactor project was born. After premiering it with dancers last year at the Šiška Cinema, tonight he is presenting the musical part as part of the Cankarjevi Tuesdays cycle.
A native of Kranj has created a complete work of art in a balance between spectacle and improvisation, between jazz and classical music, between reggae and hip hop, between modern dance and freestyle, between singing and dancing, between an individual and a team. A dance concert was created, in which he combined different ways of presentation, from a concert to a performance and a dance performance.
The Kranjčan will perform the musical part of the project at 20:00 as part of Cankarjev Tuesdays in the Cankarjev dom Club. They will join him on stage Marko Črnčec on keyboards, drums and percussion, Miha Koren on bass, Kristijan Krajnčan on drums and cello and a backing vocalist Nina Virant and Klara Klasinc.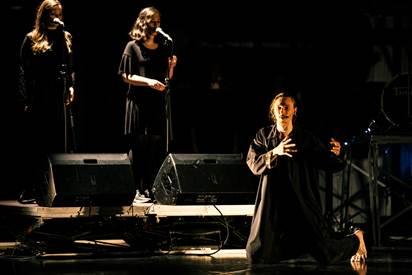 Musician, dancer, choreographer, actor and performer Žiga Kranjčan is creatively spread across different parts of the world and develops the idea of ​​integral creation, always striving to expand, merge and push genre and style boundaries.
The artistic path of the versatile creator led him to the USA, China, Europe and Africa, where he learned about different cultural patterns and incorporated them into his own artistic projects. Fusion Reactor, in which he travels between many genres such as funk, hip-hop, raggae, jazz and classical with original music and dance, will be released as a music album in March.
Source: Rtvslo