Opening of the exhibition of original forgeries by Marcelo Valentini in the Vžigalica Gallery
While studying painting in Italy, Marko Premrl, who works under the name Marcel Valentini, was involved in creating fakes with a certificate as part of the Musee Imaginaire group. The exhibition Original fakes is presented in the Vžigalica Gallery.
Layout Original fakes will be opened in Galeria Vžigalica trees at 7 p.mwill be on display until March 19.
After years of traveling around the world, Marko Premrl decided to study painting in Milan at the end of the 1980s. He was initially educated at a private academy, where he was strongly influenced by Professor Luigi Veronesi, a year later he transferred to the Brera Art Academy. During his studies, he met the Italian businessman Daniel Donde, who invited him to a group of copyists of the old masters, called Musee imaginaire.
In the early 1990s, Premrl, who started creating under the name Marcel Valentini, tried to transfer the profitable business model of trading "legal" fakes to Slovenia, which had only recently gained independence at the time.
In his native Postojna, he organized a group of copyists and ran a studio under the brand name Agla Artwhere he assumed the role of manager Vladimir Slejko. In 1993, an exhibition was opened in Postojna's Jamské dvorec, which included 130 copies of paintings by renowned artists from Vincent van Gogh, Claude Monet, Amedeo Modigliani to Paul Gauguin, Auguste Renoir, Edgar Degas and Henri de Toulouse-Lautrec.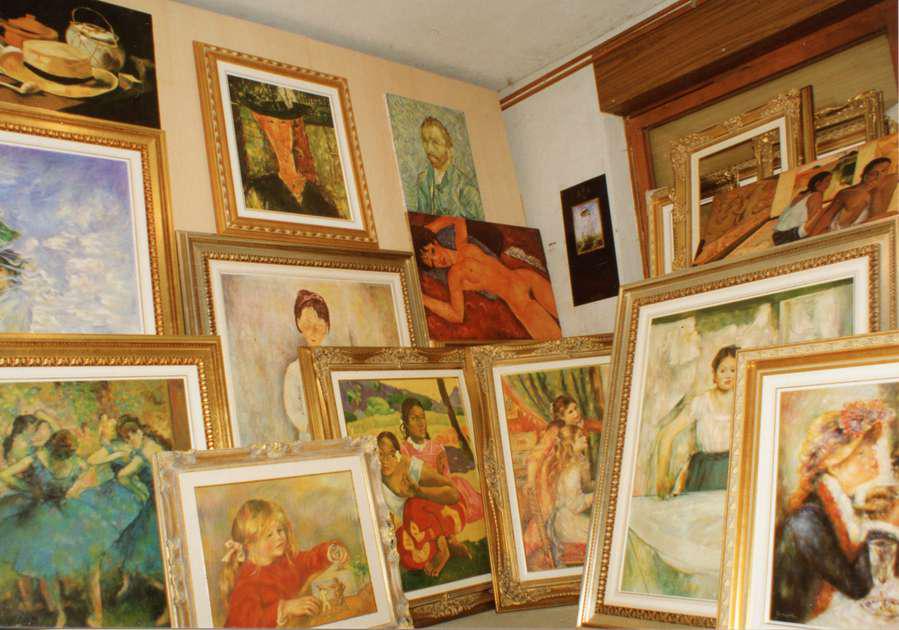 At that time, this sale of "legal" fakes with certificates raised quite a bit of dust among the Slovenian professional public. Although Valentini was able to copy all the mentioned authors well, critics did not particularly appreciate his personal work. This put Valentini, whose painting efforts were better received in Italy, somewhat in opposition to the Slovenian art scene, which he did not hide, the exhibition text says.
Valentini's fakes of famous works of art were thoughtfully and meticulously executed using the same techniques as the originals and artfully aged, for which he also engaged collaborators. They were executed as direct copies or as approximations of the style and motifs of the famous author. They were protected by certificates affixed with wax seals, and by signatures and stamps on the subframes of the pictures, which were supposed to prevent fraud. But after the first sale, most fakes protected by certificates can no longer be traced to their condition and ownership.
The painter was criminally charged in 2004 for making 13 fakes sold to a local businessman, but he died of an illness four years later, before the verdict was handed down.
With this installation, Galerija Vžigalica wants to shed light on the pressing issue of forgery of works of art and open up a field for discussion. They will be on Prešeren's Day at 5 p.m after the exhibition, she led the curator Jani Pirnat and Julija Hodawhich, along with selected legal forgeries of paintings by world-renowned artists and original works by Marcelo Valentini, will also present his life story.
Source: Rtvslo