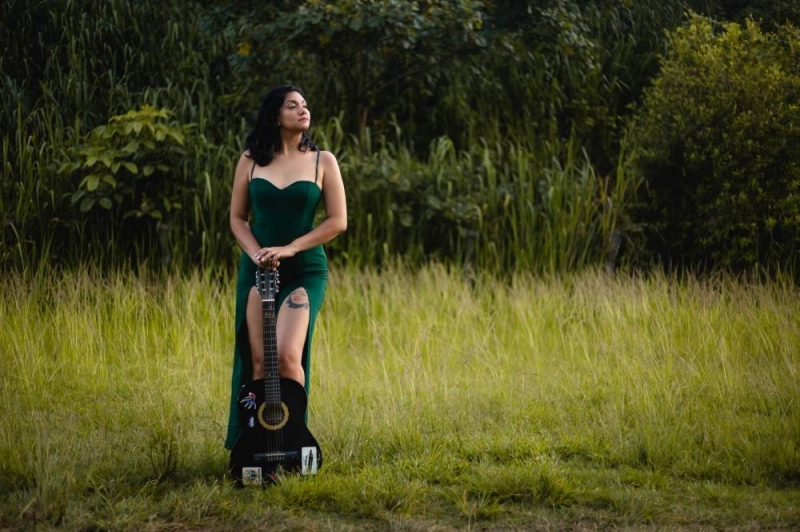 Susu Lunar, singer-songwriter. / Photo: Ivan Garcia
We recently celebrated International Women's Day (March 8), a date to remember the struggle of all women who have contributed to creating a more just society. In El Salvador, artists express gender inequality through their art who continue to be present in various sectors of Salvadoran society, in turn struggling to create new spaces that are safe for women and where they feel fulfilled to better express their talents.
The image of women in art has historically been presented only as an inspiration to men, however, today artists try to justify different forms of art, their works reflect at the same time. Their fight, their rage and their love.
These Salvadorans demonstrate their initiative to fight and overcome gender inequality; Through music, plastic art or street art. These women respect the true meaning of commemoration because they are an inspiration An image of a Salvadoran working womanFighting for herself and her children, she encounters a society designed for men that often doesn't value her.
According to the artists, making art in El Salvador is difficult in itself, but for them, as women, the challenges are even greater, as they not only face the difficult economic conditions of the art field, but also physical and verbal harassment. From his works, to art-based misogyny and machismo. However, these are women An example among thousands of other Salvadorans who break the system and express their struggle through art.
Idalia Lines, artist from the historic center of San Salvador. / Photo: Manuel Rivera
Idalia Lines, sculptor
Idalia is a talented mother and artist who has been doing street art for 10 years; She is trained in dance, theater and has a professional career, but is passionate about urban art. It confers status Historic Center of San Salvador And her characters are always focused on culture, on working women.
Idalia confirms that it is difficult for a woman to face social problems because within the framework of statusism she was harassed in the streets, even by CAM agents and municipalities. She claims that working on the streets is difficult, and that is why she tries to remember women fighters through her characters.
"In this character, I represent a woman from the village who, despite the hardships, raises her children alone, a single mother who thinks about raising her children; "Kvevri" means work, hard work, and "child" means the fact of mother and children growing up. Idalia Lines.
Susanna Ardon, music. / Photo: Ivan Garcia
Susana Ardon, singer and composer
Susu Lunar is her stage name, she is a talented singer, songwriter, cultural manager and also dedicated to music research. In 2021, he started His first album called "Viajera". Susanna claims that it is difficult to create original music in the country, but for a female artist in a macho situation, it is much worse. Ever since she started singing in public, she has faced various criticisms about her music, appearance and language.
"Spaces are mostly occupied by men, slowly there was a demand that we should create spaces where we could present ourselves as female artists." Susu of the moon.
Barbara Zavaleta, plastic artist. / Photo: Manuel Rivera
Barbara Zavaleta, painter and sculptor
Barbara is a plastic artist, she paints and sculpts; He is from an all female family. Art has been there since he was a child since his grandfather worked at Olokuilta's House of Culture, that's why he spent time there. He proves it Being an artist in El Salvador is a very brave decision Because it is not a very demanding career. Nevertheless, she thinks that being a woman has some disadvantages.
He confirms that on a certain occasion, when he began the process of commercializing his work, he encountered certain people who sexualized the female figure. Barbara claims that there is still a lot of disrespect for the work of female artists, the Victorian vision is still preserved, where the woman is not the creative subject, but the object, that is, the muse, the inspiration, without respect for the woman as an artist. Therefore, his works aim to represent women.
"My works are undoubtedly a very personal struggle in which I, as a woman, a sister and a daughter, put myself with all the women I meet, my work is dedicated to women and their feelings." Barbara Zavaleta.
Source: Diario.Elmundo