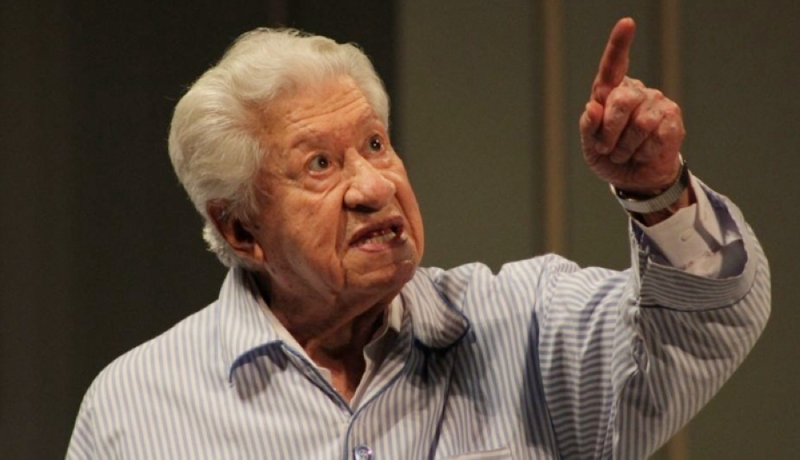 Actor Ignacio Lopez Tarso. Quarterdark Credit
Actor Ignacio López Tarso, one of Mexico's most acclaimed and long-serving historians, died this Saturday at the age of 98, according to the National Association of Interpreters.
The group announced the death of "an actor with a long career in theatre, film, television and politics" who "was president of our association" on Twitter.
The actor, suffering from pneumonia and intestinal obstruction, was hospitalized for a week in the center of Mexico City.
"We offer our condolences to his family and friends," the association added.
With a long career in film, theater and television, the actor made his theatrical debut in 1951 and his first sensible role in The Unknown three years later.
His consolidation came in 1960, when he starred in director Roberto Gavaldoni's award-winning film "Macario", a fantastic and mysterious story of a poor and haunted village.
The film became the first Mexican production to be nominated for an Oscar for Best Foreign Language Film, marking the end of the so-called "Golden Age" of national cinema.
"I came to cinema when there was no more gold, but there was still a tail, everyone was there," López Tarso said in a 2016 interview, referring to legendary actors such as Emilio "El Indio" Fernández, Dolores del. Rio and Maria Felix, as well as directors such as his friend Luis Buñuel.
Since then, until last year, he produced an unstoppable work in dozens of films, plays, serials and TV series, which earned him many awards, including the Ariel de Oro in 2007 for his film career.
In 1988, López Tarso actively entered politics when he was elected as a federal deputy for the then hegemonic Institutional Revolutionary Party (PRI), a position he held until 1991.
"We will remember him with great affection as a great Mexican actor and an outstanding politician of the PRI," PRI National President Alejandro Moreno wrote on Twitter.
In 2016, the Academy of Motion Picture Arts and Sciences of the United States of America inducted him as a member, along with other relevant figures of Mexican cinema, such as actress Silvia Pinal and director Carlos Reygadas.

Source: Diario.Elmundo