Romeo and Juliet ballet performance at the Romanian National Opera in Cluj
Valentina Turcu's ballet Romeo and Juliet came to life on the stage of the Romanian National Opera in Cluj ten years after its staging in Maribor. On this occasion, the choreographer was crowned with a high honor award for excellence in the art of choreography.
Valentina Turcu (1974) received a high honor award named after the Romanian-Hungarian choreographer, ballet master and dance teacher Gabriella Taub Darvas. Otherwise, Romania is so to speak the second homeland of Valentina Turcu, as her father, a ballet dancer, is from there Marin Turcu. And it seems that she will be returning there again, as she is with the Maribor Ballet and the performance Madame Bovary invited to the big outdoor summer festival in Cluj in June.
In Romania, a team with several guests from SloveniaHer ballet performance of Romeo and Juliet to music Sergei Prokofiev was first staged in SNG Maribor in 2012, then she staged it in the National Opera in Riga and in the Metz Metropole theater in France. Ballet soloists perform the roles of Romeo and Juliet in the Romanian National Opera in Cluj Ionut Dinita and Andreea Jura, and the orchestra is conducted by Cristian Spataru. They are choreography assistants Anton Bogov and Raimond Martinovsthe team also includes a scenographer Marko Japeljcostume designer Leo Kulaš and light designer Tomaž Premzlit says on the website of the opera house.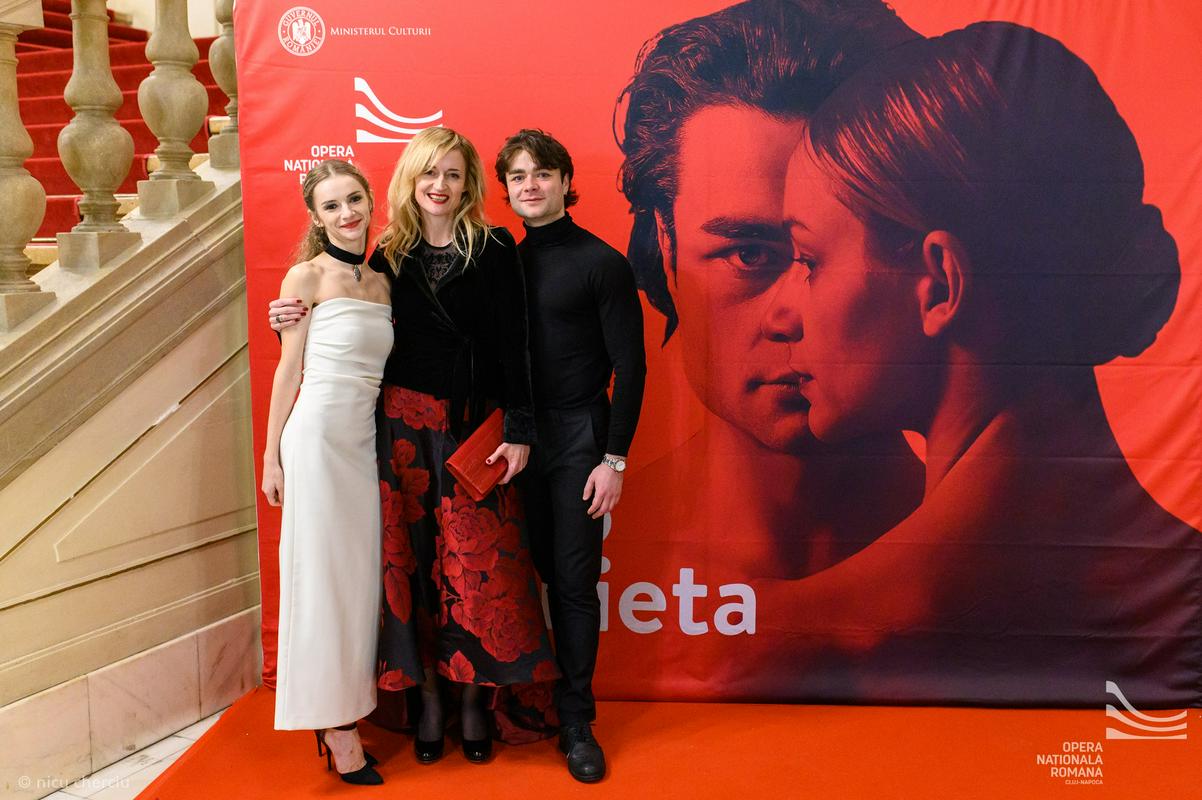 "After an unforgettable evening on January 28 this year at SNG Maribor, where we celebrated a historical moment with the dancers and the Maribor audience with the performance of Romeo and Juliet, Anton Bogov and I traveled to Cluj. Here are extremely talented dancers, hearty, dynamic and very open to a new dramatic ballet, with which, as they say, they are opening a completely new chapter," the choreographer told the Večer newspaper.I am looking forward to the fact that part of our Maribor story can be followed with such enthusiasm on many international stages," she added.
Three decades of dedicated creationClassically trained ballet soloist and choreographer Valentina Turcu celebrates 30 years of artistic creation this year. She was educated in Lausanne under the tutelage of a choreographer and ballet master Maurice Bejartand after returning to Slovenia, she performed as a ballerina, among other things, in her choreographic debut Edward Clug Tango.
She is one of the most respected and prominent artists in Slovenia and neighboring countries. "In addition to creating choreographies and designing stage movements for operas, dramas, concert events and ballet evenings, her creations range in both genre and style from award-winning full-length ballets to contemporary one-act plays and choreographic miniatures." they wrote in SNG Maribor.
Her opus with more than 130 created or co-created ballets, drama and opera productions not only testifies to her epoch-making creative potential, but also to her versatile and extremely versatile theatrical intuition, which has recently been confirmed in her extremely successful directing of drama productions, they also state in the theater.
In 2007, she created her choreographic debut for the Maribor Ballet La Callasand later achieved international recognition with choreographies such as Carmen and Bolero (HNK Split, 2011) and, of course, Romeo and Juliet (SNG Maribor, 2012), for which she received the Pie and Pino Mlakar award. Among his achievements he also counts the dramatic ballets Anna Karenina (HNK Zagreb, 2014), Dangerous Relationships (2014, co-production of the Dubrovnik Summer Festival, Festival Ljubljana and SNG Maribor) and Yevgeny Onegin (SNG Maribor, 2016).
In April 2017, she created a new staging of the ballet thriller Carmen for the Augsburg Ballet, and in the fall of the same year, with the choreographer Julio Arozareno participated in the staging of the ballet Don Giovanni for the Latvian National Ballet in Riga. Among other things, she created a ballet Death in Venice (co-production of HNK Zagreb and SNG Maribor, 2018) and Lady with camellias with the premiere in March 2020 at the Janaček Theater in Brno. Last year, she created a ballet for the HNK Zagreb Ballet and SNG Maribor Ballet Madame Bovary.
Recipient of the Prešeren Foundation awardIn addition to the aforementioned Pia and Pino Mlakar award and the recent Romanian award for her work, Valentina Turcu received, among other things, the award of the Croatian drama artists for the best performance and choreography in 2019 for her directorial debut Tram Lust (produced by HNK Varaždin), Prešeren Foundation Award (2018) and Glazer's Charter (2017).
Source: Rtvslo