A little more imagination in creating fear
When the horror film The Scream hit theaters in late 1996, it caused a veritable mini-revolution with its mockingly intelligent playing of genre rules and quotes, and gained a slew of imitators.
In this case, the father of the film, the screenwriter, forged the most hot iron Kevin Williamson. The Scream revived interest in stories about suburban teenagers fleeing the knifepoint of a mad but not stupid killer as they were lost in a flood of cheap video productions the eighties. He also revived the career of the legendary horror director Wes Craventhough he seemed long out of touch with the pulse of the genre and audience.
After several sequels that kept this flame going, but the real fire was no longer there, last year it was blown up again and completely unexpectedly by the fifth part with a new author team behind the camera and a return to familiar places in the town Woodsboro. The audience generation has changed somewhat in 25 years, but the film, which confidently dropped the number in the title of the sequel, also took this factor into account. It was a lucky one reboot and a film about new beginnings, which passed the baton of postmodern irony to the younger generation, while at the same time bringing all the key characters from the project in front of the camera, with actresses Courteney Cox and Neva Campbell at the head. A first-rate intergenerational collaboration, with the assistance of a pair of masked killers, as usual, nearby victims.
Given the authorial and box office success of this new beginning, it is not surprising that a new sequel, formally titled Scream 6, immediately followed. reboot or, as the actors in the film say, "continuation"created co-director Matt Bettinelli-Olpin and Tyler Gillett.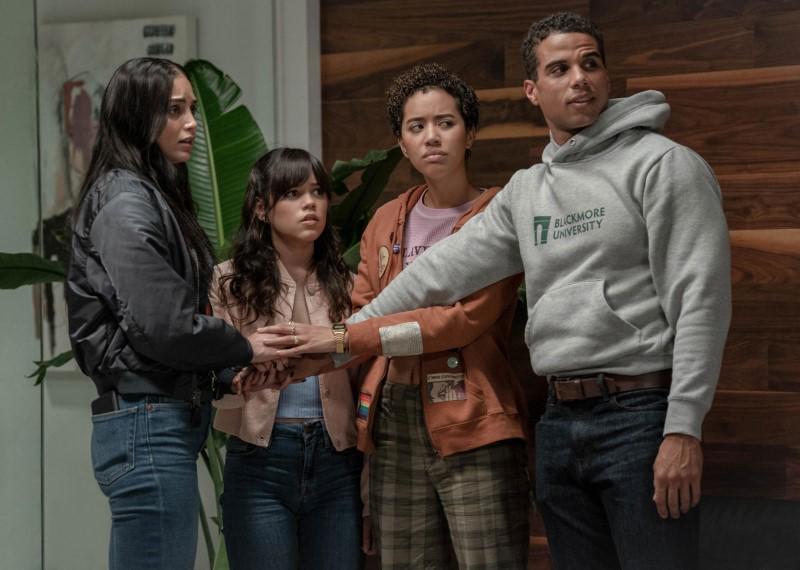 The 5th and 6th parts of Scream would be good to watch as a couple, because some of the survivors of the last massacre, especially the half-sisters Tara and Sam Carpenter, moved to New York, but old traumas cannot be escaped just like that… Especially because , because in the metropolis, the masked antagonist has a real little shrine and a bunch of followers.
The movie Scream 6 is less about itself than its predecessor, there is more blood and violence, the series got a new acceleration and also a little more playful daring in terms of exploring ways in which it is possible to quote forms and at the same time undermine the viewer's expectations. In terms of a somewhat nostalgic return to the roots and youthful memories, the predecessor certainly worked more comprehensively, but the latest contribution to the Scream series still showed a bit more imagination, including visual, general dynamics and clever narrative methods of instilling fear.
For the undersigned, it is honey creative ones ways of cruelty, the fact that Sidney Prescott and the actress Neve Campbell no longer appear.
From the show We're going to the cinema.
Source: Rtvslo