The last premiere of this season at SMG
Tonight, the Slovenian Youth Theater premieres the play The Last Bit of Fiction, in which the Swiss director Boris Nikitin opens up questions of faith, belief and reality in the form of a sermon.
In the play, which is also the last premiere of the season, he plays Primož Bezjakand the singers of the Tone Tomšič Academic Choir of the University of Ljubljana are also performing under the direction of the conductor Rahela Durič Barić and a pianist Polona Janežič.
Between efficiency and realityNikitin starts his presentation from the thesis that the greatest human drive is the need for efficiency. "Effectiveness I understand as affecting reality so that it changes, no matter how insignificant the change. The name for this act of influencing could be work. And the name for this potency of influence, the degree of possibility of influence, is power. So: work and power," the director wrote in the theater paper. When you lose your effectiveness, and when you lose it more and more, you find that you can't really affect reality, he adds.
Nikitin is known for being passionate, often Kvirovskogo coping with the construction of reality and identity. Many of his works move along the ambiguous line between document and forgery, between bodily experience and dream apparition. The last bit of fiction belongs to a series of projects in which he appropriates the sermon format. Partly with the help of staged readymadespartly with the help of illusionist theater, he will explore the area of ​​rebellion with the actor Primož Bezjak, a group of laymen and a choir, within which they will create certainty and invent the world, according to the Slovenian Youth Theatre.
Director Nikitin is also credited for the selection of costumes, the selection of music and the design of light and space. In addition to Nikitin, the selection of costumes is also the work of Goran Injac, who is also responsible for the play's dramaturgy. In addition to the director, Kristina Kokalj participated in the lighting design. He translated Nikitin's text Jan Krmelj.
The musical arrangements are signed by the conductor Rahela Durič Barić, the sound design is the work Marijana Sajovica and Silva Zupančiča.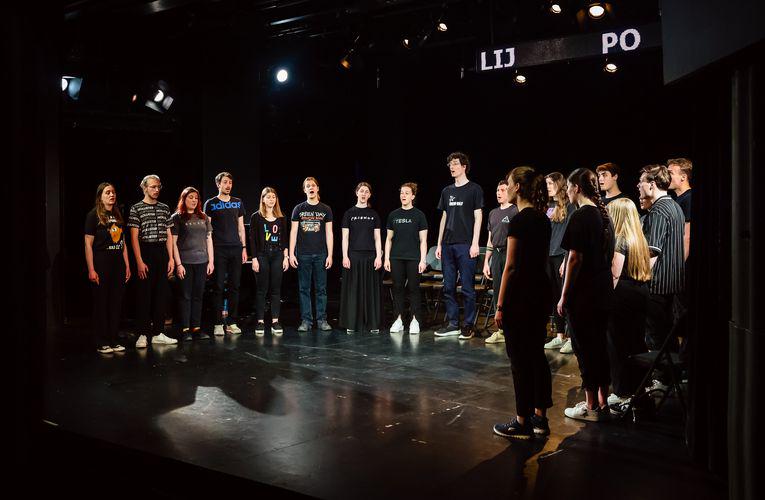 The last bit of fiction after today's premiere, it will be shown this month on Wednesday and Friday and next week on Tuesday and Wednesday. It is also scheduled for June 6 and 7.
Source: Rtvslo