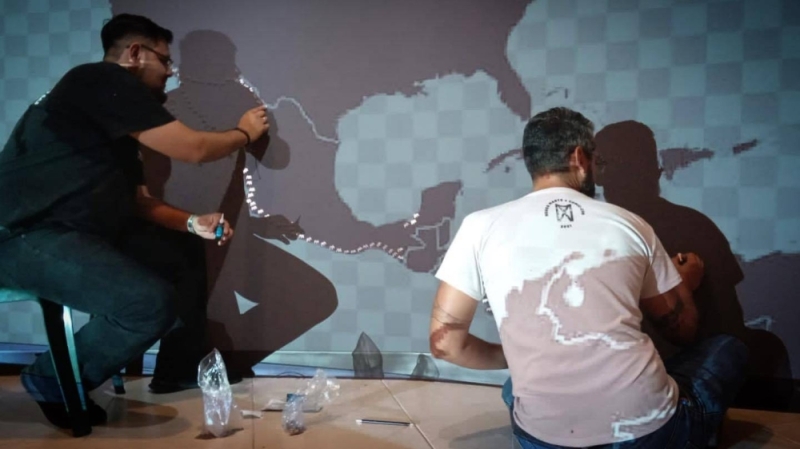 The exhibition was curated by Jaime Izaguirre and will be open to the public from now until December 2026.
he Art Museum of El Salvador (MARTE) A new semi-permanent exhibition opens today, Tuesday "Tellular Tropic"Consisting of a unique blend of Salvadoran artwork and historical moments that celebrate the country and His artistic and visual production.
"Teluric Tropic" is a metaphor Unstable territory and constant cultural syncretism. Through images and works of art, the expo invites visitors to explore the cultural influences that have shaped Salvadoran identity.
The exhibition begins with the appearance Theodorus Debry, Presented in book engraving "Journey to the West Indies" and? It shows El Salvador as a wild and exotic area, with erupting volcanoes and naked figures. The paper serves as a starting point for the study of evolution A visual representation of the country.
Also read: "Christian Dior presents a collection in collaboration with Mexican artisans".
The expo also highlights the period modernization Experienced El Salvador, from Late 40's to early 70's The coffee boom, market diversification and Central American integration are due. In addition, the precursors of the civil war that has shaken El Salvador ever since From 1980 to 1992.
Thus, the museum celebrates 20 years of opening its doors to the public. Since its opening on May 23, 2003, MARTE has exhibited works of Salvadoran art from its collection, private collections, and artist loans through semi-permanent exhibitions that it continues to offer. New perspectives and routes.
"Trópico Telúrico" will be inaugurated Today at 18:30. in the museum Mars. Salvadoran band red face A show on the evolution of cumbia in the country will be added. Entry is free and open.
Source: Diario.Elmundo