Vesta "opened" for singer Emilia in front of a small crowd at the Movistar Arena, and people started making fun of her on social networks.
Through "stories" on your Instagram personal profile, Carlos Figueroa Director of the Viña del Mar Festival Orchestra and principal musical advisor to programs such as 'Yo Soi' and 'The Voice', he cried at the reaction to his recent show at the Movistar Arena. I sent support to Vesta Lag, who reacted while I was there.
The events go back to May 19th, when Vesta opened for Argentinian singer Emilia's show at the Movistar Arena. Most of the crowd had not yet arrived at the capital's venue when the Chileans stormed in, as evidenced by videos circulating on social networks, which contributed to the low attendance.
"It was very heavy for me because it was one of the first shows I did and one I was proud of, and there were very few people in the audience," she said. "I was kidding about how few people (…) it's hard to be a singer, it's hard to start something you don't know and change course at 28," he added.
Carlos Figueroa wanted to send a message to Vesta Rag through the same platform, Instagram, and she replied.
Collaborators Beto Cuevas and Franco Simone wrote, "I just want to say that you are a respectable professional. There is still a long way to go, but I assure you that it will be important."
"I respect your work and effort in carrying out your project. This country is full of resentful vile people / Now you're more than that!" added Figueroa to the post, along with a photo of the singer.
Vesta Lag responded to this gesture with a short message. "Carlos (Figueroa), thank you for your kind words. I have written.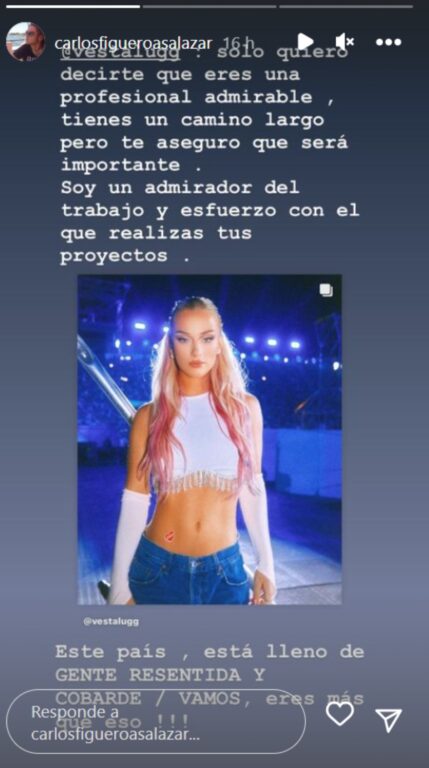 Source: Biobiochile