Among other things, they will present Replicas for alto saxophone and piano by Janez Matičič
From the renovated Studio 13 of Radio Slovenia, you will be able to listen to and watch the 32nd concert in the Chamber Studio tonight at 20:00. It will be performed by outstanding musical artists and spouses: saxophonist Miha Rogina and Japanese pianist Sae Lee.
Otherwise, they perform abroad as the duo Kalypso. They will present selected typical compositions for a duo of saxophone and piano from the treasury of French, Japanese and Slovenian music of the 20th and 21st centuries, and after the concert you can listen to a conversation with the two artists.
Saxophonist Miha Rogina, originally from Ptuj, is a full professor of saxophone at the Academy of Music of the University of Ljubljana, where he also leads the Academy's Wind Orchestra. At this academy, he studied saxophone with prof. Matjaž Drevenšekand continued in France with professors To Jean-Yves Fourmeau, Vincent Davíd and at the High State Conservatory of Music in Paris at Claude Delanglewhere he graduated with honors.
He studied at the Eastman Academy of Music in Rochester, New York. After studying saxophone, he completed his studies in orchestral conducting with honors at the University of Music and Performing Arts in Vienna, where he studied with To Johannes Wildner, Bertrand Debilly and Uroš Lajovec, and then there is at To Thomas Lang also studied choral conducting.
Sae Lee is one of the most notable chamber pianists from Japan, who has been living and creating in Slovenia since 2014, where she works as an assistant professor of piano and chamber music at the Ljubljana Academy of Music. She was born and raised in Osaka, Japan's second largest city. After studying at the Toho Gakuen Academy of Music in Tokyo, she graduated with honors in piano and chamber music at the High State Conservatory of Music in Paris with professors To Michel Beroff and To Eric Le Sage.
Saxophonist Miha Rogina and pianist Sae Lee will present Rhapsody for saxophone and piano Claude Debussyfrom 1903, the composition Replica for alto saxophone and piano from 2005 by one of the most notable Slovenian composers of the 20th and first quarter of the 21st century Janez Matičič and a dynamic sonata Fuzzy Bird for alto saxophone and piano by a contemporary Japanese composer by Takashi Yoshimatsu from 1991, and they will conclude the radio concert with their youngest song – L'eveil de la toupie / Awakening of the spinning topwritten in 2020 by a contemporary French composer and saxophonist Vincent David.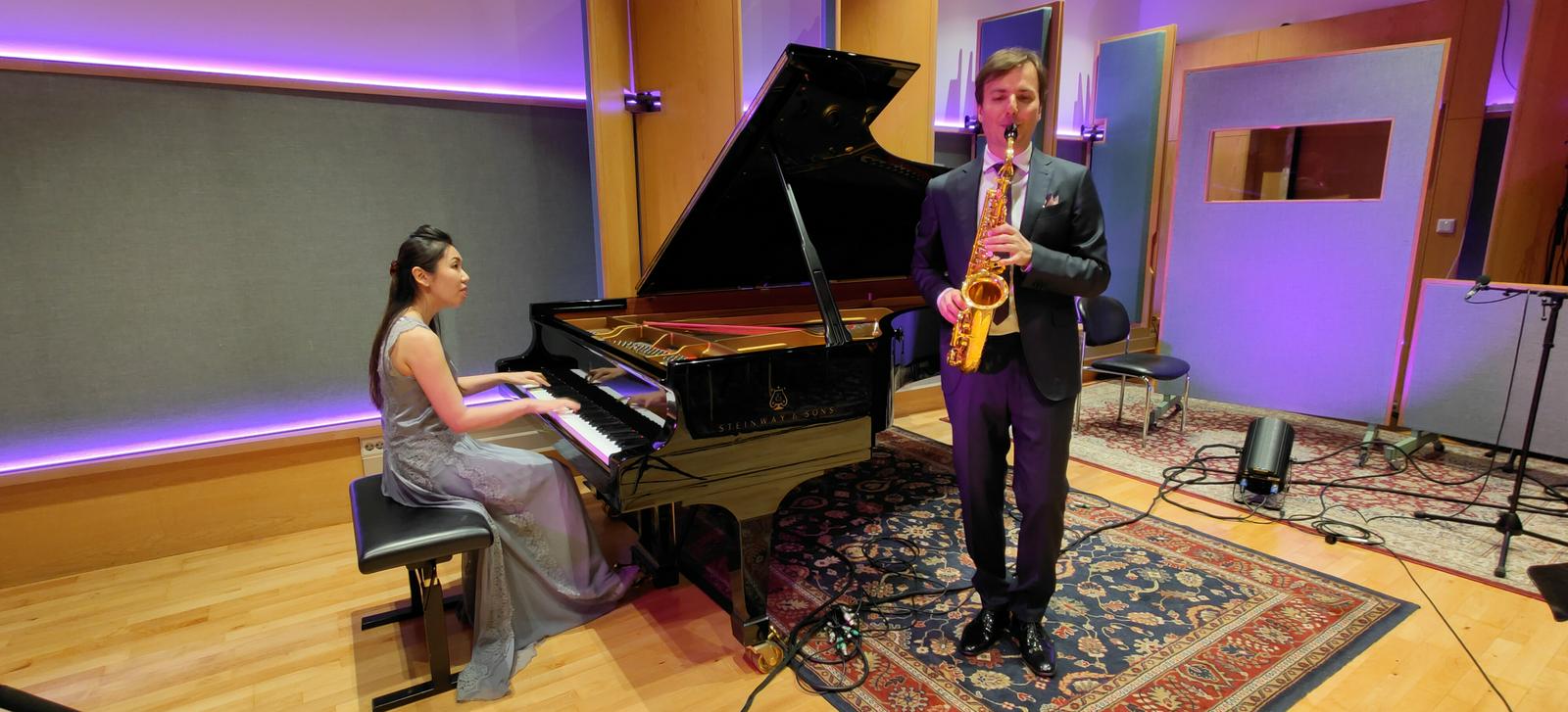 According to Miha Rogina, all four pieces they chose for tonight's concert are "part of a more or less standard repertoire for a saxophone and piano ensemble, but we started mainly from the desire to present works from the countries that mark us the most. Matičič and Yoshimatsu are composers from the countries where we were born and grew up, i.e. Slovenia and Japan, while the French composers Debussy and David are from the country where we come from professionally, because we lived in Paris for ten years, we completed our studies at the High State Conservatory of Music, and I can say that this definitely characterizes our view of music, as well as musical aesthetics, the way of presenting musical ideas, etc. All compositions belong to the most demanding repertoire for the saxophone, all four require a fully developed professional saxophonist, because in terms of technical performance, they belong to the very top of the complexity of the literature for the saxophone and piano. Of course, it is also important to know the stylistic peculiarities and musical historical characteristics."
Sae Lee said: "My collaboration with Miha began in 2003, when we met at the Paris State Conservatory. I had previously worked with various instrumentalists in Japan, but I still remember our first music rehearsal. Playing with Miha inspired me a lot. I had I am lucky to have been able to gradually build my repertoire during my study years in Paris. A pianist must have excellent technique, an extremely stable rhythm and ability to listen, he must be flexible. Scores are often very complex and demanding. I believe that the experience of playing the saxophone in a duet with Miha, I developed a lot as a musician. I always learn something new even while playing with other musicians, because playing is primarily about listening, responding and communicating."
Source: Rtvslo