Academic painter Nana Wolke and industrial designer David Tavčar
Prostitution, hotels, parking lots, brothels – the dark side of the city is what attracts London-based painter Nana Wolke. The industrial designer David Tavčar, signed to the creations of world-famous fashion houses, is increasingly establishing himself abroad.
Her large-format paintings depict moments like scenes from Quentin Tarantino films. They are raw, explicit, one face, expressive and yet somehow realistic. Nana does what painters have always done, she maps images of the world here and now onto canvas.
"The motifs are a mix of digital images, staged moments, almost advertisements," says the academic painter Nana Wolkea woman from Ljubljana who lives and works in London, where she is also represented by NıCOLETTı gallery, and her works are sold all over the world.
David Tavčaran industrial designer who impressed Vienna, we have already presented on rtvslo.si.
His works are part of the permanent collection in Vienna, he designed for the royal family of Liechtenstein. He has been working with the renowned brand Leitner Leinen for many years, he worked with the late fashion guru Alber Elbaz and his brand AZ Factory, which is also used by Hollywood stars. He works with the established ones high-end fashion houses. The designer, who is not yet 30 years old, designed the overall image and textiles for the Grand Hotel Koper (Aksl arhitekti), and is currently designing and curating a transparent exhibition for the 70th anniversary of UGM in Maribor, for which he received carte blanche.
Pictures like a movie scene and hunting lights in a motel room
Nana se for her solo exhibition 4:28 – 5:28 am (2021) in the Vin Vin gallery in Vienna, went to a motel with hunting lights, where she staged various situations. "I quickly set up the scenes, photographed them and used them as a reference for the images. The lighting of the simple, if not downright banal, hunting lights I use is as it would be set up for a movie scene."
That was the case with the series Night Songs (2021), which she exhibited as a master's thesis at FM Goldsmiths University, and in which her distinctive unbuttoned leather trousers in red were created on a format of almost two meters by two meters (190 by 160 centimeters). These are in fact her self-portrait, if we can call the image that way, showing only part of her body with her navel exposed, revealed by her flared pants.
Hunters use red light, as it takes away part of the range of vision from fleeing animals, making them easier prey. "It is also used in red-light districts, as it is known that red light beautifies the skin, removes possible defects," says Nana, who illuminated the room in the motel with red light for the aforementioned scenario and took a photo.I am interested in a hint of the position of the observer, perhaps kneeling, from a POV (point of view) level, as if looking at (op. p.: her) crotch."
When painting, he basically follows the four colors used in the aforementioned hunting – red, blue, yellow, green. Her paintings consist of thin layers of paint, as if applied with watercolors. "I still follow many traditional approaches to painting," admits Nana, while David adds that it is precisely for this reason that her pictures "they age extremely well".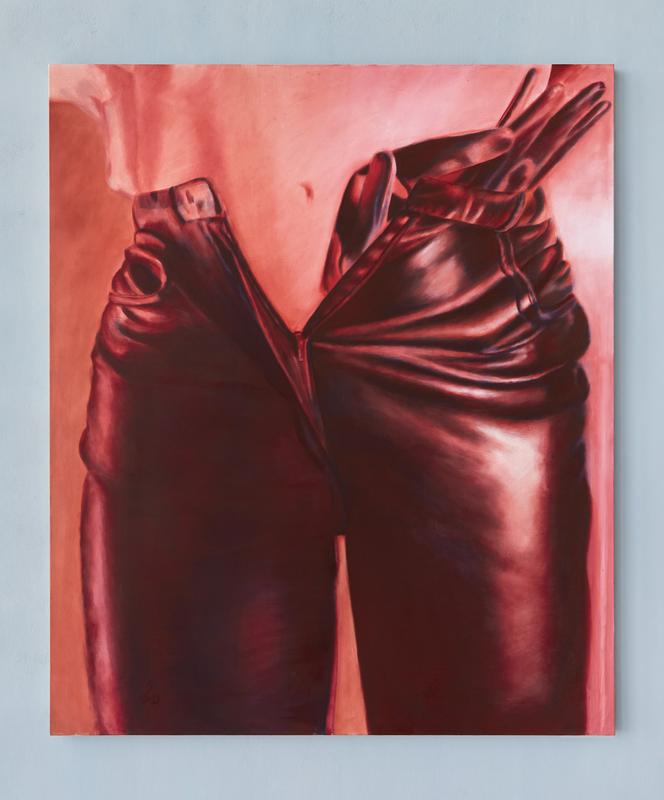 When painting the leather pants, she thus began by applying a spectrum of red paint to which she added an opposite green color, "so that they are equalized in dark brown or black". "I constantly weave in other tones so that the picture is still lively and complex," he explains. Further layers of paint are gradual, especially on the shaded parts, where the layers are slightly thicker.
Nana says that her paintings, along with music and light and spatial elements, are only one of the documented remains, or artifacts, of private performances, "performances".
Usually, everything starts with a specific location.
"These are places where we usually only stay for a short time, such as hostels and two-star hotels near main train stations, where people go for prostitution, maybe they miss a train, or it's the only accommodation they can afford. Mostly, these are locations where many people feel they really shouldn't be there."
The painter tries to depict this quick moment of insight into the backstage of the room, as if she were painting a fresco, which must be finished before the plaster dries, which creates tension and anticipation in her paintings.
"I'm interested in how people who often visit such spaces create a sense of home and intimacy. A reality that is far removed from the stereotypes of Netflix's true crime series. A big part of my process is working in the field, observing everyday life and making contacts in the local scene. Only then do I re-enact such fragments of observed reality that could previously be read as good fiction, while at the same time I begin to involve my own "strangers".
David: "The pattern must not give the impression of infantilism."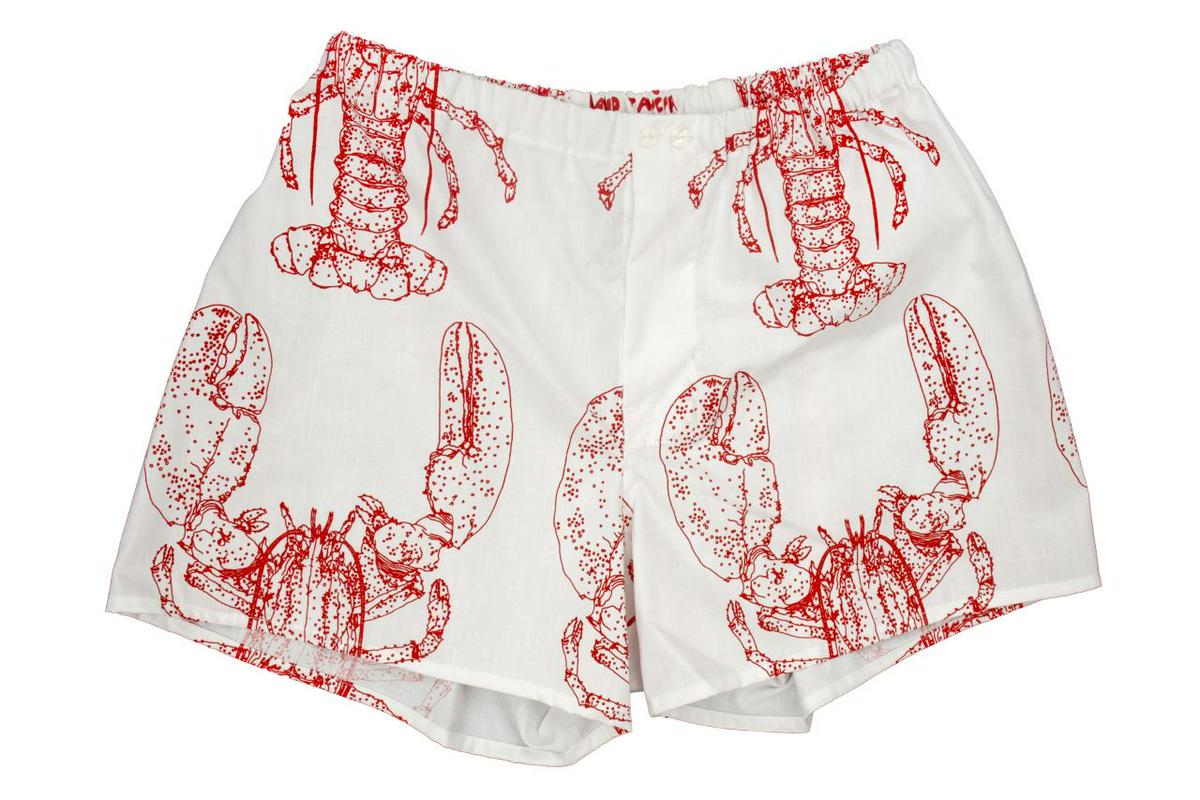 Lobsters, which launched David into the wider (commercial, if you like) public in 2014, were created as a retreat from the formalism he had been creating until then. Using patterns of hippos, armadillos and crocodiles, he sewed dresses that he wore at Milan Design Week and created a sensation.
The collection was created perhaps somewhat unexpectedly, as he had a long analog printing table at his disposal in the Austrian capital, where he studied. This meant he had to create patterns that would dry quickly. "With the pattern of such line drawings, it is important that they dry quickly on the goods, and the goods are produced quickly for this very reason," he says.
David's most complex collaboration to date is certainly the collaboration with the luxury fabric company Leitner Leinen. The images of the patterns – all drawn by hand – on the tablecloths, kitchen towels and bed linen in the room act as abstraction, only a closer look reveals the details and his exceptional drawing technique.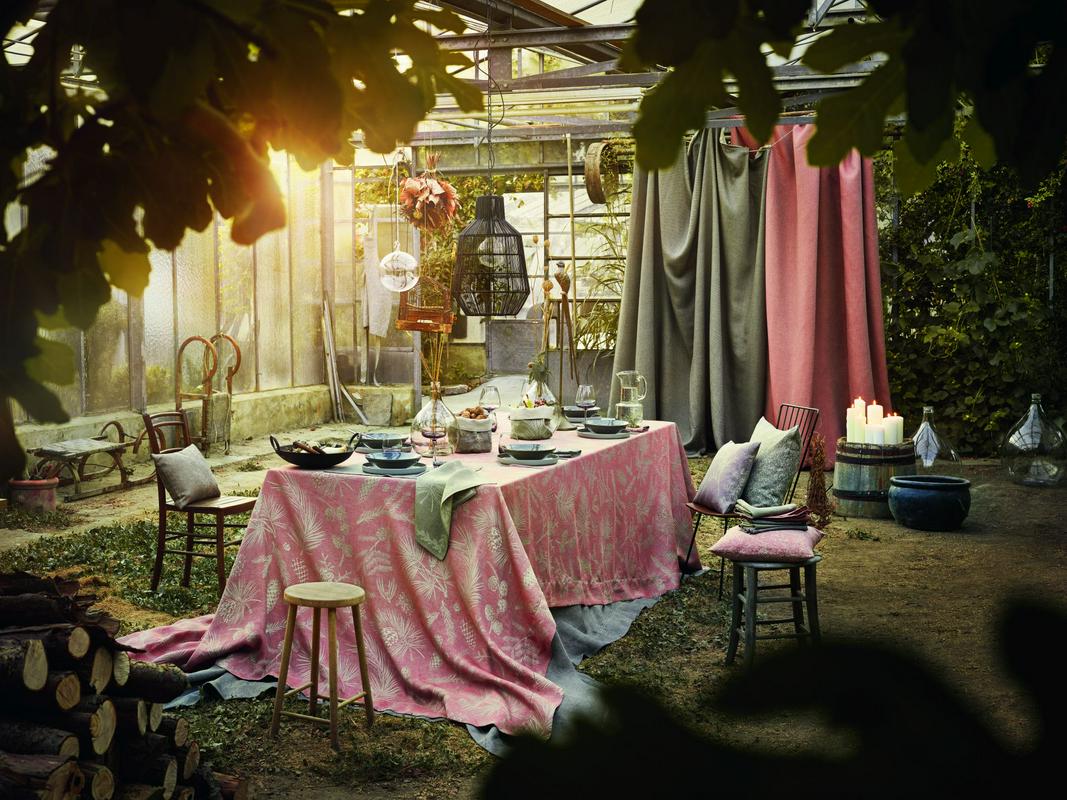 Both interlocutors are perfectionists who pay special attention to artistic expression.
"The pattern should not give the impression of infantilism, as if it were made for a child's room," adds David; precisely for this reason, in the case of crustaceans and armadillos, he drew them in a row, with a strict order introduced.
But why the animals that David still likes to depict so much on the otherwise extremely classic textiles for Leitner Lainen?
"There is no reason," he says "Images of animals have been decorating spaces for thousands of years, and they don't necessarily have a specific meaning."
A good picture is better than a bad photo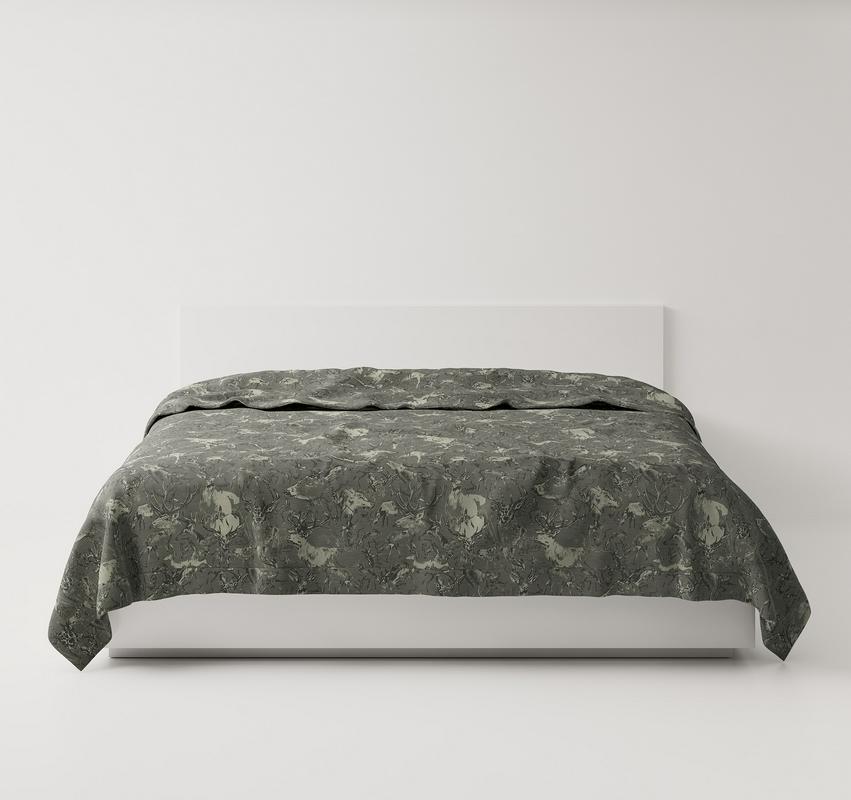 Nana's last exhibition Wanda's (which contrasts with Night Songs in shades of blue) was created under the Westway roundabout in the London area of ​​North Kensingtonwhich is considered legendary retrofuturistic concrete overpass, which was already written about by JG Ballard (author crash).
Large sports areas and parking lots spread out above it, and taxi drivers wash their cars in the lower part.
"The exhibition tries to determine some ritualistic, almost spiritual practices that take place in these parking lots, whether they are gatherings of Sunday sports enthusiasts or actual members of religions. It is a world pushed to the outskirts of cities, most of which turn their gaze away from reality," continues Nana.
The French anthropologist Marc Augé called such neglected places as don't stealas they exist and do not exist at the same time, and are most active when the fewest people use them.
Wanda, her followers and the biggest Great Danes in London
Nana invented the protagonist for this very purpose Wandaa fictional character of a mysterious spiritual icon, whom we follow in the picture as she drives across the Westway overpass to the car park, where she is eagerly awaited by her band of devoted followers.
"Wanda's world unfolds through many elements, from parking fines, the team's eccentric showgirl costumes – including two of London's biggest Great Danes – to her theme music, created by composer Gašper Torkar."
In order to capture as much as possible a moment of social rejection, perhaps frivolity or street survival, Nana for the series Wanda's coated the surface of the canvas with a mixture of primer (gesso) and building sand. In doing so, she created a grainy surface that evokes the image of low-quality photos taken with a high-sensitivity digital ISO sensor. This time, too, she applied oil paint in thin layers, ultramarine blue, yellow, magenta and cadmium orange. The art of digital images in the oversaturated lighting of film frames.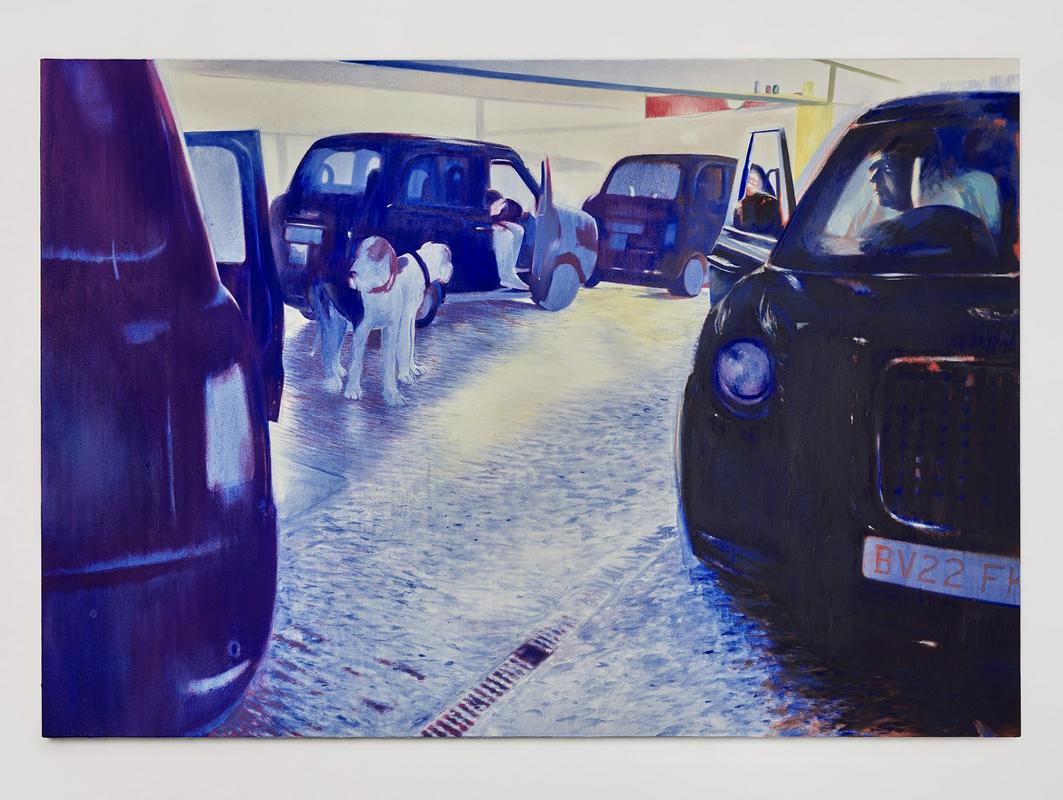 "Once you sell your product, you no longer have any influence over it."
But once the work is done, it is no longer in the hands of the artist, the creative person, to influence it. This is what David thinks: "Once you sell your product, you no longer have any influence over it. Therefore, it is right that people are the ones who add interpretation to it. The designer is not the one to dictate this."
Source: Rtvslo