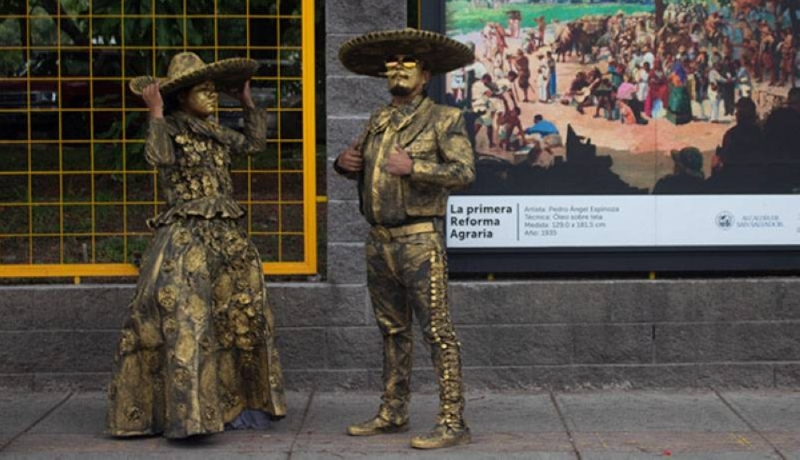 The duo of artists spends several mornings performing in the Salvadoran capital. / Photos by Gabriel Aquino
With tequila in hand, mustaches, evening gowns and their trusty hats, Alejandro Magalón and Lorena Melo are a Mexican couple who call themselves Los Mariachis Locos and travel Latin America on the train of their country's culture and folk music. This is how they appeared these days on Juan Pablo ll avenue, next to the children's amusement park, and with a short show they attracted the attention of passers-by and drivers.
"We are a traveling couple and we come from the Republic of Mexico and we do a little mariachi interpretation with the music of our country." We want them to recognize our roots," Magalon, 36, said.
Lorena has been engaged in various forms of art for 16 years.
This cultural exchange is part of their third intercontinental tour, in which they try to stay longer in each country to offer more presentations.
"Unlike our previous performances as statuses, this time we focused on interpreting traditional Mexican music with a touch of joy and revelry; "Salvadorans liked to combine music with a bit of madness and celebration and a shot of tequila," says 26-year-old Lorena.
Artists usually take more than an hour to place their clothes, which are decorated with old gold.
As for the challenges they face, the couple mentions that insecurity sometimes bothers them as they are constantly looking for new places. However, they appreciate the warm welcome and friendliness of the local population. Although they are aware of issues related to migration, they have found a favorable reception and genuine interest in their art in Central and South America.
"Unlike many people who emigrate from Mexico, we travel from north to south, not from south to north, which made for a different experience," says the translator. "The main thing is that despite the rumors that tell you that countries are vulnerable, that they are going to attack you, we have experienced the opposite," he explained.
The duo uses traffic lights or moments of movement to dance in front of the Salvadorans.
Los Mariachis Locos noted that they do not receive financial support from foundations or entities and they depend on generous contributions from passers-by and the public. Every donation, be it tips, water, refreshments, accommodation or clothing, is appreciated and used to continue the journey and fulfill the mission.
With their eyes on the future, they hope to complete a tour of the region, leveraging their knowledge and passion for their artistic expressions. "Now we have to finish our third trip to Latin America, looking for people to get to know this new style. We hope for the fourth time and we will be able to present ourselves not only on the streets, but also in more formal places," concluded Mello.

Source: Diario.Elmundo