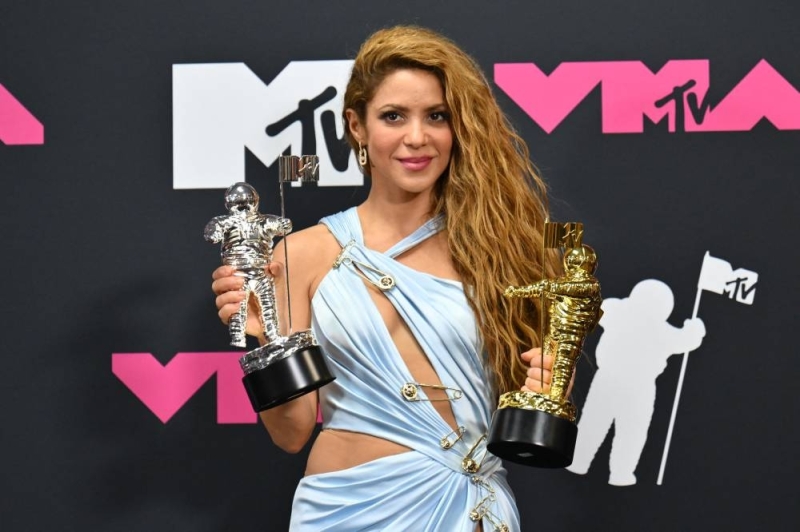 Shakira was Queen of the Night with a lifetime achievement and another for "TQG" by Carole G. / Photo: AFP
Taylor Swift won at the MTV Video Music Awards on Tuesday, while Colombia's Shakira collected the prestigious Video Vanguard Michael Jackson Award and offered a performance that shook the audience's hips with a compilation of her greatest hits.
Swift continued her global reign with awards like Best Song and Best Pop, while several of the night's biggest trophies were still up for grabs.
* NSYNC, the teenage heartthrob of the turn of the millennium, reunited on stage for the first time in a decade to present her with the latest award, leaving Swift, who is about to embark on her first billion-dollar tour, blushing. "I'm not good at going" from cheerleader to winner, said the American.
Taylor Swift wins Video of the Year for "Anti-Hero." / Photos: AFP
However, the pop superstar didn't go out on a night out drinking as artists including Olivia Rodrigo, Anita and Doja Kata took to the stage.
At this year's show, held at the Prudential Center in Newark, Swift was seen enjoying herself sitting on the main stage alongside Bronx rapper Ice Spice, who collaborated with the pop phenomenon.
On stage, she told her fans that when she writes, she often feels like she has "a very specific kind of insecurity or self-loathing," but when she listens to their screaming lyrics, it "leads to this very comforting feeling that maybe we all have one sister same problems.
Joey Fatone, Lance Bass, Justin Timberlake, JC Chasez and Chris Kirkpatrick opened the night as *NSYNC / Photo: AFP
Lil Wayne opened the show celebrating 50 years of hip hop, and Sean Combs — known by the stage names Puff Daddy, Puffy, P. Diddy and Diddy — made a career-long performance by collecting the "Icon" award. Cup" for the entire career.
But it was Shakira who took home the night's most prestigious award, the Video Vanguard, which recognizes innovation in the audiovisual recording industry. The 46-year-old Colombian performer stole the show with her signature hip thrust and bilingual medley that included "She Wolf," "Te Felicito," "Objection (Tango), "Whenever, Wherever," "Hips Don't. Lie" and the inevitable " Music Sessions, Vol. 53″ with Argentinian Bizarap.
Dressed in a sparkling nude outfit, the artist ended her performance by surfing the platform, lifting her above the crowd of fans and peers. "Thank you MTV. Thank you for being such a big part of my career since I was only 18 years old," he said.
Brazil's Anita won Best Latin for "Funk Rave." / Photo: AFP
Afrobeats and bongos
Rapper Nicki Minaj headlined the event for the second time in a row and performed her new single "Last Time I Saw You" live, which will be released on her album "Pink Friday 2" in November. He also won the night's award for "Best Hip Hop".
Doja Kata, for her part, set the crowd alight as she performed a medley of 'Attention', 'Paint the Town Red' and 'Demons', dressed in a bottom that gradually came off as she danced and showed off her blonde hair.
The "Best R&B" award went to SZA, who was not in attendance, while South Korean group Stray Kids won "Best K-Pop" and then performed.
Nigeria's Rema won Best Afrobeats in the new category for her remix single "Calm Down" featuring Selena Gomez.
Nigeria's Rema and Selena Gomez won the award for Best Afrobeats for "Calm Down." / Photos: AFP
Brazil's Anita provided a dance party with hits like "Funk Rave," which earned her the award for "Best Latin" of the night.
Colombia's Carol G was also one of the standout artists of the night and took home the award for "Best Collaboration" with Shakira.
Cardi B and Megan Thee Stallion premiered 'Bongos' live, their latest collaboration following the huge success of 'WAP'. Cardi entered the stage from the rooftop to a disco ball, her hair down in Donna Summer waves. Megan joined him from another stage, and after matching verses, the pair led the audience in an energetic, "twerkified" dance.
Pop-punk band Fallout Boy wrapped up their Millennial Nostalgia Tour, kicking off the night with *NSYNC performing a revamped version of Billy Joel's "We Didn't Start The Fire."
Also Read: "Jennifer Lopez Makes Confident Return to 'This Is Me… Now'".
Source: Diario.Elmundo