A conversation with Urban Tarman about the history, meaning and future of the 77-year-old radio show about film
There have never been as many audiovisual works as there are today. Film, however, is a special form of directed viewing. It requires concentration. It encourages imagination and empathy, says Urban Tarman, who is creating a show on the Ars Program about the movie Let's Go to the Cinema.
Show We're going to the cinema since 1946, it has been keeping listeners in touch with film events at home and around the world. In addition to following the current film schedule, it also brings news from many festivals, giving listeners an insight into current film trends.
During its seven decades of operation, the show has changed its name several times, but never its content: first it was called New moviesthen From the film world, Film chronicle, They saw it on the screen, See you after the cinemaand eventually it was renamed to We're going to the cinema and remained so until today. In 1996, it received the winner for the best radio cultural program, and it still remains the most listened to program of the Editorial Office for Culture.
During the week when the climax of Ars' 60th anniversary takes place, we spoke with To Urban Tarmanto the creators of the show We're going to the cinema.
---
What came first – the movie or the show Let's go to the cinema?First, of course, was the script. In both cases. Kidding aside. The radio show Let's go to the cinema is truly pioneering in this respect: it has been regularly broadcast on Radio Slovenia, then Radio Ljubljana, since October 4, 1946. This year, therefore, 77 years have passed since we have been following film productions on the radio waves on a weekly basis. However, the show changed both names and concepts in between.
How did you start working on the show Let's go to the cinema, what did you take from your predecessors and what did you perhaps adapt to the time in which you are creating?When I came to work at the radio station from the press agency and daily newspaper, the concept was established: a critical reflection of the current cinema program and reporting on important events in the world of film in our country and abroad. We don't rule out changes, and even though we're making a show about movies that can be seen in theaters, we don't overlook certain movies from streaming platforms either. Sometimes we decide to publish a dialogue review, a conversation between an editor and a critic, instead of a written review read by announcers. Often, the film, especially when it comes to a Slovenian title, is presented by the director. This seems important to me: the author's self-representation adds new meanings to the mosaic of film interpretations.
How do we watch a movie? And how do we hear about him? As with reading and literature, there is also a question of what it means to really watch – a critic looks at a film in a much different way than an unburdened viewer.If we look at the bigger picture: there have never been as many audiovisual works in the broadest sense of the word as there are today: every time we open a web browser, tap on our phone or turn on the TV, we encounter them willy-nilly. That is why I say that modern man cannot avoid the accumulation of views: he looks and is looked at. We are more and more spectators and we are more and more watched. Film is a special form of directed viewing. It requires concentration. It encourages imagination and empathy. To borrow the words of a German filmmaker Wim Wenders: "If we manage to follow the gaze of another, to see with someone else's eyes, then we can learn to see." Critics help us look and notice something we might have overlooked. And that's always interesting.
What then, in your opinion, is the difference between consumption and viewing in the above sense of the word? Some films are made according to the "fruit" principle – from them you get everything you need, but without culinary value – while with other types of films this is not self-evident – the viewer must learn to watch, enjoy, appreciate…The difference is essential, but the question is whether we are ready for it. More demanding films – and not only author's films – demand more from the viewer: after watching, not only a good mood and peace with oneself and the world follow. Today, films are available everywhere: from streaming platforms to the quality offer of foreign films and documentaries on TV Slovenija. Since we have been criticizing TV Slovenija a lot recently, it must be said that the film offer of our television sister is really good.
In the show Let's go to the cinema, we focus mainly on the more demanding and commercially less interesting offer in the cinema and at festivals. Sometimes we are therefore more demanding and perhaps less interesting for listeners, but we think it is important to talk about films that deserve it, even if they are not big hits. Of course, we evaluate and discuss these as well.
Perhaps the advantages of audio criticism lie in the fact that it gives the imagination much more freedom than visual media?This is the advantage of radio. The radio leaves us with our hands free: we can use it to cook, clean or drive the car while listening to it. There is a special kind of attention at work: it is not always as comprehensive as it is when reading, so the content is structured a little differently: for example, if we do not understand something while reading, we go back a few lines. A radio listener does not, of course. We must be understandable: both when speaking and when conveying content. In my opinion, all media stimulate the imagination. Much depends on our receptivity: what is it that triggers a flashback in us? Is it sound, its color and melody; is it an image, its color or shape; it is a word, its rhythm and sound; or is it a special mood that is triggered by all the above elements in a good movie and will be remembered for all eternity?
Your predecessor on the show Rapa Šuklje said that at the beginning there was not so much interest in the film in Slovenia, even though it represented a new type of art. Among the visitors of cultural events, it was considered entertainment and successful propaganda, but it was not 'sophisticated' enough to establish itself as an independent art – it lacked, above all, sound.This prejudice was formed among educated people mainly because of the post-war offer in the cinema: propaganda Soviet and commercial American titles. The full-length feature film in the Slovenian language was just being born at that time. A historical comparison tells us that there was still a lot of interest in the film in the post-war years!
The golden age of Slovenian cinema was in the fifties of the 20th century. It reached its peak with 17 million visitors in 1960. Less than a decade ago, these numbers were almost ten times lower. Cinema has therefore become a less mass and more niche form of leisure.
That is exactly why, according to her, your task is to "take the listener by the hand and take him to the cinema" – or, in the case of bad films, to turn him away from them?With this maxim, Rapa Šuklje wanted to emphasize that we choose films for the show that are worth talking about and that we always offer a reason why it is worth going to the cinema; to invite someone there, because the cinema remains a form of sociability that connects people. That's our focus. Critics are relentless and their job is to point out mistakes and failed solutions. Because instead of one of the less fortunate films, even if promoted by advertising, we can always find a better one.
You say that already in the 1960s there were too many film premieres for one evaluator to cover – would you say that in a city like Ljubljana today, given the saturation of the global film industry, there are many more premieres? The number of cinemagoers is declining, more and more people are moving to streaming platforms.There are certainly fewer premieres today than there were in the 60s, when we had several times as many cinemas, but there are still more films than can be included in the show. To some extent, viewers have migrated to streaming platforms just as they migrated to television and home video decades ago. But viewers are also returning to the cinema. At the moment, there is a noticeable lack of cinemas in Ljubljana: although the new Cineplexx on Rudnik opened, the Coliseum closed at the same time. The shortage is particularly evident in the city center. If all goes according to luck, the niche in Ljubljana will be filled by Kinodvor's miniplex and the number of premieres and viewers will surely increase. But some cities, such as Maribor, do not have cinemas with art films at all.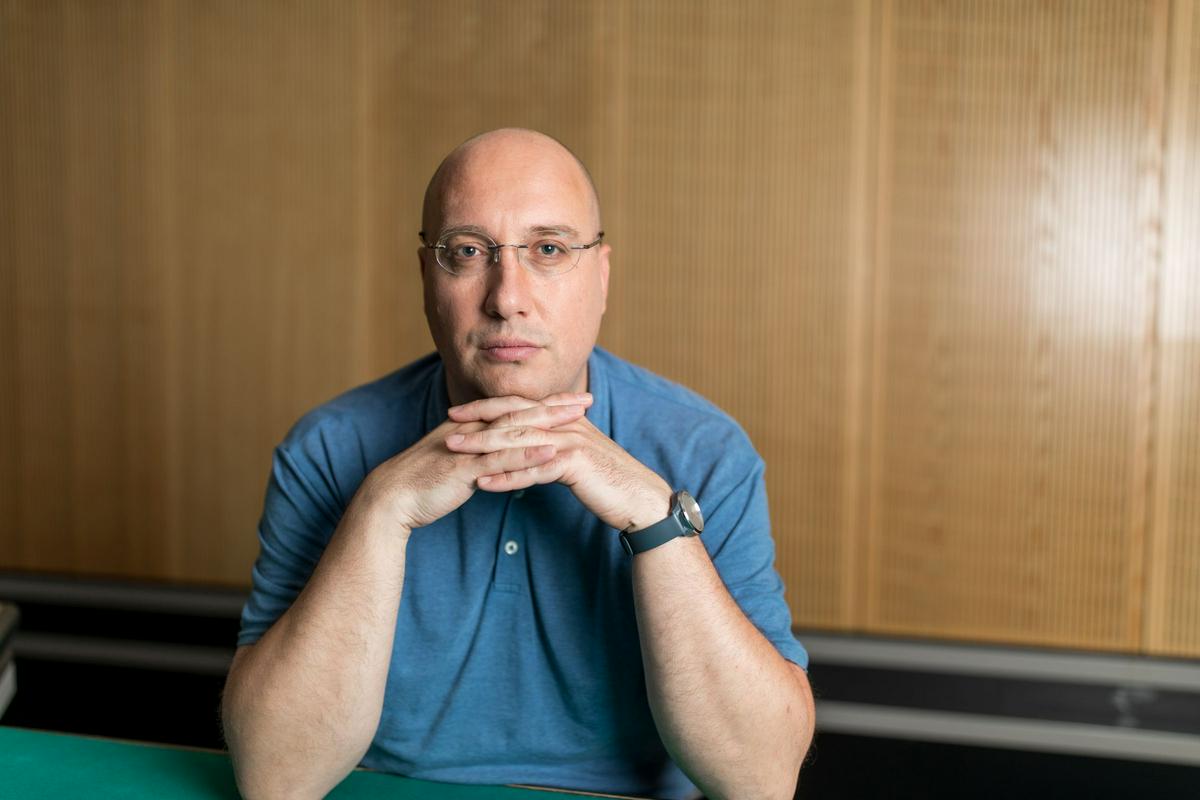 What is the role of sound in a highly visual age?Instead of an answer, I suggest that the readers of MMC, if they haven't already tried it, listen to one of Ars' radio games or literary. The answer about the range of a well-recorded and designed sound and the imaginative interpretations of the players will be offered by themselves. I personally appreciate high-quality sound reproduction both at home on good speakers and an amplifier, and at concerts and cinema screenings. The experience is more intense; sound masters and sound designers would say that it is the only real one – as close as possible to the one they recorded or imagined when creating it.
We experience sound more physically, spontaneously, it opens the door to the world of emotions. With high-quality sound reproduction with a large dynamic range and high resolution, the range of emotions is wider.
You said that you see hope in the return: "when people get tired of multiple screens, they go back to public media, to public radio and to quality print, to more challenging content and a more sophisticated way of communicating."I'm not sure that this is a "rollback," just as I'm not sure that every technological step forward really is. Public media, such as RTV Slovenia, cannot simply let itself be dictated by demand, it must create media trends and raise the general standards of journalistic reporting. That's our job. I may be conservative and biased, but radio and print are still my favorites.
There is also a lot of competition – what is the relationship between radio, online platforms and print media – due to the amount of possibilities and information, you each create your own space and audience, is there any rivalry between you?I don't feel any special rivalry, rather cooperation. On the radio, we often cooperate with MMC and TV Slovenija to exchange content. We also help each other in our work with colleagues from other media when the need arises: we exchange contacts and information. Probably the reasons for the more collaborative nature of our work are the very area we cover – culture, and the character of the people who work in this area.
Source: Rtvslo