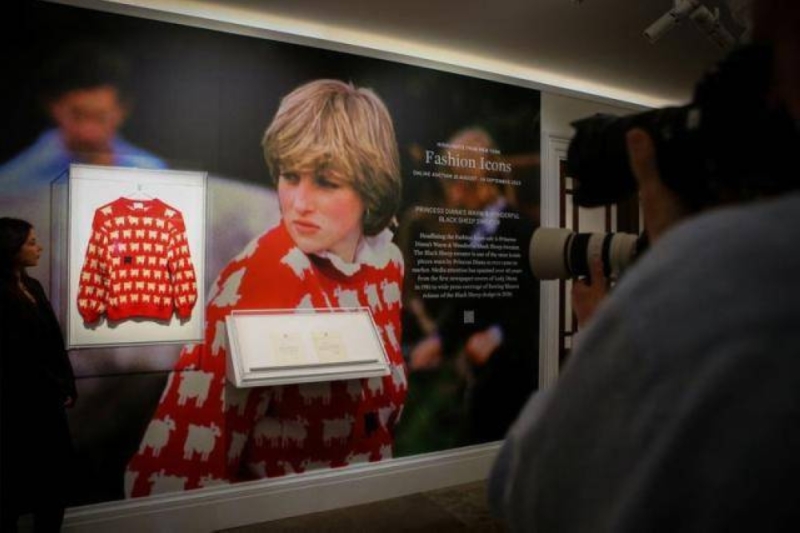 According to the photos of the auction house, the sold dress has several holes in one sleeve.
An iconic red sweater with a sheep design worn by Princess Diana in 1981 after her engagement to then-Prince Charles fetched $1.1 million after a few last minutes, auction house Sotheby's, which organized the online sale, said Thursday.
The sweater, known as the "Black Sheep" because of the black sheep that stood out among the white sheep shapes on the front, was one of the most emblematic garments worn by Princess Diana, who died in a car accident on the 31st. August 1997 in Paris.
The auction house extended the sale by a few minutes due to an avalanche of bids that reached the closing threshold, which pushed the price from $190,000 to the $1.1 million it was awarded in 15 minutes.
According to Sotheby's, it's the highest price ever for a dress belonging to Princess Diana — eclipsing the $604,800 "Infanta"-style ball gown sold in January — and the highest-paid sweater at auction.

"These amazing clothes and accessories, owned and worn by some of the most famous people in the worlds of fashion, film, music and politics, each have a unique story in the long history of fashion," he said. End of sale Cynthia Houlton, Sotheby's global director of fashion and accessories, was quoted as saying in a statement.
In June 1981, the newlywed Lady Diana Spencer wore a red sheep print sweater designed by the then little-known designers Sally Muir and Joanna Osborne, who had set up the knitting company Warm and Lovely three years earlier.
The success of this sweater catapulted them to fame, sparking a trend that has remained with the royal family to this day, and which quickly became a trend.
Also Read: "Regina Canas Claims She Created the Characters of Feria Chiflis and Coccolito"
A few weeks after Diana wore the sweater, the designers received a letter from Buckingham Palace explaining that the garment had been damaged in one sleeve and asking if it could be repaired or replaced.
The designers sent her a new outfit, which earned her a letter of thanks from the princess's private secretary, Oliver Everett. Both letters were part of the sale of the sweater.
The designers of the original model assumed that the original was repaired and sent it to the customer. But in March 2023, when Joanna was looking for an old pattern in the attic, she found a red sheep sweater in a small box.


Source: Diario.Elmundo