The international jury of the 35th Ljubljana Graphic Biennale decided to award the grand prize to Tejswini Narayan Sonawane, the prize for the research residency was given to the School of Mutants, and special mention to the Krater Collective and Soghri Khurasani.
The international jury of the 35th Ljubljana Graphic Biennale, which was composed Bojana Piškur (president), Aziza Harmel, Raphael Chikukwa, Natalija Vujošević, Marie Helene Pereira and Zohra Opoku, announced this year's winners on the opening day of the biennale. The grand prize was awarded Tejswini Narayan Sonawane for woodcuts on goods from the series Femininity (2015) and woodcuts on goods from the series Migrant (2017). In the justification, they explained that they believe, "that the powerful image-making and beautiful storytelling in this work relate to the history of printmaking in the tradition of the Biennale and beyond". "We wanted to acknowledge the complexity of the spiritual dimension of the work and the epistemologies it expresses," they added.
The Jury Award for Research Residency was awarded by the jury to the Community Platform for Art and Research School of Mutants, which was founded in 2018 in Dakar (Senegal). "Because we believe in the importance of a radical approach to collective schooling, we unanimously agreed to award the Jury Prize to School of Mutants. The history and heritage of the non-aligned movement in Slovenia will be very useful for the future mutant manifestations of artists. The work conveys the important message we are all here for: 'I am my own sunshine,'" they wrote.
A special mention was made by the members of the jury To the Krater collective – they make it up Danica Sretenović, Gaja Mežnarić Osole, Andrej Koruza, Anamari Hrup, Eva Jera Hanžek, Louisa Selleret, Rok Oblak, Amadeja Smrekar, Sebastjan Kovač, Primož Turnšek, Edern Haushofer, Altan Jurca Avci and Juan José López Diez – for work Enraged bands: 'Our work is our infrastructure!' and Soghri Khurasani for woodcut with title Shadows under my sky and etchings from the series Fragile (2021-2022).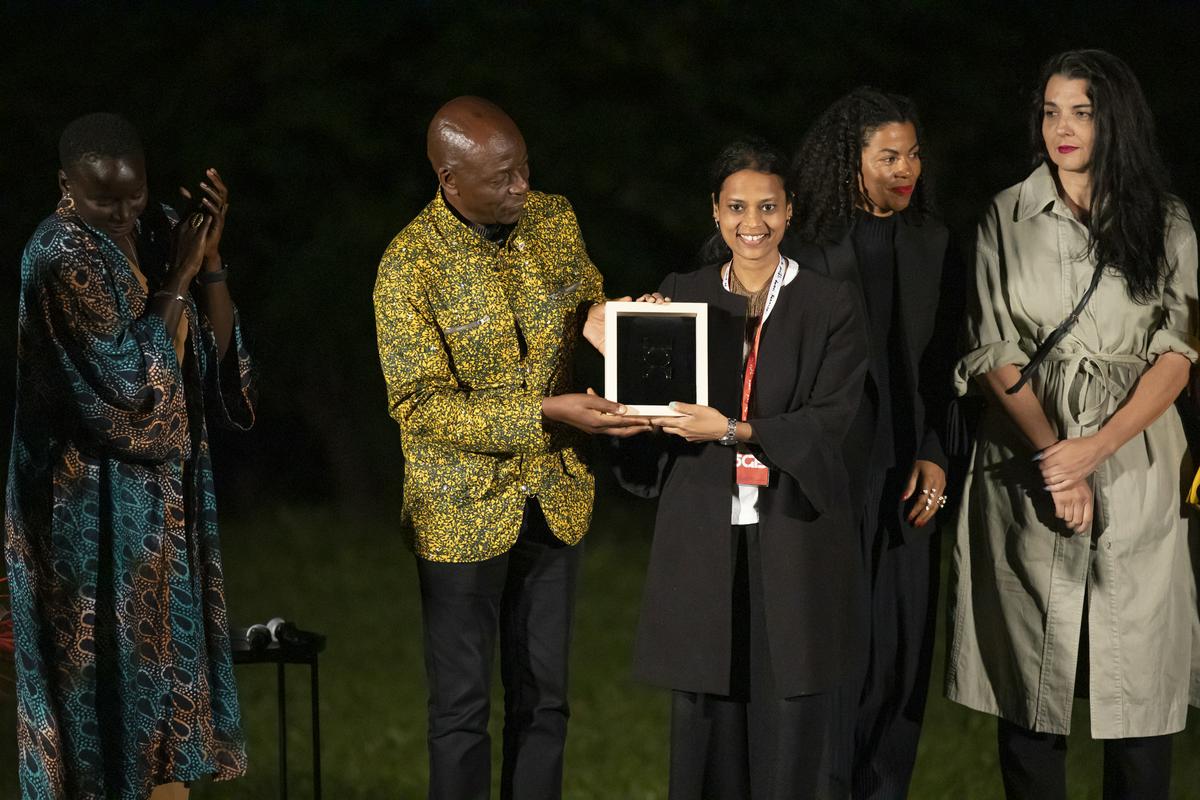 35th Ljubljana Graphic Biennale under the title Out of the void came gifts of the cosmos explores the ecosystem of connections, solidarity and histories of resistance that emerge from the once close ties between post-independence Ghana and the former Yugoslavia. The main exhibition presents the works of approximately 50 artists. It will be open until January 14, 2024 and will take place in several venues. In addition to the MGLC and Cukrarna, the venues of the biennale are Švicarija, PLAC – Participatory Ljubljana Autonomous Zone, Krater and Atelje SVS.
Source: Rtvslo