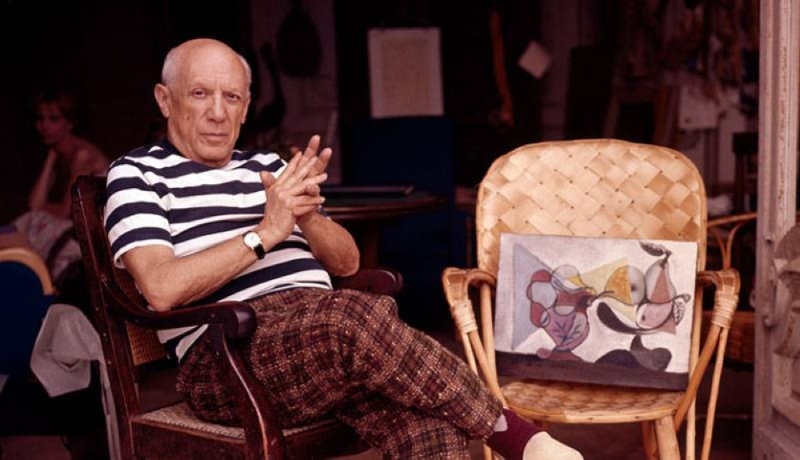 The Spanish artist had a fabulous friendship with the author, and both created works in honor of the other.
Gertrude Stein (1874-1946) and Pablo Picasso (1881-1973) bumped into each other in Paris in the early 20th century, and the artistic passion was as unlikely as it was immediate.
A museum in Luxembourg has opened one of the last exhibitions that France is dedicating to Picasso, on the 50th anniversary of his death, with the motto "The Invention of Language".
"A writer must write with his eyes and an artist must paint with his ears," Stein argued in 1940, nearly four decades after the encounter that haunted both creators for years.
Picasso settled permanently in Paris in 1903, around the same time as Stein.
His background was very different: he came from a modest family and lived in near poverty; He belonged to a wealthy Jewish family on the East Coast of America and had a penchant for writing.
Both shared anonymity in the art capital.
A photograph of Gertrude Stein in her home in Paris, 1930, wearing the famous portrait.
A friendly crush.
They met through mutual admiration for artists such as Cézanne or Matisse, who began to destroy the foundations of classical art. "It was a friendly courtship," Cécile Debré, director of the Picasso Museum in Paris, told the press.
"Pablo makes abstract portraits with paint. "I try to make abstract portraits with my own means, with words," Stein recalled in 1945.
It took Stein much longer to achieve this fame than Picasso, who gained his reputation in just a few years.
Along with his brother Leon, Stein became one of the first collectors of Picasso, Braque and other artists of the nascent Cubism. From those early years, Stein has maintained an almost obsessive admiration for the Málaga painter.
Picasso, who did not speak English, offered to paint her portrait. Stein said years later that he posed "ninety times". Picasso struggled to portray Stein's masculine face (short hair, frown), which was far removed from his lovers. The result, in 1906, testifies that the Spanish artist is about to make a leap into Cubism.
The following year, Picasso exhibited "Young Ladies of Avignon", which was an earthquake in the world of painting.
Stein's tilted head became a way of looking at the human face, and this cubist look would endure and bring him fame for years. Stein returned Picasso's generosity two years later with "Portrait of Picasso" in the form of an avant-garde poem.
Portrait of Gertrude Stein painted by Picasso.
sample.
An exhibit at the Luxembourg museum features a written version of Stein's own voice and a recording that was rarely heard in public. It also shows some of Picasso's painted cardboard compositions from the collection of the Paris Museum, which are very little known, as well as works by Cézanne and other artists.
Stein and Picasso would maintain their admiration until the 1930s, when the Spanish artist finally took other flights. He suddenly found success with The Autobiography of Alice Toklas (1933), a memoir of the bohemian years in Paris.
This book allows you to modify all your previous works. With the outbreak of World War II, he took his paintings and memories to the United States, where he lectured for years.
Her Picasso portrait became part of the collections of the Metropolitan Museum of Art as "Young Ladies of Avignon".
Stein's influence in his native country is the subject of the second part of the exhibition at the Luxembourg museum.
Artists such as John Cage, Jasper Johns, Robert Rauschenberg, Merce Cunningham, Trisha Brown and Andy Warhol inspired the writer to delve into the avant-garde. Thus, the center of art moved from Paris to New York.

Source: Diario.Elmundo