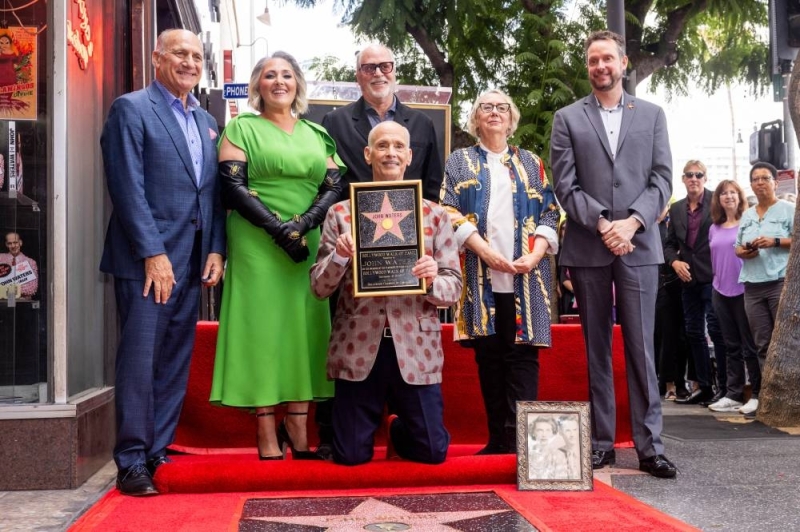 The actor and filmmaker was accompanied by such figures as Steve Neesen, Ricky Lake, Greg Gorman and Mink Stoll. / Photo: AFP
Hollywood figures accompany American actor and filmmaker John Waters, 77, to unveil his star on the Hollywood Walk of Fame in Hollywood, Los Angeles. Recognized for his signature Little Richard mustache, Waters is also identified as an LGBT icon and master of "bad taste" thanks to his transgressive films of the 70s.
This is how one of his films, Pink Flamingos (1972), is considered one of the most profane in American cinema, with the story of a drag queen, Divine, who claims to be the most unpleasant person in the world. This first screenplay of the iconic work perfectly portrays its author, Waters, one of cinema's greatest provocateurs.
The opening on the Walk of Fame coincided with the opening of the largest retrospective of Waters' work, Welcome to the Dump of My Memories. The Pope of Garbage Gallery has opened its doors at the Los Angeles Academy Museum.
"I wish my parents were here because they always reassured me that I could do whatever I wanted to do, even though they were horrified by what I did. They thought: What could be better than this? Better than prison. Because if I didn't have an outlet to use all my anti-social crazy, who knows what would have happened," Waters said at the opening of the exhibit, which runs from today until August 4, 2024.
You may also be interested in: "Salvadoran Cristina Melendez Receives Best Microfilm Award in Hollywood."
Source: Diario.Elmundo