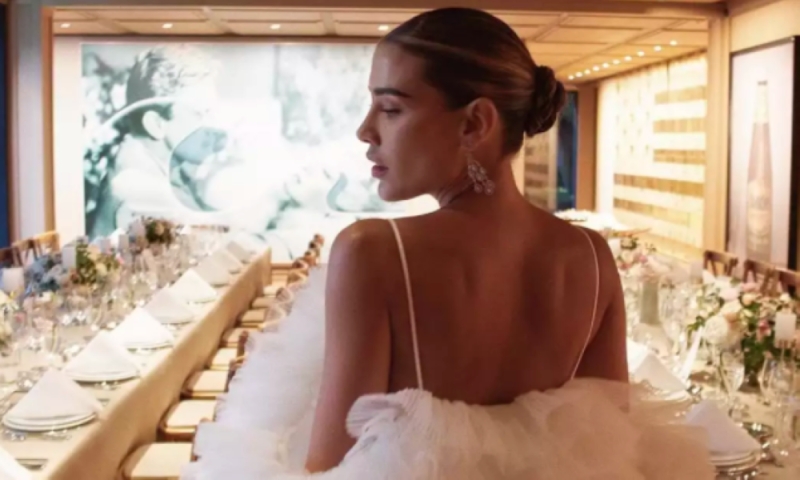 Silvia Pinal's granddaughter shared pictures of her glamorous celebration, where she wore a dazzling white dress.
Although the date of her wedding to businessman Danilo Diaz Granado has not been announced, Mexican influencer Michelle Salas is heading towards her big day. The daughter of singers Luis Miguel and Stephanie Salas shared pictures of her elegant pre-wedding, in which she decided to wear pure white.
The blonde opted for a design by Selezza London, accented with soft tulle that made her look like a princess. She also wore rhinestone heels like Carrie Bradshaw on "Sex and the City," People en Español magazine noted.
One of the most special guests at the party was the bride's grandmother, 92-year-old Silvia Pinal, although the legendary actress will not be able to travel to the main ceremony in the Dominican Republic due to age issues. "It's important to me that my whole family was there, but we all have work commitments, we have things to do, my grandmother is 92, so she can't be there, so it will be in my heart. – explained Michelle.
Also conspicuous by her absence was Alejandra Guzman, the bride's great-aunt, who had already revealed that she was not invited to the wedding. "No, they didn't invite me, ask Silvita who I love so much," exclaimed the singer, referring to her sister Silvia Pascal, Michelle's grandmother, according to Univisión. "It's not that we fought. It's that we don't have much in common, including (each other's) father and age," the artist said. "I get along well with my brother, he has always been my life partner and will be," he explained.
The bride's mother and her partner, actor Humberto Zurita, widow of actor Christian Bach, as well as Pascale, were also present at the pre-wedding. What was missing was "Sol de México" itself, as it is currently on tour.
Also read: "Tim Ballard, the man who inspired 'Voice of Liberty', is under investigation for sexual harassment."
Source: Diario.Elmundo