Skin care experts affirm that the source of acne can be recognized by the area in which it appears, but they also affirm that there are other types of skin conditions that can be confusing.
Acne and pimples are one of the conditions that we all suffer from. It can appear after puberty and present with troublesome skin lesions. In more severe or long-lasting cases, it can not only represent epidermal problems, but also cause anxiety and other types of psychological compromise.
Something you might not know about it is This type of skin condition may be a sign of related diseases that may cause it .
What is Acne?
according to the medical manual MSDacne is caused by Hormones, sebum, and bacteria interact to cause hair follicles (the pores in the skin where hair grows) to become blocked and inflamed. it is precisely the latter that causes pimples and acne.
this is, Pimples, pimples, pimples and even cysts . according to mayo clinicthese lesions are face, forehead, chest, back, shoulder .
acne map
of Francisco Pereira, dermatologist at Clínica Dávila Vespucio states the area where acne appears on the face may be a sign of its origin "Various factors can result in the typical acne lesions, comedones (black or white dots), papules or pustules on certain facial areas," he argues.
In this line, injuries that occur in professional details T-zone ,in short, nose and forehead ,Compatible "Can be triggered by acne vulgaris, puberty, or stress." Regarding this type of eruption, he adds: Men's You can also do this "Affects core, back and shoulders" .
About lesions that appear in chin or submandibular region which is defined as "It can be secondary to hormonal disorders such as late-stage acne, polycystic ovary syndrome, or caused by mask use." ,I will explain.
About pimples around mouth and eyes ,this is skin disease around the mouth (around the mouth) or surrounding (around the eyes), can be produced by Consumption of certain foods .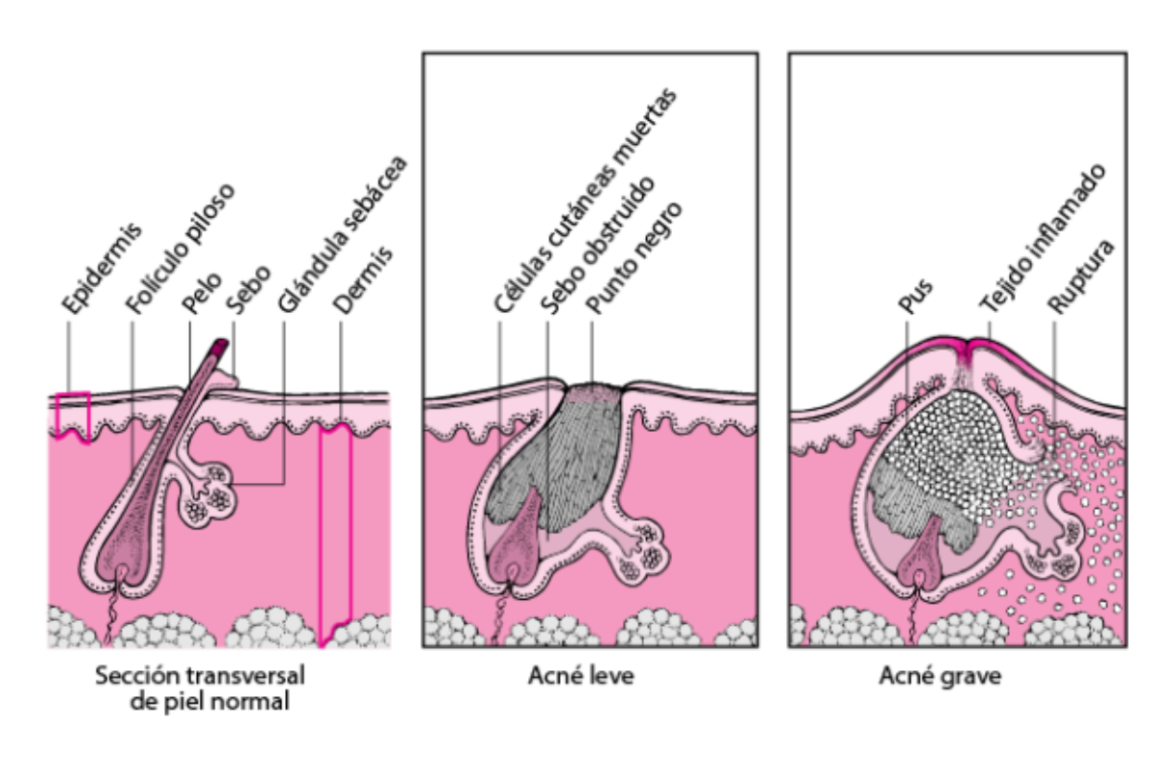 About conspicuous acne cheek experts say that this is usually use of cosmetics .
of Luis Felipe Parada, Dermatologist, New Cordillera Clinic also points out that there may be symptoms of acne the area around the face and other parts of the body is named "machine acne" .
This is displayed when "Use of equipment or clothing that exerts constant pressure on or contacts any part of the body." experts exemplify these injuries with those produced by violinists.
Another type is "summer pimples" Occurs in "Young people in summer who wear tight clothes, in addition to using backpacks for walks, develop pimples on their backs due to the effects of heat and sweating." .
Diseases that look like acne but are not
Pereira may also have symptoms that resemble acne, but they don't. rosacea-like dermatitis and the runny nose .
As for the latter, these facial area (part of which) is "produced by the consumption of some drug. Generally corticosteroids, contraceptives, vitamin supplements Causes reactions similar to those of acne, but they are different because Missing black or white dots, appearing suddenly . These reactions They can be confused with acne caused by mask use. detail.
see rosacea-like dermatitis and experts point out "It's a lot like acne. It's also a chronic inflammatory disease of the sebaceous glands, but it causes erythema or redness in the central part of the face, accompanied by tiny red blood vessels called telefecta." .
this is, "Sun exposure, spicy food, hot coffee, temperature changes." Pereira explains. This disease also differs from common acne as it only affects the z.one facial center of the face world No comedones or blackheads says the pro.
Source: Biobiochile