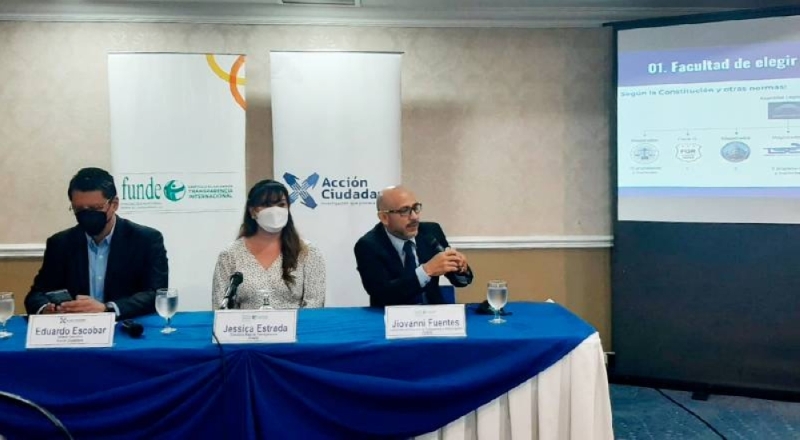 Member of Citizen Action and Foundation for Development (Funde). / courtesy.
The organizations of Acción Ciudadana (AC) and Fundación Nacional para el Desarrollo (Fundación Nacional para el Desarrollo) this morning expressed concern over the continuing failure of elections for El Salvador's second-level civil servants, citing public information from the leadership bodies. Warned of secrecy. .
According to the AC and the Funde Capítulo Transparencia Internacional, there is currently a "vice" of lack of information on the criteria for electing second-level officials, exacerbating the lack of citizen participation in the electoral process. it is continuing.
This is nothing new, but according to Jessica Estrada, coordinator of the Funde's transparency space, it was very easy to reverse the small advances made recently. "Having a majority in the Legislative Assembly should make it easier for us to make these kinds of decisions.
Last year, the Legislative Assembly elected five Justices of the Supreme Court (CSJ), one Attorney General of the Republic (PGR), one Human Rights Defender (PDDH), and seven members of the National Council. One President of the Department of Justice (CNJ) and the Government Ethics Tribunal (TEG). Before May 1, 2021, Parliament dismissed the entire Constitutional Council and replaced it with the next night and early morning.
Funde's Jeovanny Fuentes claimed that all agencies run by elected officials deny public information. "The rule today is to deny or follow the confidentiality of information so as not to give public information to citizens. All information is declared confidential," he said. .
Deficiencies in the election of civil servants affect citizens. For example, the lack of response from the Constitutional Court to habeas corpus appeals filed by citizens affected by the emergency regime, Fuentes added.
AC's Eduardo Escobar warned that a magistrate for the Republican Accounting Court will be elected next year.
The proposed metric does not satisfy the ego of the organization. There are no political interests here in favor of the organization. It's not a matter of ego, it's a matter of seeking public interest with good officials. –Eduardo Escobar, Executive Director of AC.
Both organizations point out that the Legislative Assembly does not allow citizens to question candidates during the legislative election process. They noted that some elected officials have had domestic violence complaints, nepotism convictions, or complaints to the Human Rights Department (PDDH).
"Spaces for civic participation were closed." You can't even know," they assured.
The delegates have not followed the proper procedures for electing all the officers of these bodies… In July of this year they elected five principal magistrates and five deputies, The process was very closed.There was no possibility for civil society to have access to these interviews. – Giovanni Fuentes, National Development Foundation.
Source: Diario Elmundo