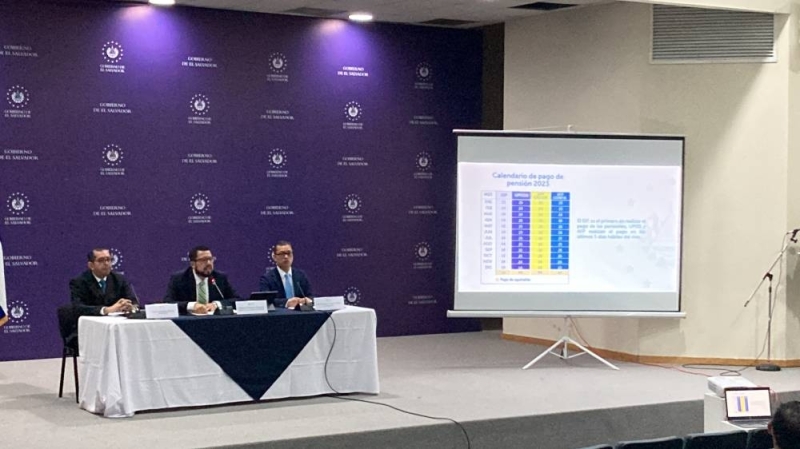 ISP President Marlon Vásquez reported on the payment and cancellation of pensions for members of the ISP-managed public system. / Y. Magana.
The El Salvador Pension Institute (ISP) spent a total of $23.1 million last Friday on pension payments to 48,251 members of the public system. This 30% increase was established by a new blanket law on pension schemes and applies only to old age and pensions. Adjustment to minimum pension of $304.17 for those receiving compensation for survival or disability.
This represents 26% of the total pensionable population in El Salvador, equivalent to approximately 200,000 Salvadorans. This includes retirees, survivors and people with disabilities. The remaining pension will be canceled by the Pension Department of the Social Security Association of El Salvador (UPISSS) and the Pension Fund Administrator (AFP) on January 25, 2023, ISP president Marlon Vazquez reported at a press conference today. Did. .
ISPs and UPISSS manage pension payments for members of the public system, both those who worked in the state and those who worked in the private sector. Their pension calculation depends on the percentage of their last salary. AFP, on the other hand, manages the Personal Fund and the Joint Guarantee Account (CGS) for members of the Personal Pension Plan, which was created in 1998 and relies solely on personal savings to calculate the Basic Pension.
Last Friday, January 13, 2013, ISP payments reached $23.1 million, of which $5 million represented a 30% increase. Each year, the additional expenditure for the 30% increase in pension and adjustment of the minimum pension adds approximately $18 million per month, or $231 million ($231,735,115) annually.
Various pension funds have a final five working days to pay annuities and expect payments to be made on the 25th of each month. Payments are maintained according to the pension plan.
This 30% increase (over old-age pensions), this adjustment to minimum pensions in other pension structures, and the guarantee of pension fund profitability cannot be doubted…these changes eliminate inequalities and distortions will be It's fairer now. – Marlon Antonio Vazquez, ISP President.
With this $23.1 million payment, 26% of all pensioners were already covered with ISP equivalents, 21% of UPISSS equivalents were covered on January 25 according to schedule, and the remaining 53% will be compensated in January. 25 according to AFP.
"We have ensured that AFP has the resources ready to pay for the pension increase…the resources are guaranteed to UPISSS," he said.
AFP will pay $48.2 million in monthly pensions, increasing by 30% to $10.2 million.
We ensure a transparent, fair and efficient system…Savings can be used for your well-being and create sustainability over time, so new generations can have an impact. It is guaranteed that you will be able to access it without receiving it. – Marlon Antonio Vazquez, ISP President.
The official reiterated that ISPs will review "substantial omissions" of Social Security contributions by companies, and also reiterated that the removal of VIP pensions would save $6.2 million in a year.

Source: Diario Elmundo