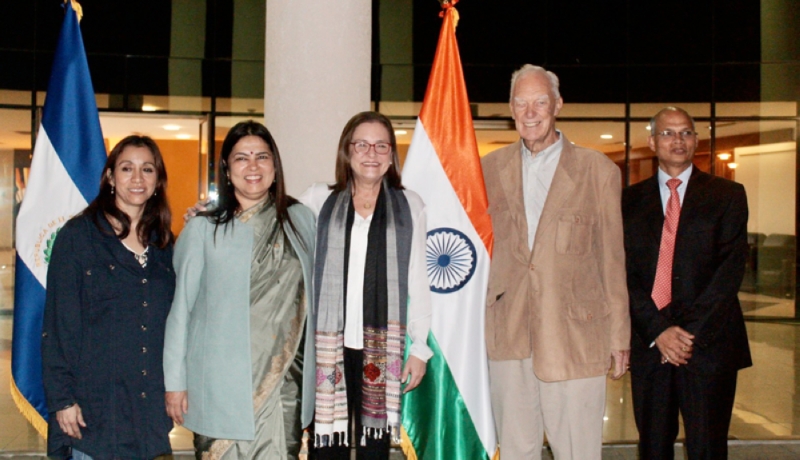 Indian Foreign Minister Meenakashi Leki and El Salvadorian Foreign Minister Alexandra Hill during an official visit to El Salvador. Courtesy
On Thursday, Minister of Foreign Affairs and Minister of State for Culture, Meenakasi Leki, made an official visit to El Salvador. With the Ministry of Foreign Affairs, Conclusions, Culture, Secretary of Commerce and Investment.
According to a statement issued by the Indian Embassy in Guatemala, President Meenakasi Leki said during his meeting with President Bukele, "We will further improve bilateral relations, especially development cooperation and growth of bilateral economic relations with India's El Salvador. We talked about how.
Also discussing cooperation at the multilateral level, the representative of India invited El Salvador to join the Coalition for Disaster Resilient Infrastructure (CDRI). Topics of interest to both countries.
Dialogues on political, economic, cultural and development cooperation were also held during the visit, with concessions to be discussed later in India's capital, New Delhi.
El Salvador's Foreign Minister Alexandra Gil would have expressed support for India by supplying countries with anti-covid vaccines and essential medicines during the difficult time of the pandemic.
Regarding a conversation with Commerce and Investment Secretary Miguel Kattan, India expressed Indian companies' interest in investing in El Salvador.
During his stay, Minister Meenakashi Lekhi attended the opening of the Indian Film Festival. However, he also allocated part of his agenda to meet with members of the Salvadoran Indian community and business leaders during his visit.
The trade value between India and El Salvador in 2021-2022 has surpassed $165 million. "El Salvador is also an important beneficiary of the Indian Technological and Economic Cooperation (ITEC) programme," the diplomatic headquarters said.
We had fruitful interactions with the Indian community and business leaders from El Salvador. Appreciated for its contribution to strengthening bilateral relations, especially in trade and investment. I explained to them about India's rapid socio-economic development. @MEA India pic.twitter.com/LsPh3vRgtW

— Minakashi Reki (@M_Lekhi) January 20, 2023


Source: Diario Elmundo