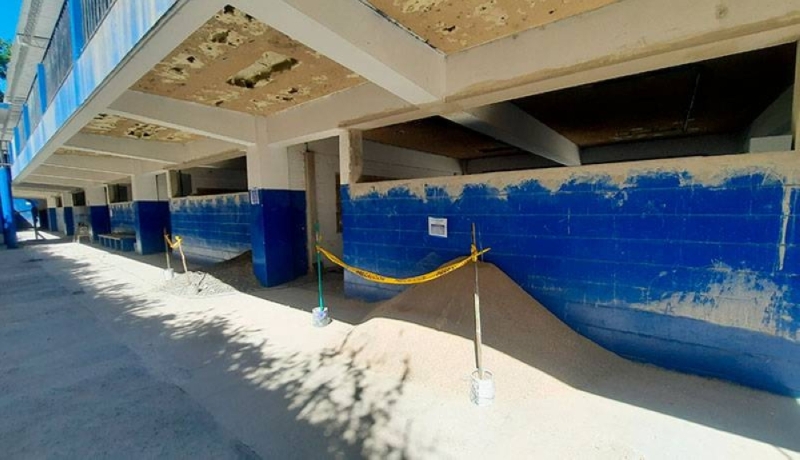 Contractors have promised to complete work at the Tomas Cabrera school in May. / emerson del cid
Education Minister Mauricio Pineda acknowledged that there would be problems in starting the rebuilding of schools "immediately" for all. Without explaining whether the funds were needed, he asserted that they were "for resources" and because there were no contractors to provide for the project.
"What happens is that the situation is so complex and so difficult that all education centers are forced to go to all education centers, not only because of the resources first, but because it is already difficult for contractors to provide at the moment. It's impossible to get there any time soon," Pineda pointed out in a morning interview on Channel 21 yesterday.
Pineda noted that it recently opened a tender for the construction of an approximately $80 million school that will go ahead this year, but the number of interested companies has not been as expected.
"We had an ideal of about 18 companies coming on board, but only six arrived at a capacity that wouldn't allow us to continue at the pace we wanted," he said.
On January 5, the Head of Education Portfolio indicated that nearly 70 education centers across the country are in the process of being renovated. Last week, Municipal Business Director Alvaro O'Byrne reported that he plans to intervene in 480 schools this year as part of an education reform project.
We have a difference of opinion.
In this sense, Daniel Rodriguez, general secretary of the Union of Teachers and Teachers of Public Education in El Salvador (Simeduco), expressed that the union does not share the statement given by the Education Portfolio. Lack of contract.
"I don't think it has anything to do with the lack of employment of masons and construction workers. We don't have the funds to invest in, and it's not due to a lack of resources.When it comes to providing an educational community, we believe it's a means of justification," Rodriguez said. .
Work at the Tomas Cabrera School is still stagnant. / emerson del cid
Trade unionists stressed that most of the pupils in the schools that intervened will start classes directly. This is because the director was told that "the work will be completed within six months, but they have not even brought new work equipment."
Similarly, Rodriguez does not share the minister's words. So what he's doing is agreeing with those of us who questioned him, it's a matter of policy, not reality," he added.
construction delays.
Saul Rosales, director of the Tomás Cabrera Educational Complex (CETC), who reported in November 2022 that progress in rebuilding the school was more than a year behind schedule, expressed concern that they had yet to move forward. expressed.
"Construction continues in the same way. What they are doing is installing electrical energy, wiring, but there has been no progress," says Rosales.
In light of the situation, a facility representative explained that last year, first and second year high school students took classes in a warehouse that used to store musical band instruments. It is only 2 meters wide and 6 meters long.
"In-person classes will begin this year and we will continue to use the warehouse as a classroom. Currently, we have created two temporary classrooms for secondary education, combining the two to make room for the first cycle section. I do," said the director. highlighted.
Rosales told Diario El Mundo that the construction company told him the work would be completed in May next year.

Source: Diario Elmundo