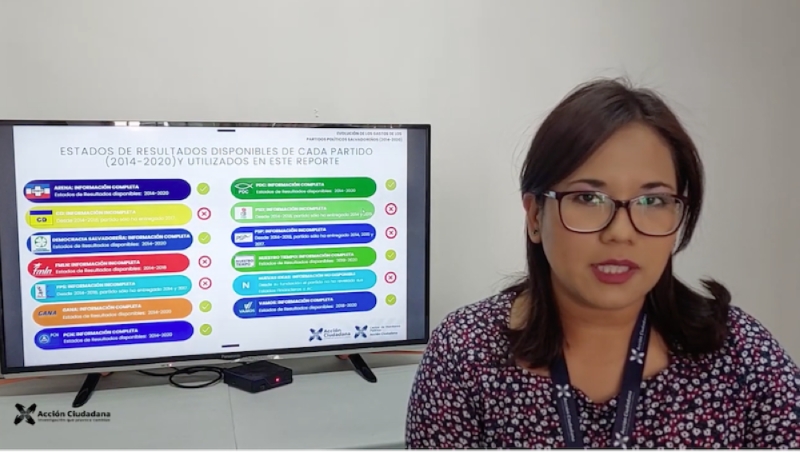 Denisse Siliézar, coordinator of the Citizen Action Political Monitoring Center, said:
The Civic Action Association (AC) has released the results of its report "The Evolution of El Salvador's Political Party Spending from 2014 to 2020". This reveals that 12 of the 13 political parties spent $139.506548.58. 53% of spending is concentrated in the 2018 local and parliamentary elections (27%) and his 2014 presidential election (26%). The lowest amounts were recorded in non-election years.
The amounts correspond to the following political parties: Nationalist Republican League (Arena), Democratic Change (CD), El Salvadoran Democracy (DS), Farabundo Marti National Liberation Front (FMLN), El Salvador Patriotic Fraternity (FPS), Grand Alliance for National Unity (Victory), National Cooperation Party (PCN), Christian Democratic Party (PDC), Social Democratic Party (PSD), Progressive Party of El Salvador (PSP), Nuestro Tiempo, Vamos.
"In the case of the political party Nuevas Ideas, it should be noted that the party has never disclosed financial information to Acción Ciudadana, so we do not know what the official information is related to the results of this political body. said Denisse. Siliézar, coordinator of the AC's Center for Political Observation;
With this in mind, we take data from the 2021 election campaign to estimate the costs incurred by Nuevas Ideas. He added that of the 13 parties, five provided incomplete information and others provided it in a generic way.
Of the $139.5 million, 88% went to three parties: Arena, FMLN and Gana. Then there are PCN, PDC, DS, Vamos, Nuestro Tiempo, PSP, PSD, FPS, and CD.
"One of the methods used to control political parties to detect prohibited income, illegal income, or lack of income registration is precisely the follow-up and monitoring of political party expenses," said Citizen Action. Executive Director Eduardo Escobar said. .
The purposes of the expenses were party propaganda and development, administrative expenses, campaign expenses, political investments, organizational expenses, administrative and operating expenses.
Expenditure by political party
The report highlights that not all parties provided complete information from 2014 to 2020. FMLN does not provide financial statements for 2019 and 2020. FPS provides data on its 2014 and 2017 financial statements. I have data for the 2014 and 2015 PSDs and the 2014, 2015 and 2017 PSPs.
For Nuevas Ideas, information from 2021 ad monitoring was taken into account as there was no financial information.
Using the available data, the costs for the parties are:
Sand $79,834,885.34
FMLN$29,805,856.56
Win $13,783,447.91
New idea $10,490,537.16
PCN$8,227,366.04
PDC$3,084,861.23
SD $2,961,793.66
Come on, $827,113.54
Our Time $545,879.18
PSP$186,164.67
PSD $104,435.66
SPF $88,584.06
$56,160.73

Source: Diario Elmundo