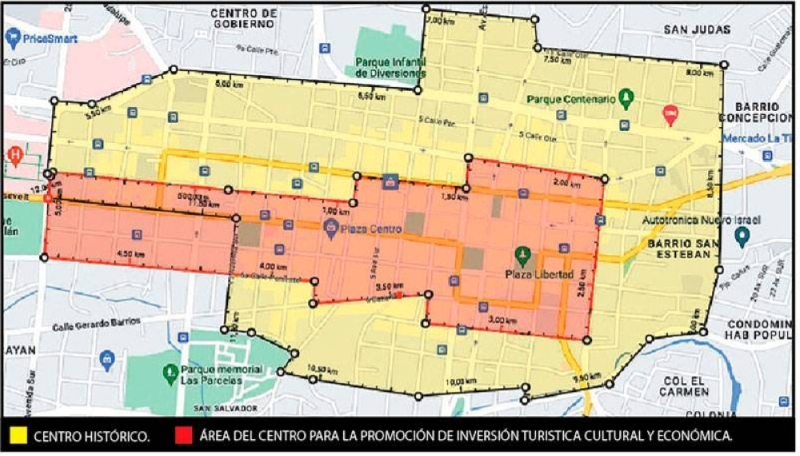 This law applies to the portion of the San Salvador Historic District marked in orange. /DEM
The proposed law for the creation of San Salvador's Historic Center Authority will benefit those who invest in infrastructure with tax incentives, such as a 10-year income tax exemption. However, it does not apply to the 200 blocks that make up the historic center of San Salvador.
The project declares a cultural, tourism and development area just 70 blocks from the historic center of the capital.
Areas of demarcated benefit include:
1. Start at the intersection of 25th Avenue North and Calle Arce (Plaza de la Salud area), go east on 7th Avenue north-south, go west on 1st Street, then onto Avenida España, cross 3rd Street east-west. and go further. Follow that street until it intersects North 10th Avenue. Then go south to East-West 8th Street and follow that street to South 1st Avenue. From there continue to the intersection with West 6th Street, follow that route to Gerardo Barrios Street, continue to South 9th Avenue, and continue west on 6th Street again. Continue south on 25th Avenue, then north to the corner of Calle Arce to close the boundary.
The bill was received by delegates of the Legislative Assembly's Finance and Economy Committee on Thursday and agreed to meet with the Minister of Finance and Tourism next Monday.
This law does not benefit all investments in the San Salvador Historic District created on July 18, 2008. The microcentro has 27 blocks, corresponding to the growth of the city from the colonial period to the end of the 18th century, and includes Libertad Park, Gerardo Barrios, Morazan, San Martin, 14 de Julio Square and San Jose Park. increase. The 59-block City Center, including the microcentro, consists of a basic westward growth and incorporates the Hula Hula Park.
The largest boundary, the Consolidated Center, consists of 142 blocks and continues the growth of the urban layout developed in the late 19th and early 20th centuries. This broad perimeter extends from the intersection of North 25th and West 3rd Avenues through Alameda Juan Pablo II, East 13th Avenue, and East 11th Streets to the intersection of North and South 18th Avenues. Then, looking south, you reach the intersection of Boulevard Venezuela, East-West 12th Avenue, North-South 15th Avenue, Rubendario Street, and back to the connection with 25th Avenue North.
In context: What are the benefits that encourage investment in parts of the San Salvador Historic Center?

Source: Diario Elmundo