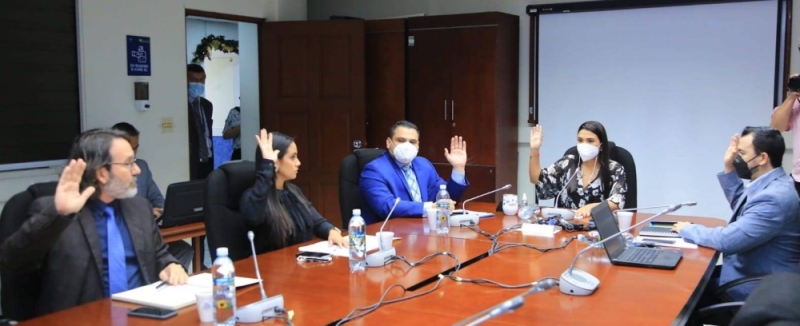 A special committee to investigate budget allocations to NGOs sent a report to the board for the general assembly to know. / Legislative Assembly.
A special commission to investigate budget allocations made by the Legislative Assembly to non-governmental organizations (NGOs) told the Legislative Council's board on Monday that the leaders of Arena and the FMLN may have committed a crime during the allocation of the budget. It was agreed to send the concluding report. Fund these organizations.
The attorney read excerpts from the report prepared by a team of attorneys led by attorney Mario Machado. One recommendation is for the entire legislative branch to receive an "approval or rejection" report.
Rep. Alexia Rivas, chairman of the committee, said, "This is just a short excerpt, in the sense that the others are a little longer." I would like to submit a ballot to be sent," he requested. The committee voted to send the report.
Conclusions of the report on NGOs:
1. Indications of the creation of a mechanism to fund NGOs associated with leaders of the Arena and FMLN:
"Through this legislative act, it has been established through research that there are sufficient indications of the creation of a mechanism by the political leaders of the Farabundo Martí National Liberation Front and the Nationalist Republican Alliance party, and the previous congress created such a mechanism to Allocation of public funds to NGOs in which they had an interest".
2. Possibility of perpetration by NGOs:
"A commission approved by the Legislative Assembly to consider the probable punishable acts by NGOs receiving public funds, the corresponding legal qualifications and the aspects that must be assessed by the Attorney General of the Republic for criminal acts. Sufficient evidence has been verified. A lawsuit for corresponding crimes against persons referred to in this investigation."
3. Plenary Voting:
"According to Ordinances 32 and 37 of Articles 131 and 132 of the Constitution and 55 and 59 of the Internal Regulations of the Legislative Assembly, the Special Committee shall submit to the Honorable Plenary Session of the Parliament for its acceptance or approval. Rejection of the Final Report on Destinations of Funds Approved by the Legislative Assembly for NGOs, Foundations and Non-Profit Organizations for Related Effects".

Source: Diario Elmundo